DX Live is an Amateur Asian and Japanese live sex cams and chat site especially for Japanese cam girls and other Asians around the world. Upon registering and signing in, members can enjoy the sensual talk you would expect and virtual sex on cam with Asian girls. It is all in real-time with the different girl cam models appearing through the PC screen.
The fact is, Japanese cam girls are some of most sought after Asian webcam girls when it comes to virtual live cam sex in the far east. The same is true in America as well.
If you're looking for the best Japanese live cam site, DXLive.com could be a good start to your virtual adult fantasies. If I am sure of one thing, it is that this website is much better than asianbabecams. However, you may not be familiar with either of these Asian sex chat websites so let's dig deeper into what you can expect here.
DXLive.com Review – How this Japanese Cam Site works?
Again, Dxlive.com is a Japanese cams chat site where you can find real Japanese cam girls. We tested this site and share the costs and how it all works in the review.
DXLive Features:
Here are some of the features of DX Live site listed below, 
The home page is filled with an enormous amount of content, profiles, ads, and so on. 
Girl Reviews:
User reviews about the models performed in this site so far will be shown on this page. It's more like a recommendation to other users. Also, you can see the reviews for girls who are in Online as well as Offline.

How to Play:
A new page opens up with how to get register on this site for free and customer support forms related to inquiries are mentioned here.
Users can click on Join free from this page or next option in Main Menu such as Purchase points. It explains about the below things,
Free profile registration

With trial points for about 2600 yen

Users won't be charged until you purchase points

Users won't be charged by site name for making purchases
Ranking:
Every day ranking of Japanese cam girls will be shown in the area. Users can check out the rankings of girls who are available online and offline as well. Click on those profiles will redirect to the sign-in page for users.


Next Login:
Users can check the scheduled time of Japanese sex cams girls to come online. This option is helpful that you won't be missing your favorite model when she is available online.
Blog:
This page is specifically made to share information related to upcoming offers/announcements for DX Live users.
Gift:
A unique feature of presenting gifts to models is available in DX Live site. 
Gifts such as Rimocha, Cosplay / Underwear, Adult goods, Fashion, Home Appliances, Cosmetics, Food, and beverage, & Seasonal are available to present to models.
Frequently Asked Questions:
A set of different Frequently Asked Questions has been answered for users. The questions are answered in terms of different categories such as About DXLive, About Member Information, Charges and Points & Troubleshooting.
D2Pass Members Site:
D2Pass site is a unique ID that is shared to users when they become a member of DXlive. With that ID, users can access all the D2Pass sites that are available on this site. I.e same login credentials to access many Japanese cams related sites.
The D2Pass sites are divided into different categories such as,
AV, Live Chat, Encounter, Unlimited Streaming, Amateur, Mature Woman and Married Woman, Lesbian Gay, Single Item Video, Western Goods, Mania, Ebooks & Images.
Campaign Information:
Any important news, announcements, & recommendations will be shared with users under this option.
Model Profiles:
A list of 63 model profiles is shown in the main gallery. Users can sort those models based on,
Favorite

Live video

Newcomer

Pick up

Big boobs

Married woman

Mature woman

Shaved

With vibe
Click on any of the above options takes the users to D2Pass members login. The image size of models can be set as Small or Large. And, Autorefresh can be accessed to check updated and available models on top of the results.
Girls Just Registered:
As the title suggests, a carousel type of profiles is available to check out the newly registered girl models.
News from DXLive.com:
Information such as issues/bugs on different browsers are mentioned here frequently for users. Also, Tweets are mentioned on the below right side of the page for DXLive.com members.
Sometimes a pop up will be shown to users to confirm they are 18+ or not. Clicking on "Yes I am" takes the user to a slightly different site with the name en.dxlive.com.
However, to brief in a nutshell, DXLive is a Japanese Live Sex Cam Shows site.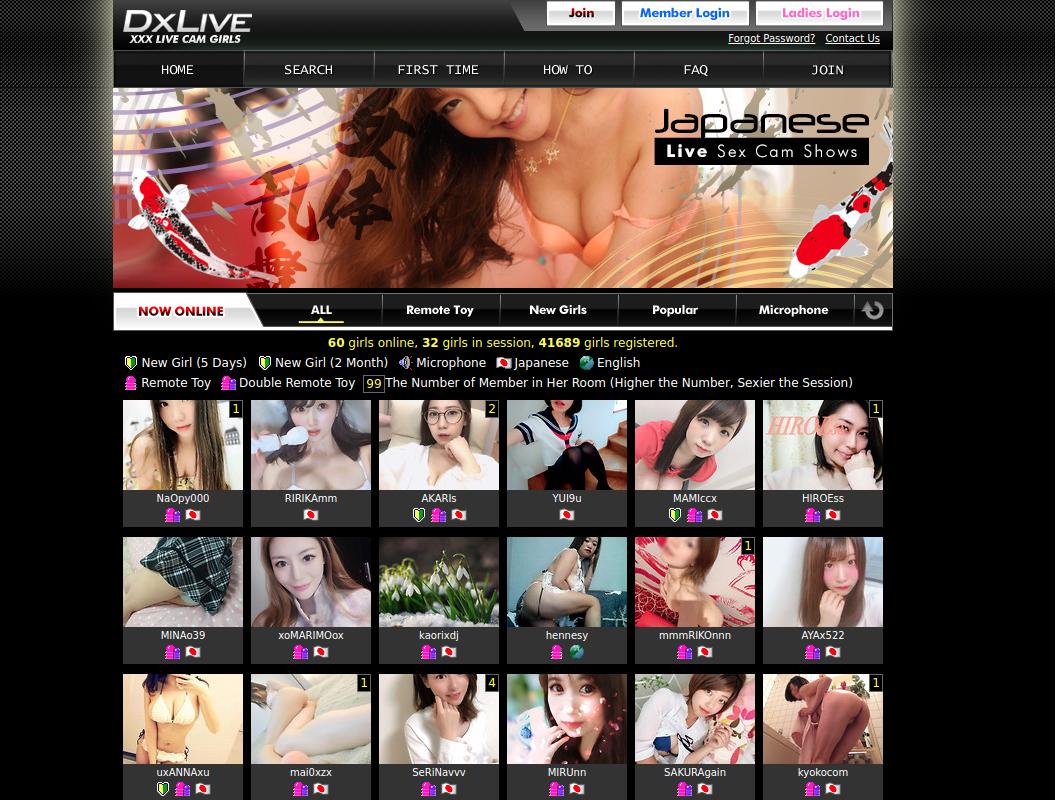 The dxlive join option directly sends us to the purchase of points page.
Members Login:
Only registered members can access this option.
Ladies Login:
This option is for models/girls who want to be a part of the Japanese cams site UXLive as a performer.
Here are some of the main interface and set of functions to check out the Japanese Models online on this site.
No. of girls online, no of girls in session and no of girls registered are also mentioned clearly.
New Girl

Mic

Japanese or English 

Remote Toy or Double Remote Toy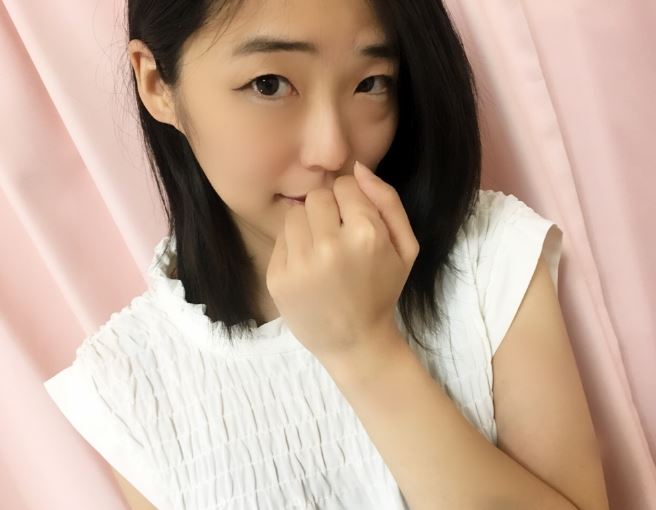 Japanese Girls are ranked based on Member's Favorite & Updated Daily models. That's exactly how even the other best Japanese Live Cam sites would want to adopt.
Also, you can check our New Girls Ranking that is Updated Daily as well.
Search Option:
The search function gives the members the following details to find any models based on,
Girl's Name

Age range: x to y 

Bust 

Waist

Hip

Language: Japanese  or English or Chinese or Korean or any Other

Other:

New Girl or Has Mic or Now Online or Has Remote Toy
First Time:
This option will help the user to understand how to access and use the website in three steps such as,
Purchasing the Points and Service Charges

Choosing a Girl Model

How to Enter the Room
How To:
This option enables you to know about how to chat with the models.
FAQs:
Frequently Asked Questions are already taken and answers are given below for users. It is explained in 3 categories such as, About DX Live, About Points & System Requirements.
DXLive Pricing:
Here are the pricing details for Japanese live sex cams site DXLive,

| Serial No | Points | DxLive Pricing |
| --- | --- | --- |
| 1 | 25 | 50$ |
| 2 | 50 | 100$ |
| 3 | 110 | 200$ |
| 4 | 170 | 300$ |
| DxLive Basic Charges | Price Split |
| --- | --- |
| Peeping (Just Watching) | 1 min = 1.2 points |
| Message (Chat with Models) | 1 min = 1.2 points |
Option ONE
DxLive Price Split
2SHOT private chat
(Members can chat with girl models)
1 min = 1 point
2WAY chat
(Members can show their cams to models)
1 min = 1 point
2SHOT private + 2WAY chat
(Combination of both functions before)
1 min = 2 points
Remote Toy Usage
(Members can control a remote toy for girls' pleasure)
1 min = 1 point
Double Remote Toy Usage
(Members can control 2 remote toys simultaneously)
1 min = 2 points
Option TWO
DxLive Price Split
Secret chat
(Members can send secret messages to girls)
1 msg = 1 point
GIFT has 4 options
(Member can use for gifting girl models )
Teddy Bear = 3 points
Flower = 5 points
Gift = 10 points
Heart = 15 points
DXLive Findings and Summary:
The Japanese Sex Cams site DXLive can be a good start for first-time users. Members can find a lot of Japanese cam girls but however, the site is let down by poor design in User Experience and ADs.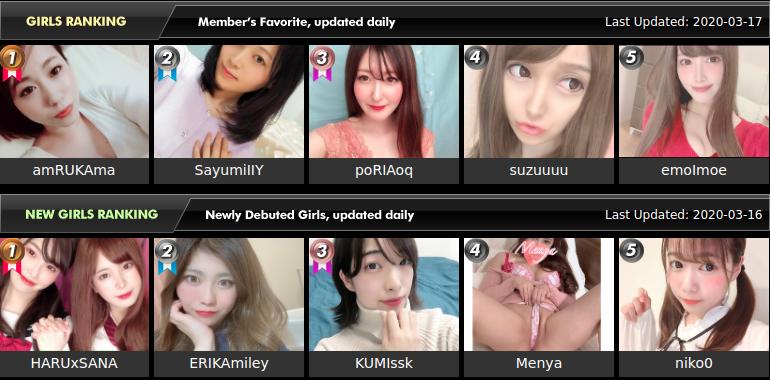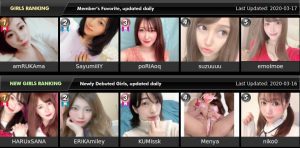 Apart from Japanese cams members, any common cam users might find it difficult as DXLive doesn't have proper translation option as well.
Moreover, the pricing is slightly on the higher side and importantly the site is not secured, which makes it vulnerable for users to buy premium features. 
Like we mentioned at the start, DXLive is a Japanese Live Sex Cams site that might be suitable for Japanese members or people of some parts of Asia. But surely not for users who don't know Japanese. Better, we suggest you check a buffet of Japanese live sex cams Streamate.com in your own language.
In a nutshell, we can conclude DXLive.com cannot be coined as one of the best Japanese live cam sites because it's the main Asian sex cams platforms that have to capture that crown. That said I still love DX webcams!

Click to rate this chat site!