PornHubLive is a live cams branch of the free porn tube site called pornhub and it is one of the most visited free porn websites on the planet but there is more than meets the eye when it comes to live sex cams here.
The name is catchy enough to grab the attention of all the live sex lovers, but not many know that pornhublive is nothing but a total rip-off of Streamate.com. Let us unfold the features, sign-up process, and price of this sex cams site, and decide for yourself if it is worth the time or not.
First off, for those that don't know me; my name is Chat Site Charlie and I even blew the whistle on pornhub live cams on the about us page. I hate it when sites use technology to infer they offer a service that has ZILCH to do with their own site or mislead people to believe they offer free chat.
Countless people are asking if pornhub live free is? HELL NO, the costs of pornhub live webcams are below as well as how pornhublive.com works.
Now before I start on our pornhub cams review I want to share that pornhublive and pornhub.com/live are different URLs but the same exact thing as well. One is just exclusively catering to live sex and real-time porn via cam and the other has that aspect added to a free xxx tube site. At Pornhub, though the 4th tab over is called, 'live cams' and looks like this.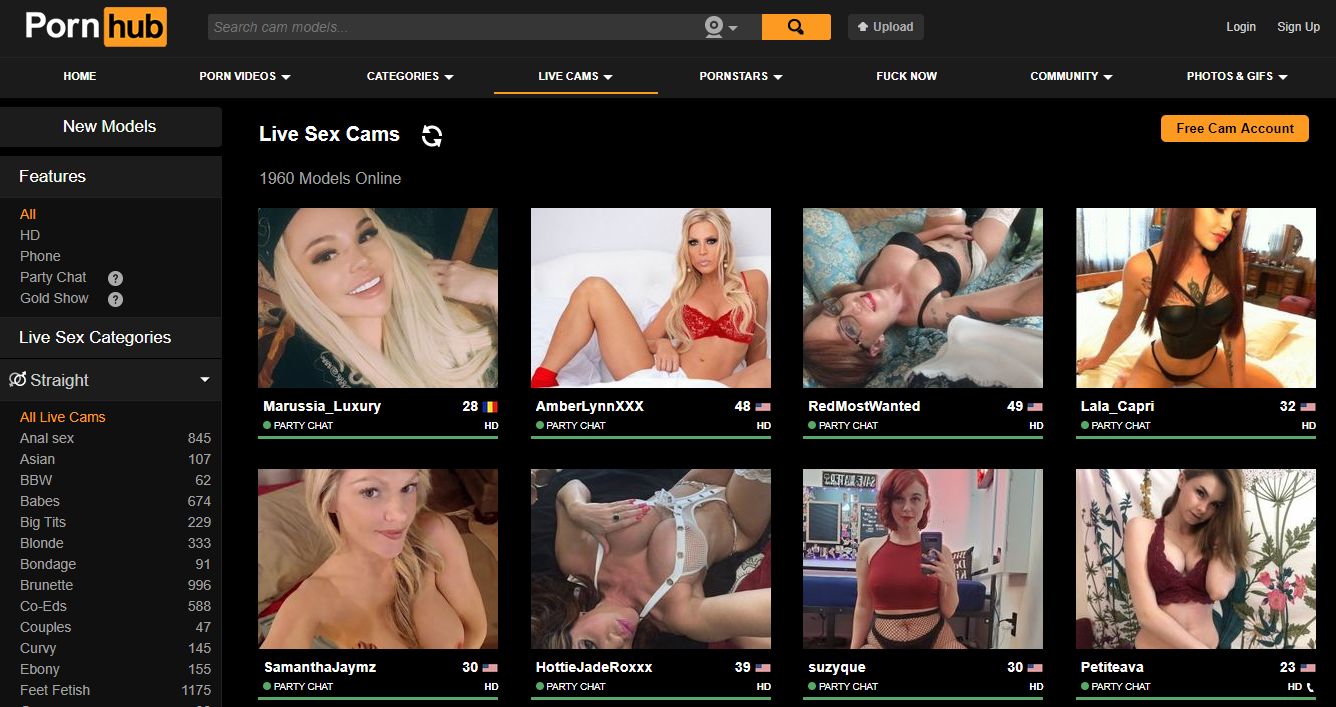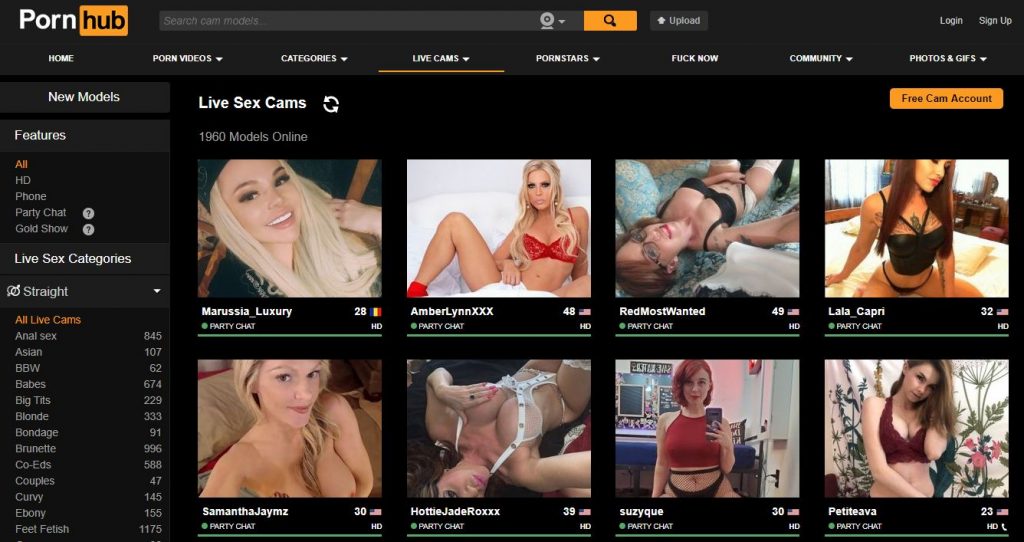 PornHubLive Review:
Copying popular sex cams sites is nothing new and has been going on for years. Nonetheless, our duty is to tell you all the good and bad aspects of pornhublive.com.
PornHubLive is a so-called live cam sex site where you can chat and watch shows of amateur cam girls performing live. If you have been on Streamate, you will have a Deja Vu on visiting pornhublive.com. I mean these fools were too lazy to even change the background and have shamelessly copied Streamate.
There is no harm in visiting pornhublive, but the main idea is why waste your time on a clone site when you can save your effort and explore Streamate, right?
PornHubLive's Features:
When you open pornhublive.com, you will see that it has the same site layout and background as Streamate.com, with the PornhubLive logo on the top left. On the top right corner, there is a search tab, free account, and login buttons.
Just see exactly what we mean in these comparison pictures of the same pornhublive girl; an actual webcam model from streamate.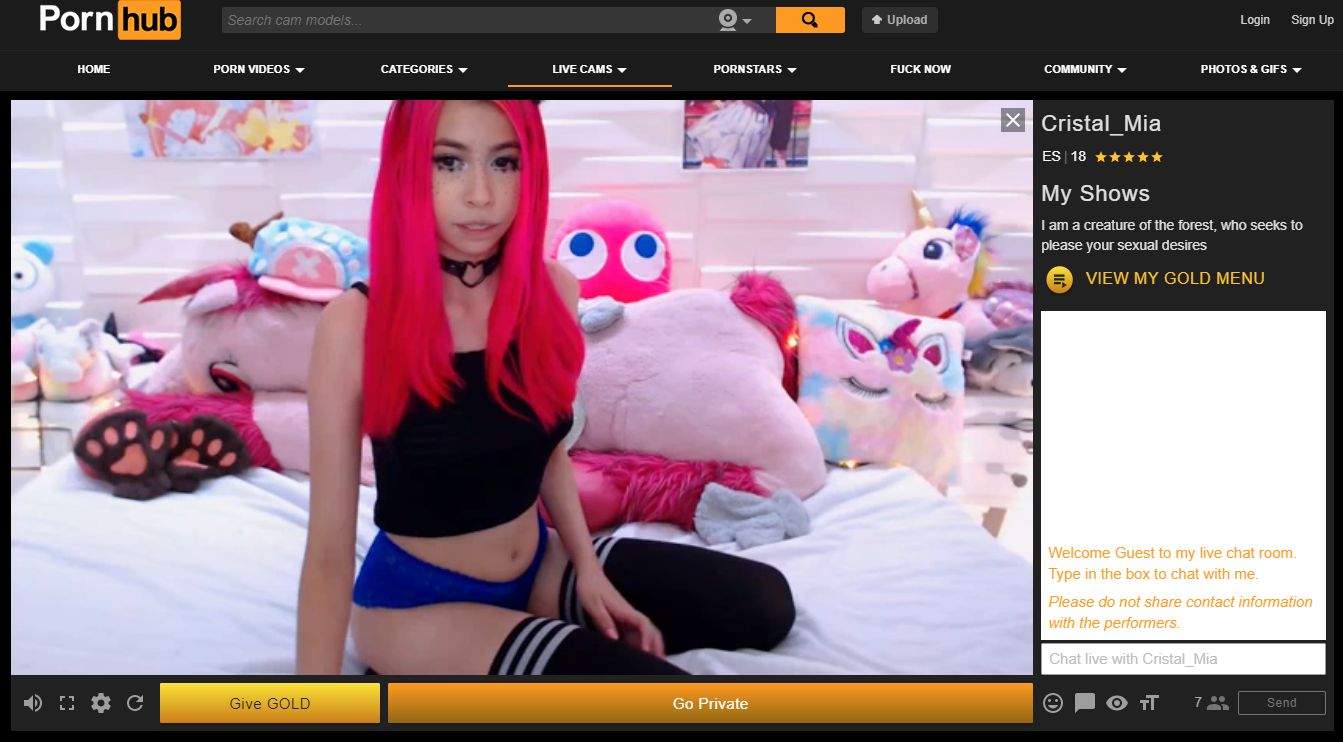 Now, look at the same girl from the true source platform.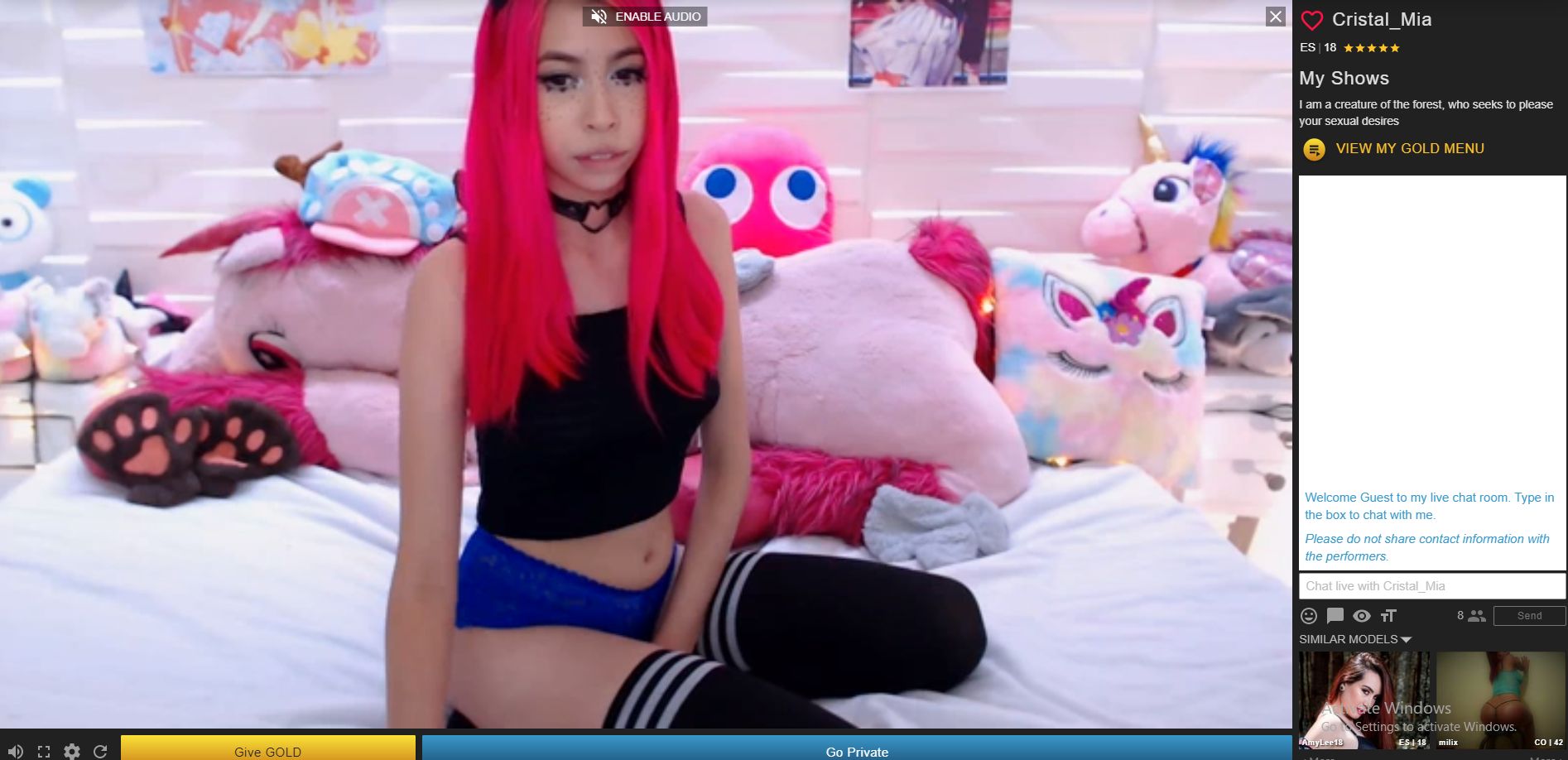 So as long as you register via the true source at  Streamate.com and NOT pornhubcams then we give this is thumbs up.
All Girls Cams: This tab features all the live cam models right from young amateur babes to mature milfs, busty Latinas, and more.
New models: You will find the newbies here, raw and amateur who are exploring their bodies.
GOLD Shows: Gold shows require several members to join in and pay their share of GOLD as per the price fixed by the performer. The length and price are decided by the performer. You won't be charged if the show is canceled.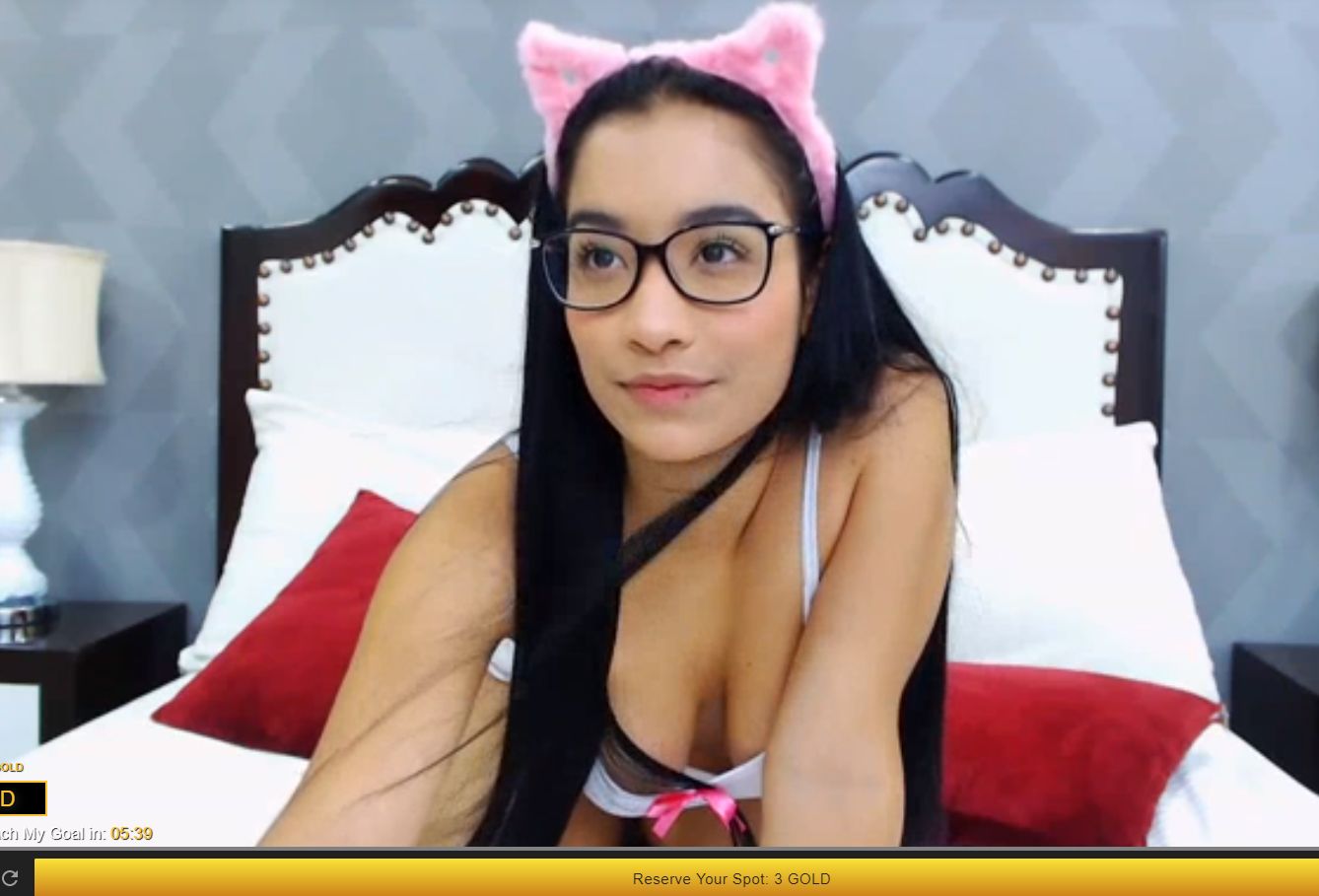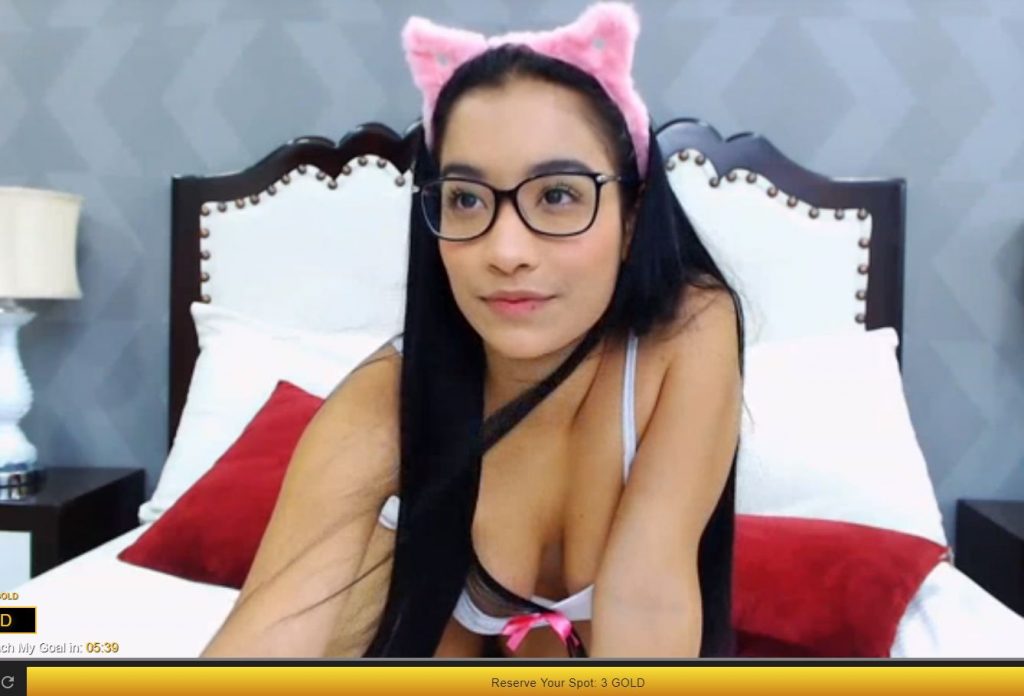 GOLD: This is the currency pornhub cams use and it is equal to your country's local currency.
To create a porn hub live account, you need to select the FREE ACCOUNT tab and enter your email address, username, and password. The membership is absolutely free, however, you have to give your credit card or PayPal details.
A basic user can chat or watch shows of models for free, but the private shows are accessible only after you become a premium user. Also, the models will not do much on a free show. So if you want to watch them getting naughty and naked, you gotta pay.
If you are one of those who don't want to pay can simply jump from one room to another and watch free stuff. One good thing is that those who are into men have a decent number of male cams, from anal sex to gays, muscular, and even BDSM. They have a good support team available 24/7, which includes live chat support, email, WhatsApp, and FAQ.
Difference between Private chat and Exclusive chat?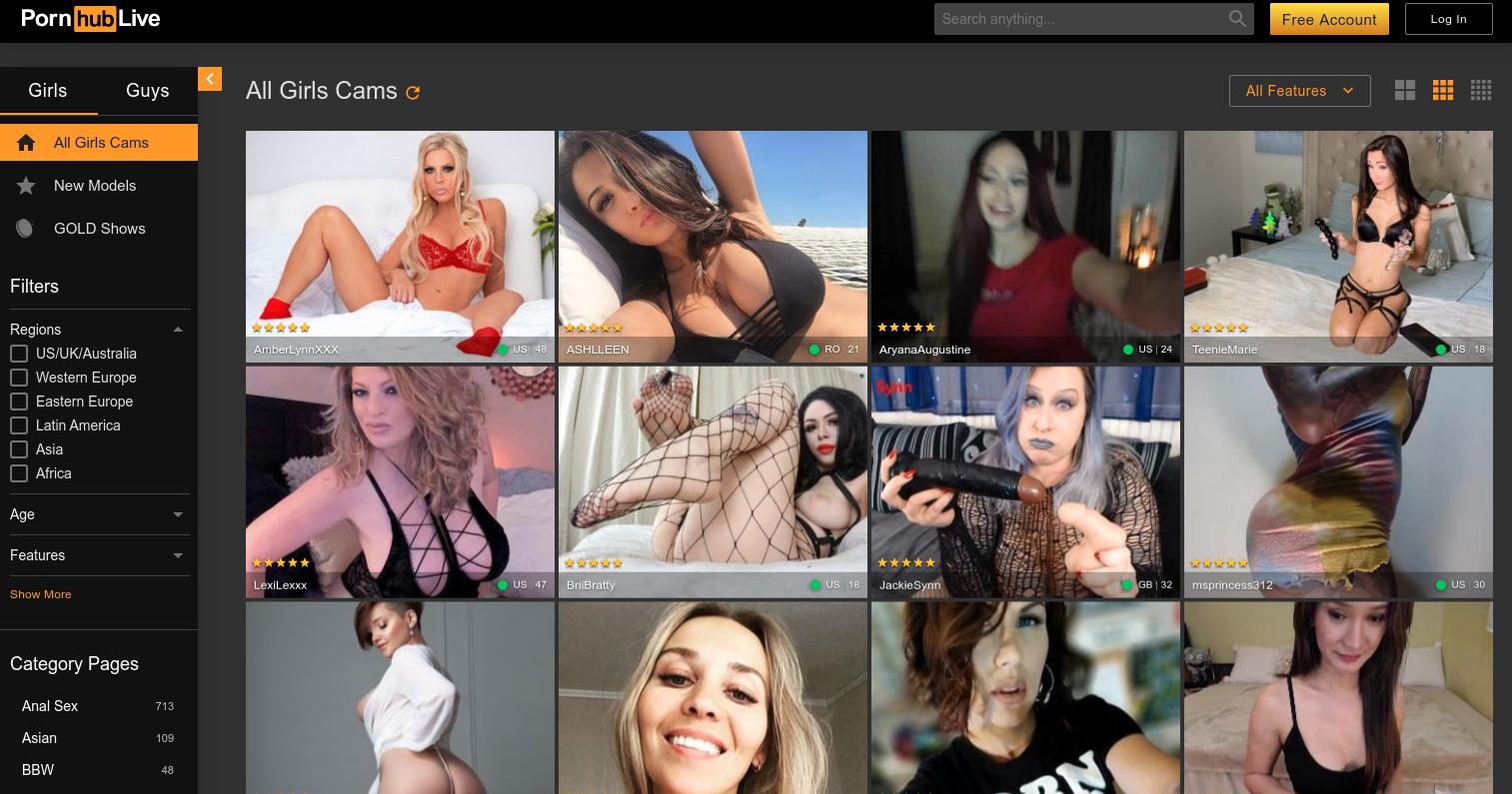 Yet another unapologetic copied feature, seriously I am disappointed. Anyway, so private chat allows many users to chat and enjoy a show together. On the other hand, an exclusive chat is for those who wouldn't mind paying a little extra for an interrupted live sex session.
To watch a show, click on a model's window displayed on the homepage and you will be directed to her chatroom. You can see the model's details like her name, body type, and sexual preference below and also the activities she'd be willing to do on screen.
If you want to show how horny you are looking at your babe fingering her pussy, then you can share your video with her using the Cam2Cam feature.
Trust me, a two-way session makes the experience a lot more intimate so don't talk yourself out of it, but REGISTER at the source not here. Again that source is Streamate.com.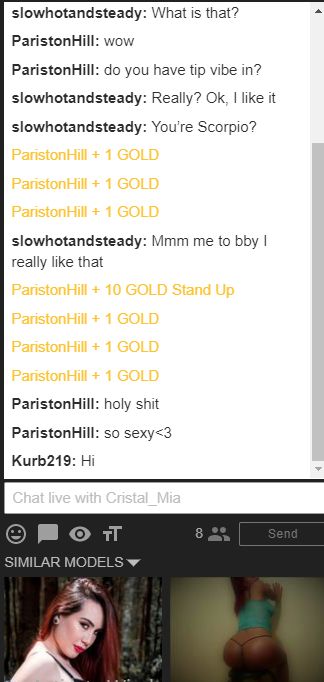 The discounted blocked sessions let you book a session with a model for a length of time and you pay in advance for it but at a discounted rate. The discount offered by porn hub live is as follows:
15 minutes: 5% off
30 minutes: 10% off
45 minutes: 15% off
60 minutes: 20% off
The models can be filtered by the following filters:
Region
Age
Features
Body type
Cup size
Ethnicity
PornHubLive has several categories of models such as redhead, BBW, Latinas, milfs, and more which might seem pretty impressive to the people who aren't aware of this shitty site which is nothing but a mere clone of Streamate.
PornHubLive Review Findings & Site Summary:
I am astounded by the fact that pornhublive.com blatantly is just a rip-off of an elite live sex site. These mindless twats didn't have the capacity to come up with something original.
So it is important to understand that original is always the best. Not only pornhublive, sex chat sites LiveHDcams (review at the link) also follow the same strategy.
For this reason, I ask you to visit the original live sex website that is Streamate, which is authentic and genuine. It is always best to stick to the original and Streamate is one of a kind online sex cams platform that gives you the best of porn.
Our idea is to make you aware of the fact that millions of people are visiting duplicate sites like pornhub live.com completely oblivious to the truth that these sites feed off top adult cam sites' popularity. Also kudos to them for naming their site pornhub webcam, which is one of the most searched terms on the internet.
Streamate has the hottest live cam models, great prices, and excellent streaming quality. The best part is you get so much live-action for free and pay only if you want a private session, which is also worth it.
Based on my experiences using all the leading live sex webcams, I can say that Streamate (review at that link), ImLive (review at that link) and MyFreeCams (review at that link) are the best alternatives for pornhub live cams. If you explore more sites like pornhub cams, check Chaturbate.com and LiveJasmin.com as well.
Just a few final words; pornhublive.com is one of the many sex chat sites that dupe you by merely feeding live sex webcam shows into their platform via API. Other sites like Pornhublive that pull the same shady shit are Jerkmate, Redtubelive & Flirtymania avoid all three.
Likewise, you are not going to find much value from chat roulette or reallifecams either.
Click to rate this chat site!