Are you a fan of live sex cam sites? Do you visit webcam sites often for intimate wanking sessions? If yes, chances are high that you might have heard about a new adult cam site on the web called UNCams. Here, I am going about the detailed UNCams review to tell you whether it is worth all the hype.
First up, bolt out of the blue, UNCams is not a unique sex cam site but a camming aggregator that captures thousands of live sex cams from other popular sex webcam sites.
Being a search engine or aggregator for other popular sex cam sites has become the trend lately and UNCams is the latest one to follow. This webcam site has found a unique way of presenting live sex cams from other cam sites. It just doesn't copy outright, but still presents the same content with mere changes.
You will find hot sex cams from Chaturbate and MyFreeCams.com majorly on the Uncams.com homepage. Well, it's just the beginning and we might see sex cams from many other cam sites. Money for jam!
Find out whether Uncams is safe or not in this elucidated UNCams review.
UnCams Overview
UNCams claims that it is one of the free sex cams that caters to offering live nude cam shows by the hottest webcam girls, guys, couples, and trannies. However, the fact is that it is not a unique platform but is just a clone of Chaturbate.com.
Although you will find some models from MyFreeCams.com, Chaturbate models take center stage here. That said, from the design and layout to the models and categories, everything is just forfeited. Oh, wait, wondering how the design of both cam sites is the same? Check out the following image.
This is the actual face of UNCams that you will get by clicking on 'Home' from any of the inner pages. The real bummer is the site doesn't even have an 'About Us' page. If that doesn't tell you that this is a scam, I don't know what will.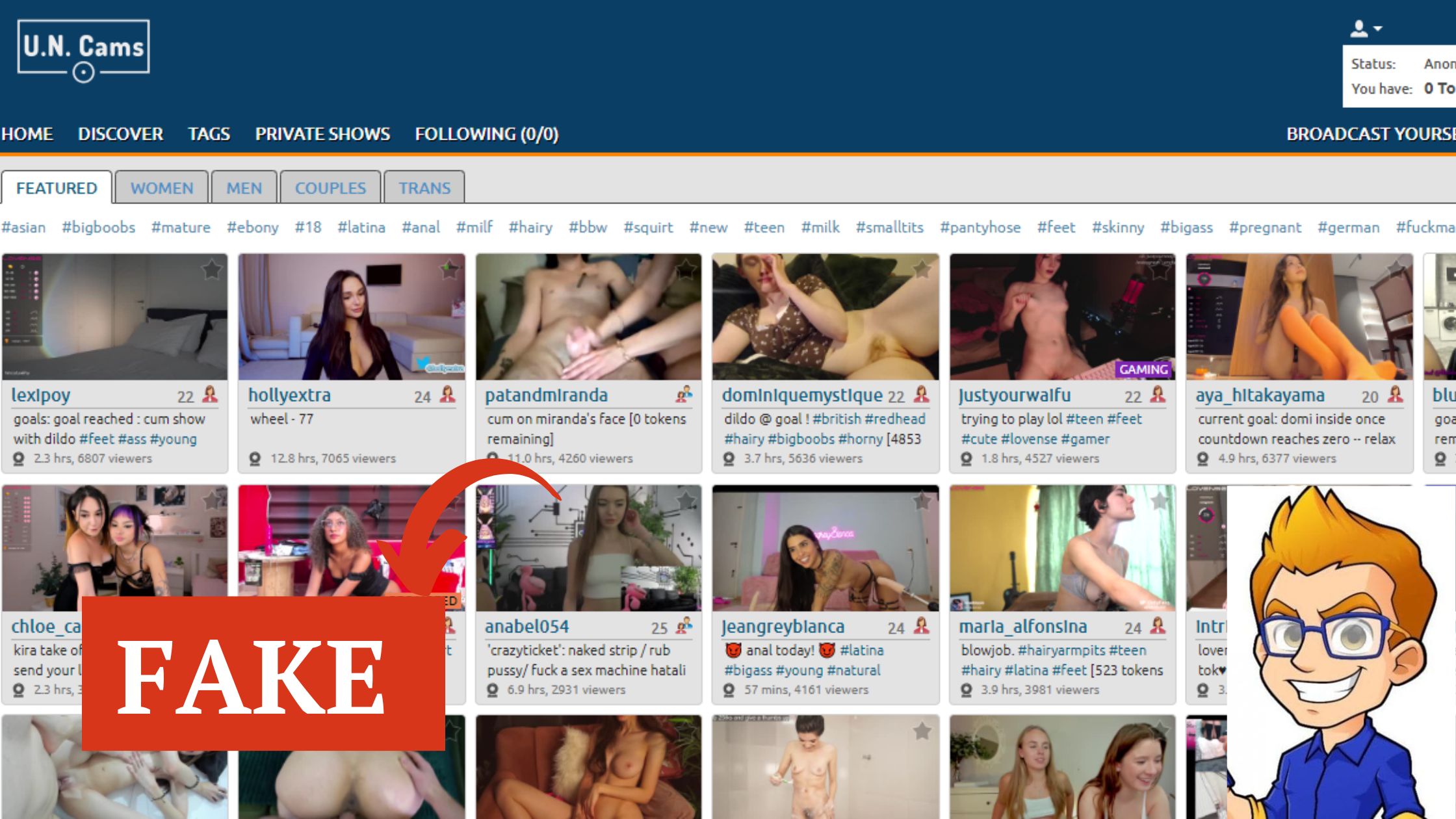 Here's the original image captured in real-time on Chaturbate. Now, compare both of them to see the shady side of UN Cams.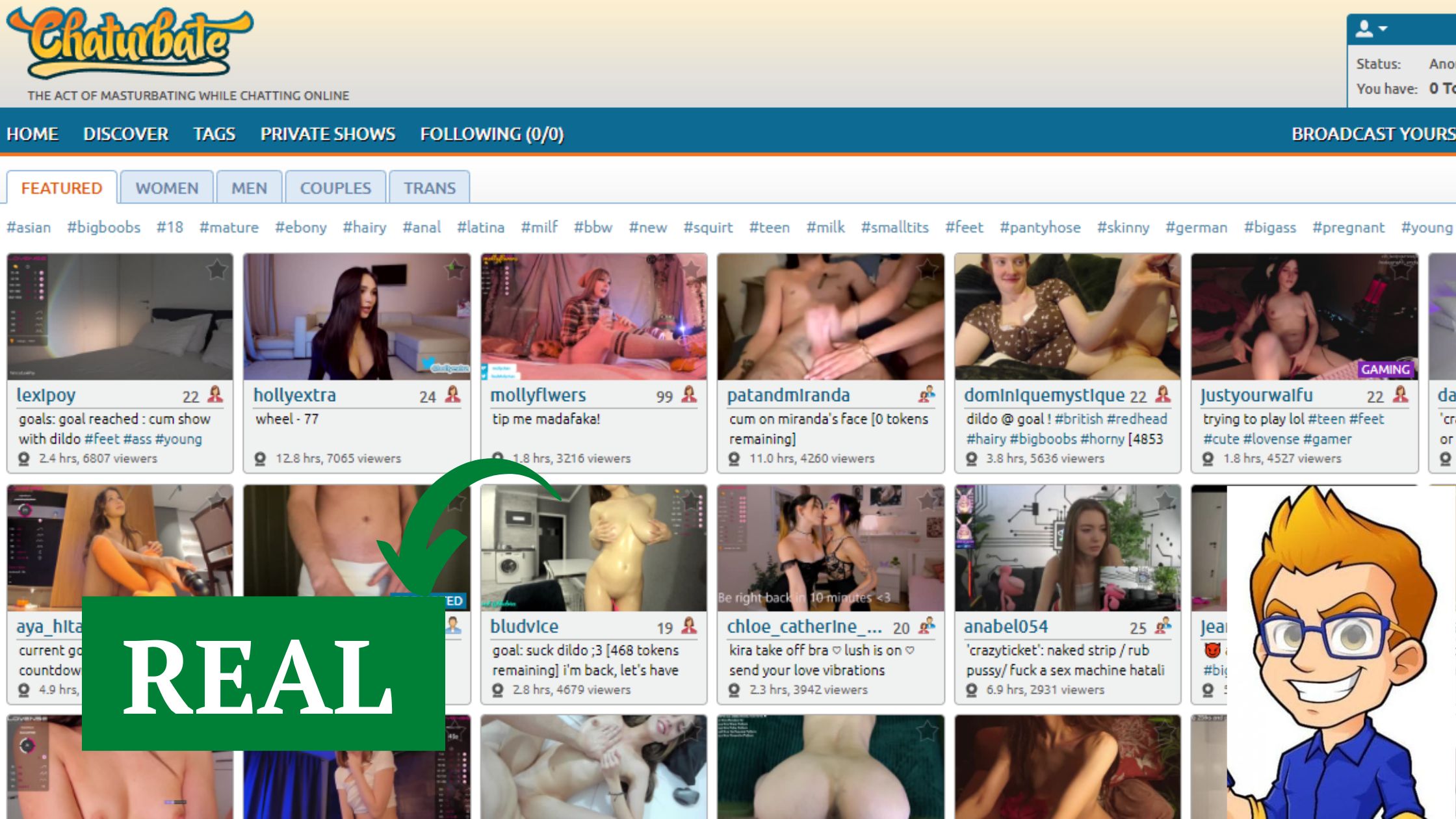 Although it is an aggregator cam site, one must appreciate the fact that the site offers cam previews rather than static dynamics. That said, you can actually sneak peek into the model's cam without even entering her cam room. Just hover on the model thumbnail to see the preview.
As you can see, not just the models, but the terms and privacy policy were cloned from the legit Chaturbate itself. Still can't believe how it has managed to gain popularity despite being an utter clone!
UNCams.com Overall Features
Since Uncams looks a bit different from what its parent site Chaturbate looks, you might get the feeling that it offers some unique features. If so, you are off the mark, my friend! It just offers everything that Chaturbate does right from the sign up process.
Let's get into the details.
Registration Process
By clicking on the 'Sign Up' in the top right corner, you will be redirected to the registration process. The registration process is quick and simple, and so does Chaturbate's is. All you gotta need is to provide basic information like username, password, email address, birthday, and gender.
Once you enter the details, you just have to tick the terms and conditions before clicking on 'Create Free Account'. Well, if you have already registered with Chaturbate, then you can log in with the same credentials at Uncams.com.
Tags/Categories
Well, it's a no-brainer that Chaturbate has got the best tags or categories of all sex cam sites. However, UN Cams has just replicated all of them but presented them in a different way altogether. On Chaturbate, you will find the categories page under 'Tags'.
Whereas, at UN Cams, you can find them as a filter on the left of your homepage. Some of the popular tags at UNCams.com are Big ass, Big boobs, 30s, 20s, Latina, 18, Squirt, Ebony, Trans, Small tits, Anal, and Lovense.
How Do UN Cams Work?
UNCams work no different from any other cam site out there. Users can pick the models of their interests from the homepage and can watch their public cam shows for free. At any given time, you will find almost 4000 active models on UN Cams who are willing to put on raunchy cam shows for you.
The site follows tip-based system where the inflow of token tips will keep cam models going. As long as the model is getting tips generously, the show will go on. In the actual model cam room, you will find an option to send tips at the bottom.
The right of your screen will display the chats that the model gets from horny jerks online. However, you must be a registered user to initiate conversations with the model. Let's analyze the cam show of UNCams and compare it with Chaturbate to see the real trick.
Below is the image of a cam model featuring on UN Cams.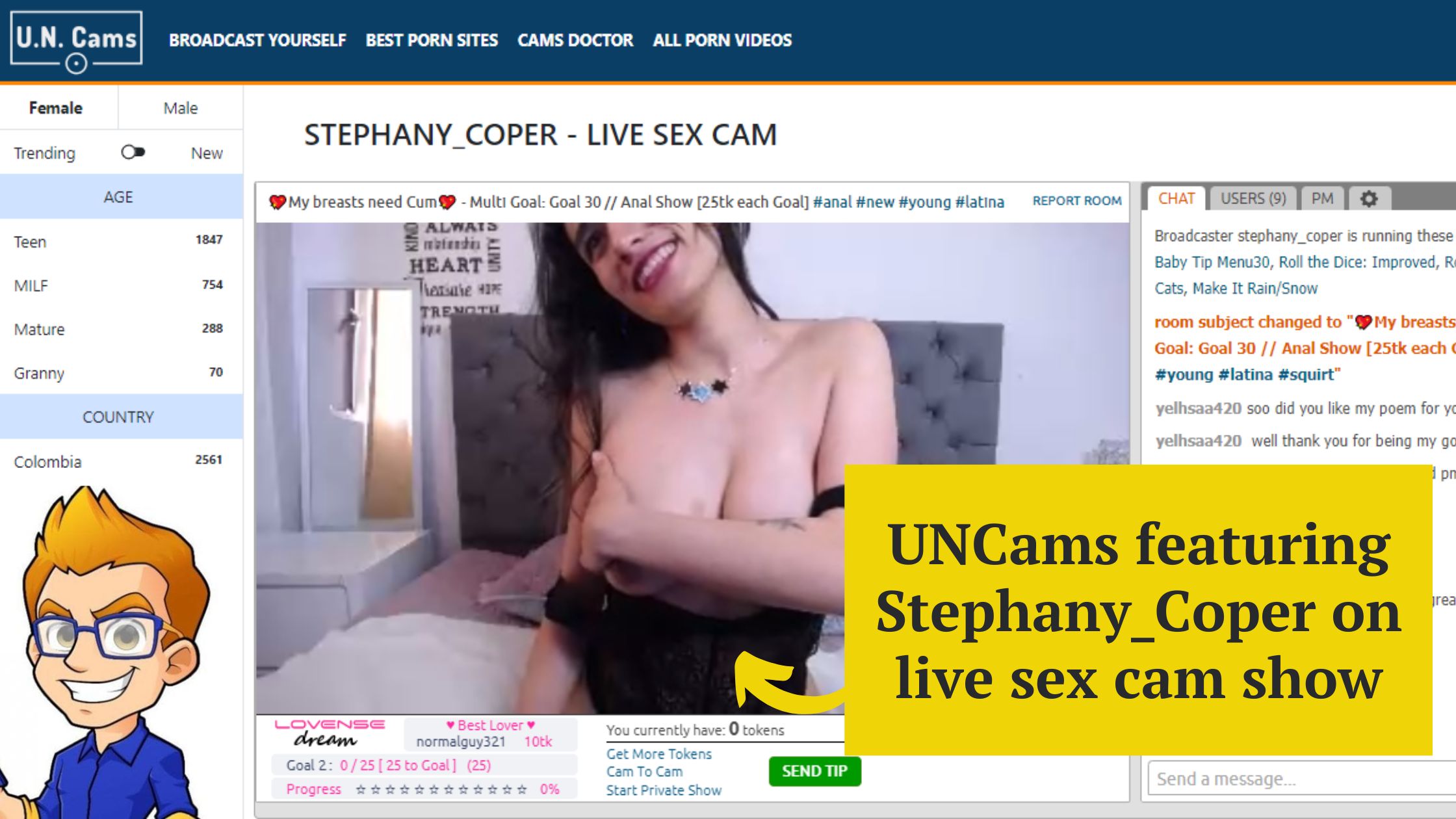 Now, this is her actual cam show originally streaming on Chaturbate.com.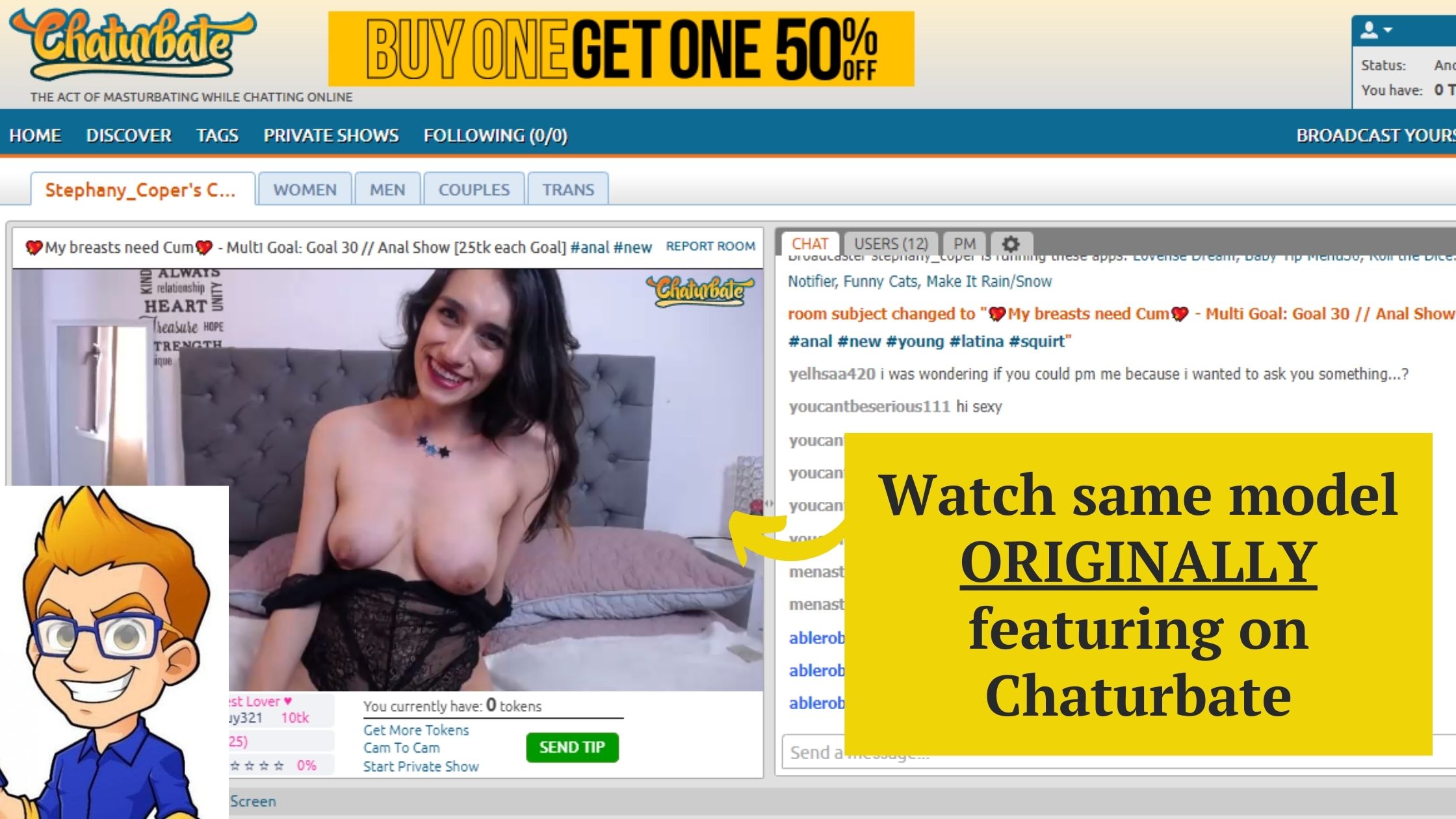 UNCams.com Prices
Although the site is free to use, you gotta make some in-app purchases for tokens that can be used to tip models and take them on private cam shows. The payments may vary from model to model as the model gets to decide the final price for an exclusive cam show with her.
There are a few models who would reply upon fulfilling their Amazon wishlist with some presents. Here are the prices for tokens at UNCams:
$10.99 for 100 tokens
$20.99 for 200 tokens
$44.99 for 500 tokens
$62.99 for 750 tokens
$79.99 for 1000 tokens
Sites Like UNCams
Now that you know, UNCams is not a legit cam site but a sham of Chaturbate. That said, it is better advised to join a site that is legitimate and is around for more than two decades, Chaturbate.com.
However, if you got bored of the same old interface, and looking for other sites like UNCams, then Stripchat.com and Livejasmin.com could be the ideal ones for you. Stripchat is known for its abundant free sex cams while Livejasmin is well-known for its sizzling cam models.
All in all, whether you are new to sex cams or a veteran, you must always be aware of shady cam sites like UNCams and LemonCams. Hope this is all you wanna know about this most hyped sex cam site.
Meanwhile, if you lust over ebony models, our list of black big ass cam girls will be surely of help!
Have a great time!
Click to rate this chat site!