Chatpig affirmed that it is a completely free webcam chat site. Is that true? If yes, how reliable chatpig.com cams are? Find out in detail about this little piggy, wicked cam chat site.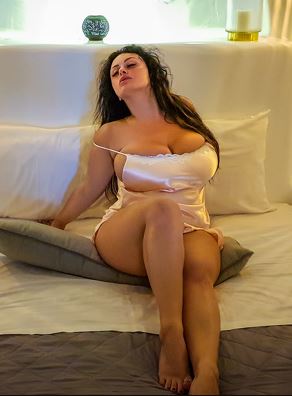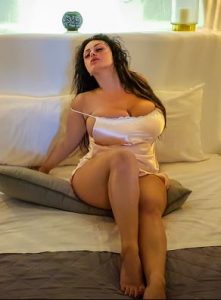 It isn't difficult to make new companions in this technology-driven world, is it? With the evolution of various adult chat sites, the hunt to meet strangers to talk got eased. But how efficient are they? Let's find out.
It's a complete myth that Sex Chat Sites will make us meet with strangers for sexual conversations and pleasures for free. Most of the sites claim that they're completely free, but are not, including this Chatpig biz.
Although some of the sites like 7Strangers, Tohla are offering its features totally free, they miserably failed in matching us with the opposite sex. In either way, adult cam chats aren't as effective as live sex webcam sites. Check out the 7Strangers Review here.
Is Chatpig a Risk-Free Adult CamChat Site?
When it comes to Chatpig.com, it is not a completely free adult cam chat site as it asserts. Anyway, the pig in the name actually meant the real pig. Lol, don't ask me why it is called Chatpig. 
Chatpig com is a basic, single-page camchat site where you can have a video chat with girls across the world. However, we are not sure about you getting connected to girls alone. Getting to know strangers is real fun, but not in this Chatpig biz.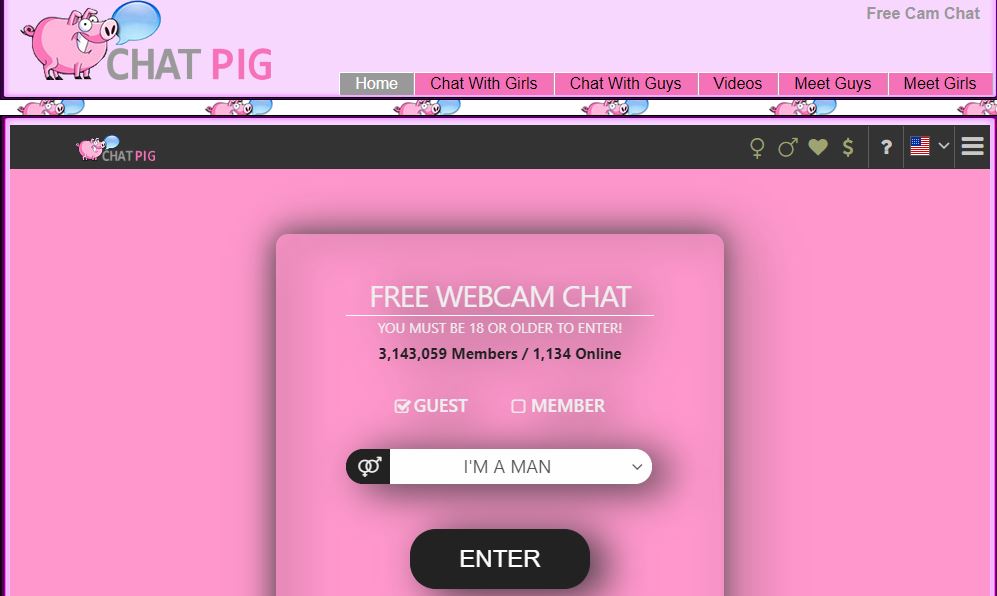 Just like every other adult webcam chat site, the setup is old-fashioned. Also, this piggy site is a complete sham of Chatroulette. The design, layout, process, everything is an exact imitation of Chatroulette. Read our honest Chatroulette Review here, the perfect one for a Chatpig alternative.
You will realize very soon that you are watching a live webcam chatroom performing by models but not strangers. Let's know about the substantial side of Chatpig before even getting deceived by it.
Chatpig's Features:
As said earlier, Chatpig is a hoax of Chatroulette and every single feature in it is forfeited from the legitimate site. By the look of it, I can say that the site is German as the models featured and most of the instructions are in German.
Let's find out what this wicked cam chat is all about. Starting with the homepage, registration, check out the downright features of it.
Chatpig Registration
One thing is pretty sure about Chatpig.com that you can't be really sure about its security concerns as they don't have any other than the report tab. The homepage will have features like Chat with Girls, Chat with Guys, Videos, Meet Guys, and Meet Girls.
However, these features have nothing to do with Chatpig as these all will take you to other third-party adult sites. On the home screen, you will be able to see the number of people online at Chatpig com.
The registration at this piggy site is pretty basic. You can continue either as a guest or create your free account. When you choose a guest option you must select your gender and accept the terms and conditions of the site before entering into the free hot cam party.
To create a new, free account you must provide a nickname, password, a valid email address, birthday, and gender. Once you create the account you will get access to the chat screen where you can have a sensual conversation with the model in free adult cam.
You must enter the activation code received to your given email address to validate the account. Although the site is claimed as a free cam site, you must purchase tokens to tip for models and to invite them for a private cam2cam show. 
Chatpig Free Adult Cam Chat
Once you create the account, you must log in to the site using your nickname and password. You can also choose the type of cam you wanna watch from the dropdown of categories listed. After successfully logged in, you will get redirected to the actual free hot cam window.
Here you can see the model performing nude (very rarely) just like in other supreme live sex cam sites, Chaturbate.com. The cam window and features are again an exact imitation of most of the leading free cam sites.
Omgchat (review at the link) is one such example of instant live webcam rooms reproduction.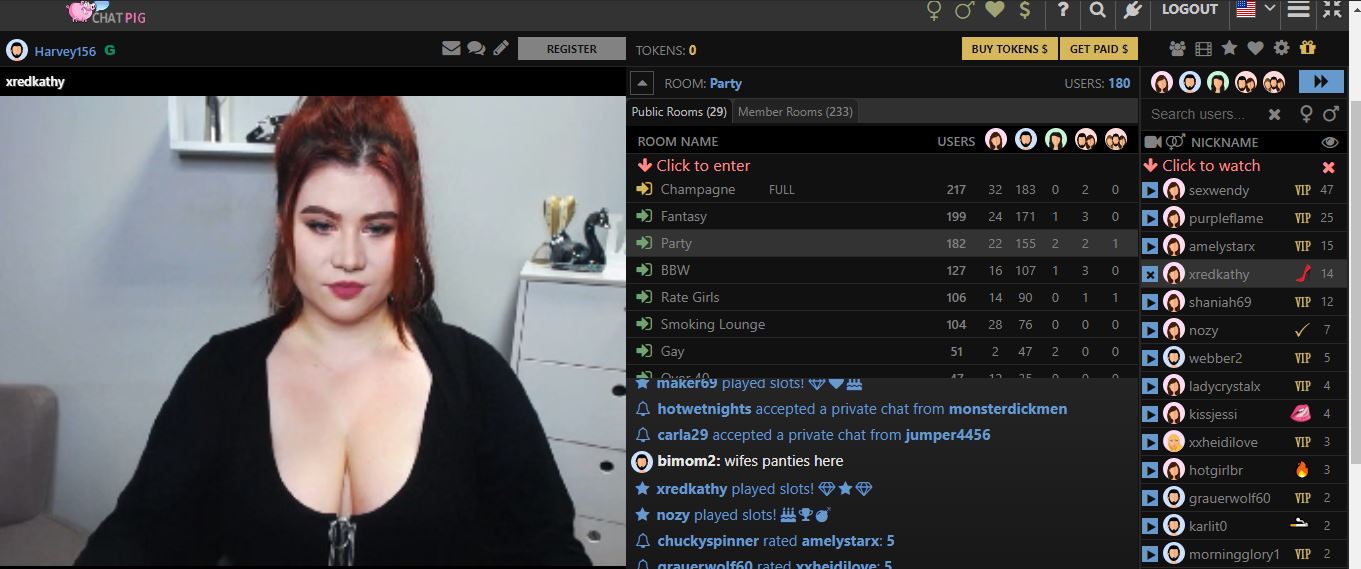 You can only turn your webcam on once you invited any model for a private show. Hang on, you must purchase tokens in order to do so. Nothing comes free in here! You must be a VIP user to send normal texts in any webcam chatroom. Disgusting!
The prices aren't affordable either. Despite being said that it's a free adult cam chat site, pig chat is deceiving the audience to the core. The price to purchase tokens are as follows:
That said it comes around $27 for 300 tokens approximately. Man! That's too expensive for what it's having in store. Instead, we can spend very little of this on other prime cam chat sites.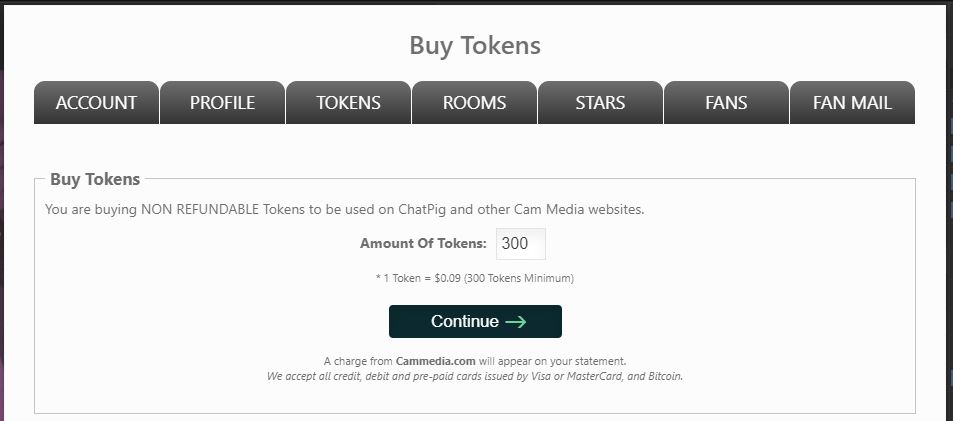 Chatpig – Final Verdict:
Try Chatpig.com at your own risk. If you don't want to spend any bucks from your pockets, switch to genuine free sex cam sites like Streamate.com, LiveJasmin.com, and Stripchat. Here, we can assure you the webcam chatrooms of supreme quality.
The models featured in these sites are alluring and experienced. However, if you still wanna try Stranger Chat Sites, here are the Chatpig alternatives, mnogo chat, wicked cam chat, chat roulette, tohla, and many others. 
No matter what, ultimately all we need is to have a sensual conversation and video chat with girls. Lol!
Click to rate this chat site!