Omgchat is a free webcam chat room site with instant free webcams available for adults. Omgchat.com allows you to video chat with strangers at no cost.
Many adults still fancy talking to random strangers online for fun, friendship, and kill boredom. We have seen many review sites mentioning omgchat as a dating site that allows adults to communicate through free webcams. However, that is entirely the wrong message.
Omg chat was never a dating site that tried to match adults for casual flirting. Instead, it always acted and still does as a free live webcam chat rooms platform for adults.
For some of us who are still finding it hard to understand, here is a better idea about omgchat.com. It is an adult webcam chat site that includes profanity, nudity, and vulgar language while doing video chats.
The all-important question is; omgchat.com is a legitimate platform or not? We will check that out in this updated omgchat review today.
Omgchat Overview:

Though omg chat is not that popular, it does feature some free cam2cam services to adults. Omgchat.com mentions there won't be any fees, signups, and webcam required to use their adult chat platform.
So, how much of that is true? We will see one by one to get that answer. The home page isn't the most attractive feature for omgchat.com & no doubt on that. Not sure why they would choose panda with bold words as the center logo for viewers.
Further, below the main content on the home, we could see an integrated webcam chat tool installed on them which doesn't give you the authentic feel. Anyway, let's see what's more on the plate for adult video chat users on omg chat com.
Omgchat's Features:
Registration
Strange isn't it to see registration as an option given in omgchat.com. The main webcam page is in orange color with a 16-way webcam chat feature. Sounds intriguing, but the fact is, we have seen the same style of webcam dashboard on other sites.
You can see WickedCamChat (review at the link) with a replica of what we see on the omgchat com. It makes us feel very skeptical about what's more on omg chat.com.
Adults can pick a gender and agree to terms to proceed with free webcam rooms as a guest. That said, registration is also free, and all we need to enter is gender, date of birth, profile name, valid email id, and password.
Webcam Members
Typically, we would expect guys and girls on free video chat sites online. In that way, webcam site omg chat.com has assured everybody gets an equal chance to join and interact with other members.
So, not only hot girls and guys (18+), but we can also have the option to converse with trans, couples, and groups.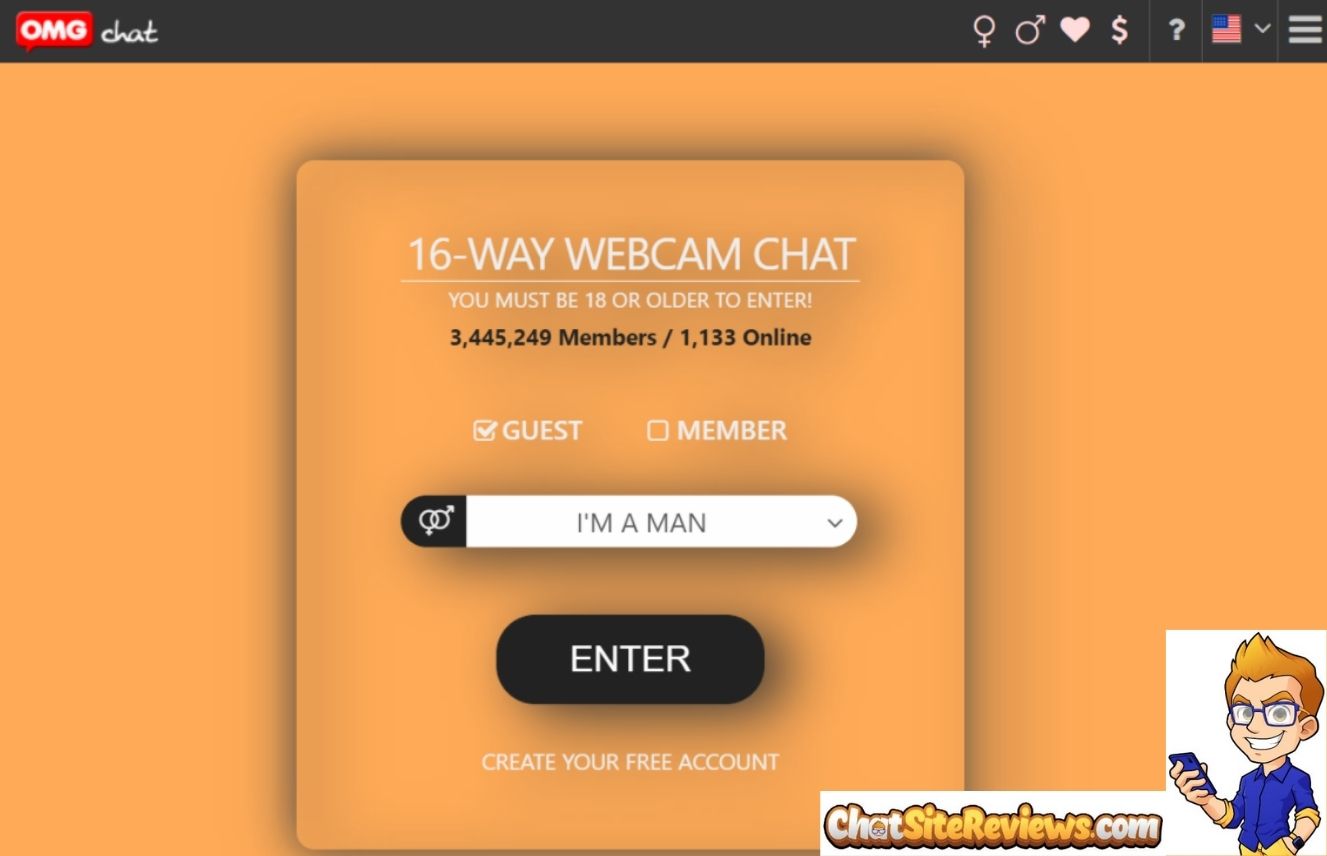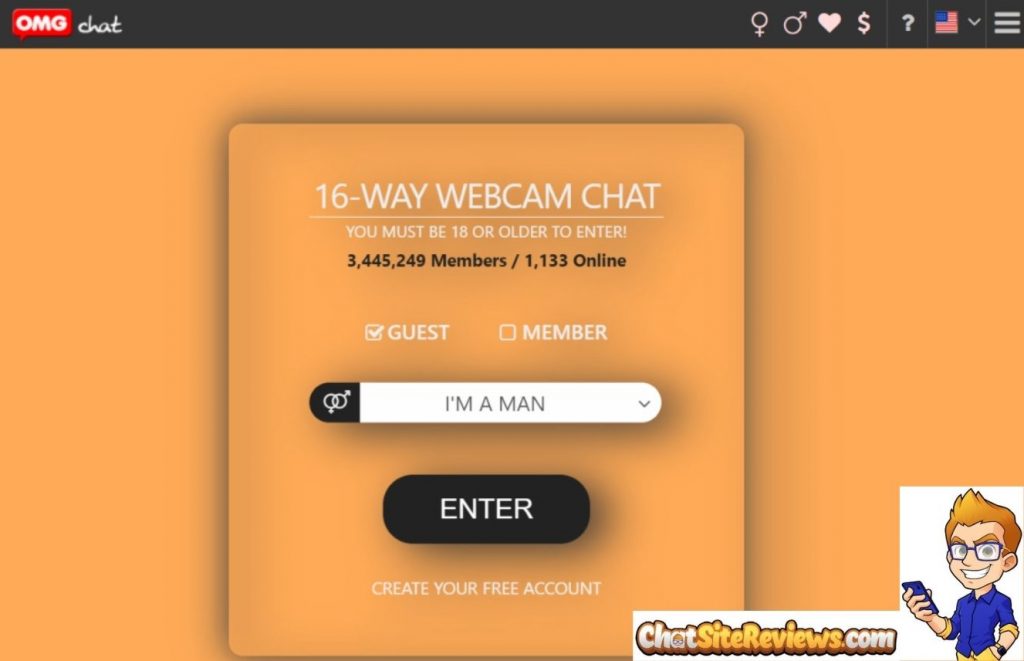 Online Video Chat Rooms:
After entering the video chat rooms, we could see naked webcam girls lying and sexting with other members. Besides, they're available on two different webcam chat rooms such as public and members rooms.
Using public chat rooms, guest users can see different exhibitionists stripping naked, sexting, and dirty talking with others. Maximum we can see 28-30 public video chat rooms in which fantasy & champagne always gets quickly filled.
Furthermore, once the public webcams cross 200+ members, guest webcam viewers cannot proceed further. You have to be a registered member to join public rooms with more viewers.
On the other hand, members' rooms are always huge in numbers. We can easily see 290 – 300 rooms ready with tons of viewers. A quick mention for users; only registered members can join members' webcam rooms.
Unlike other top webcam sites like StripChat (review at the link), omgchat rooms have more male members than female streamers.
Omgchat.com Pricing:
It is clear that some webcam streamers allow guest chat users to send messages to them, but not all of them. Even though omg chat mentions as random video chat for free, it isn't entirely true. We need tokens to interact with strangers. Period!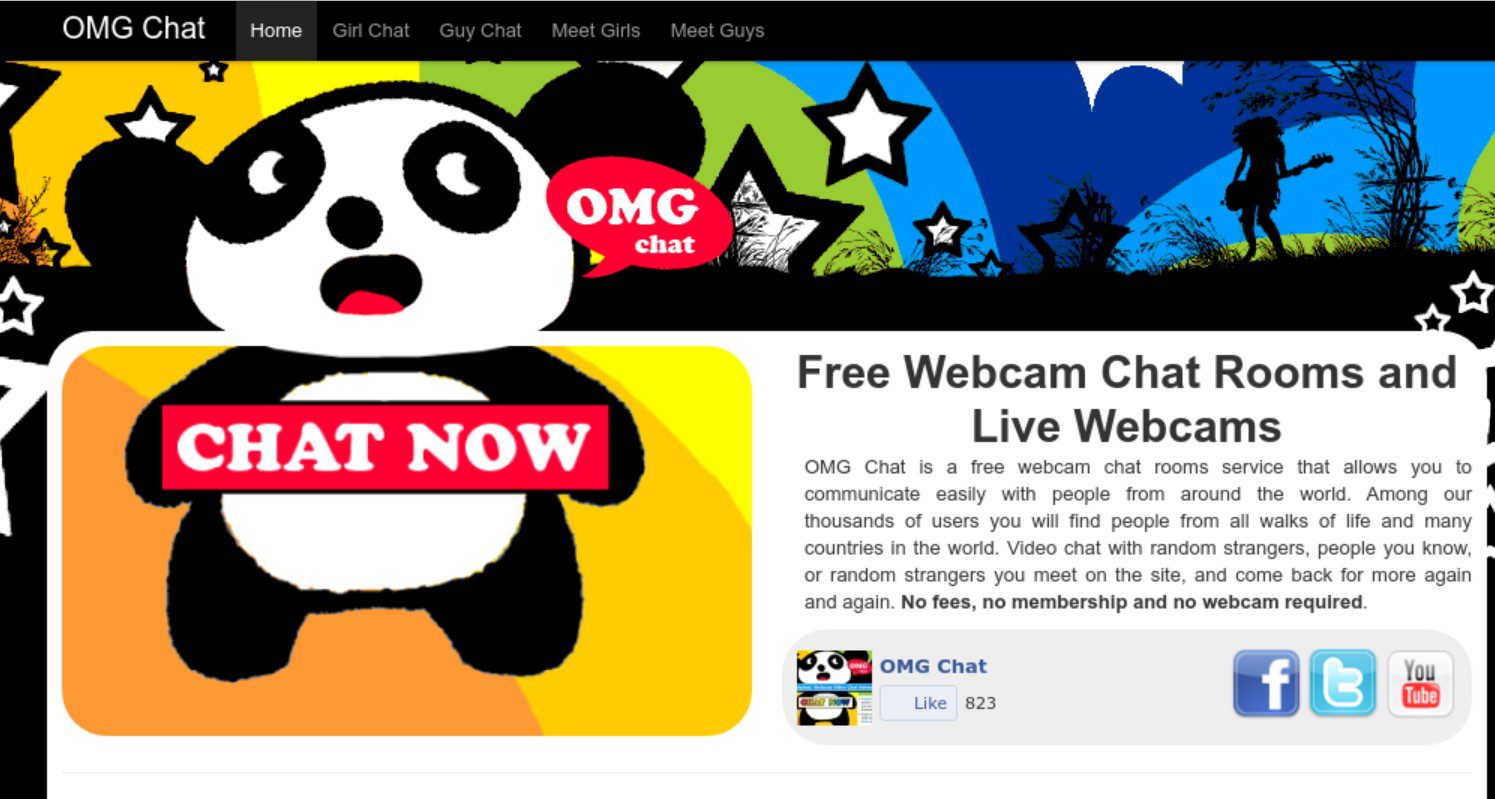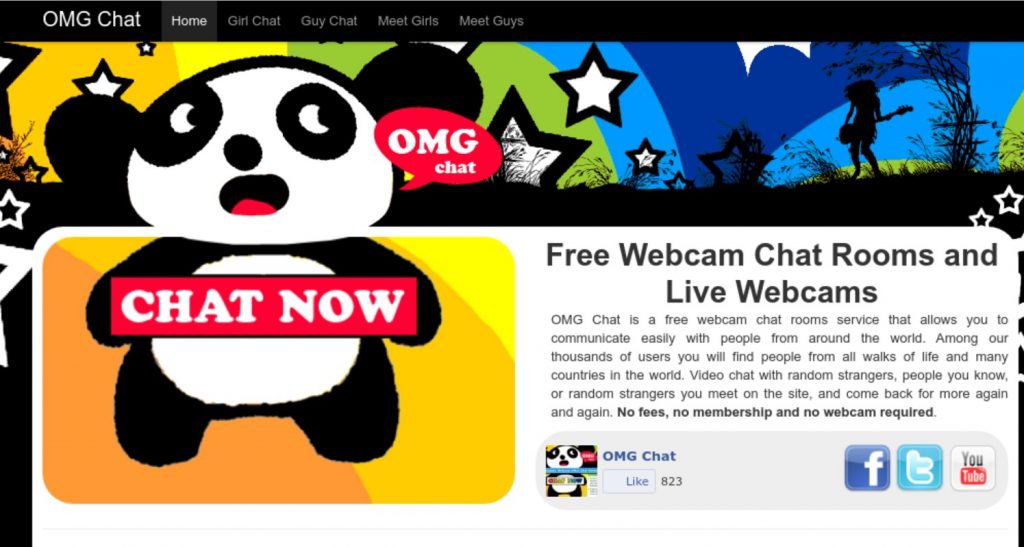 Besides, how many tokens are required to chat with omgchat people? That's still an unclear question for many of us. That said, the cost per token comes around 0.09$, and if you want to become a VIP member, you need to spend a minimum 30$ for that.
So, what's the big deal about VIP membership?
Able to join all chat rooms
Watch and stream our webcams to others
Separate badges/icons per profile
Set up custom messages for users who enter your profile
Invite & join private chat rooms
Go anonymous and watch other private webcams
Enhance profile information
Sites Like Omgchat.com:
For all those people who are searching for sites like omgchat online, this is for them. There are quite a few reproductive sites with the same look as omg chat. It is safe to mention that omgchat video chat rooms aren't legit as we thought.
Nonetheless, here is the proof, sneak into EnterChatRoom & Shockrooms (review at the links) and see if we are wrong. Omgchat com is a ruse to send adults to send to other webcam rooms. Not only that, even all the additional links mentioned on the site look the same.
Chat with girls will redirect to livecam.com.
Meet girls will redirect to sexymatch.com.
Chat with guys will redirect to webcamguys.com.
Meet guys will redirect to gaymatch.com.
Webcam jobs will redirect to internetmodeling.com.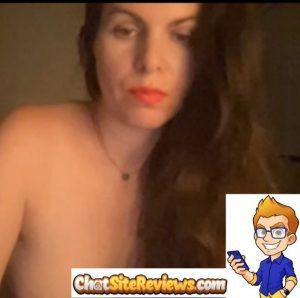 If I'm a video chat user who wants to find beautiful strangers to talk to online, safe to say I won't be risking myself on omgchat.com.
Instead, adult cam sites are far better, and easily Streamate.com is my go-to place for naughty chats with girls and mature women.
Omgchat.com Reviews Final Thoughts:
By now, we are sure everybody has seen what omgchat free chat rooms do for adults. It's 100%, not a legit platform to meet people and build relationships or fun.
Even with the confusing pricing and dashboard settings, omgchat tits videos are still watchable for free. It all comes down to the wire that nobody wants to add their credentials and spend money on a reproductive platform.
If you're choosing LiveJasmin or Chaturbate, that is a different story. Both are legit, secure, and two of the best webcam chat sites for adults for more than a decade.
In short, forget about searching omgchat hack and omgchat app online. We know that it is such a deceitful platform anyway. Feel free to peruse my other exclusive articles on webcam girls from my blog. You won't be disappointed!
Click to rate this chat site!