Enterchatroom is all about free online chat rooms to video chat with girls and guys around the globe. Enter chatroom is not a dating platform, but yes, you can find friends here.
When we talk about free chat rooms, instantly people would think about sites like Omegle. That is the level of impact it had for years of free video chat and voice chat experience. However, it has become obsolete, and now we could see many free chatrooms on the internet.
Without a doubt, Omegle was a pioneer and also mapped out how to do free video chat rooms with adults. That said, over the years, we have seen up and downs about free chatrooms, and it's evident, we have to be cautious about using such free chat sites.
Is Enterchatroom.com a better platform than Omegle? Or another video chat room site full of pervs? Let's find out more on this complete enterchatroom review below.
Enterchatroom Analysis & Breakdown:

Alright. Enter chatroom starts with a lame website theme on blue color with a mention of 25 countries.
Each country denotes separate chat rooms, and we can perform video, chat & voice messaging to like-minded adults on the platform.
The website clarifies once again that we don't need registration to connect with adults. Please note, this is an 18+ platform with webcam chat integration from cammedia.com. We can see the same old 16-way video chat with a three million-plus user count notified the front.
All we have to do is click on the country name, and the next page will guide us to join the video chat rooms. Does Enterchatroom.com is available as a mobile app? Continue on the features to get answers.
Enter ChatRoom Features:
Signup Process
Guest & Member are two of the logins available for adults. First, accessing the website is smooth with a guest account, and you have to pick the gender and proceed to enter the rooms. Adult users can enter the chat rooms as a male, female, trans, couple, or as a group.
We should appreciate that the main home page clears the air that it's purely for entertainment purposes. So, for those adults using enterchat rooms, never share your personal information in chat rooms. It's not advisable on any free chat sites.
Free Chat Rooms
On average, you can see more than 350+ online chat rooms are available on this website. In particular, almost 35 of them are 100% meant for public chat users using the website as guests or registered members with no tokens.
So, the chunk of the adult chat rooms gets classified as members' rooms. What is more intriguing about enterchatroom.com? Both the chat rooms are identical in terms of user interface and functionalities. Further, members' rooms have a slight edge for adults to go for a c2c chat with girls and guys.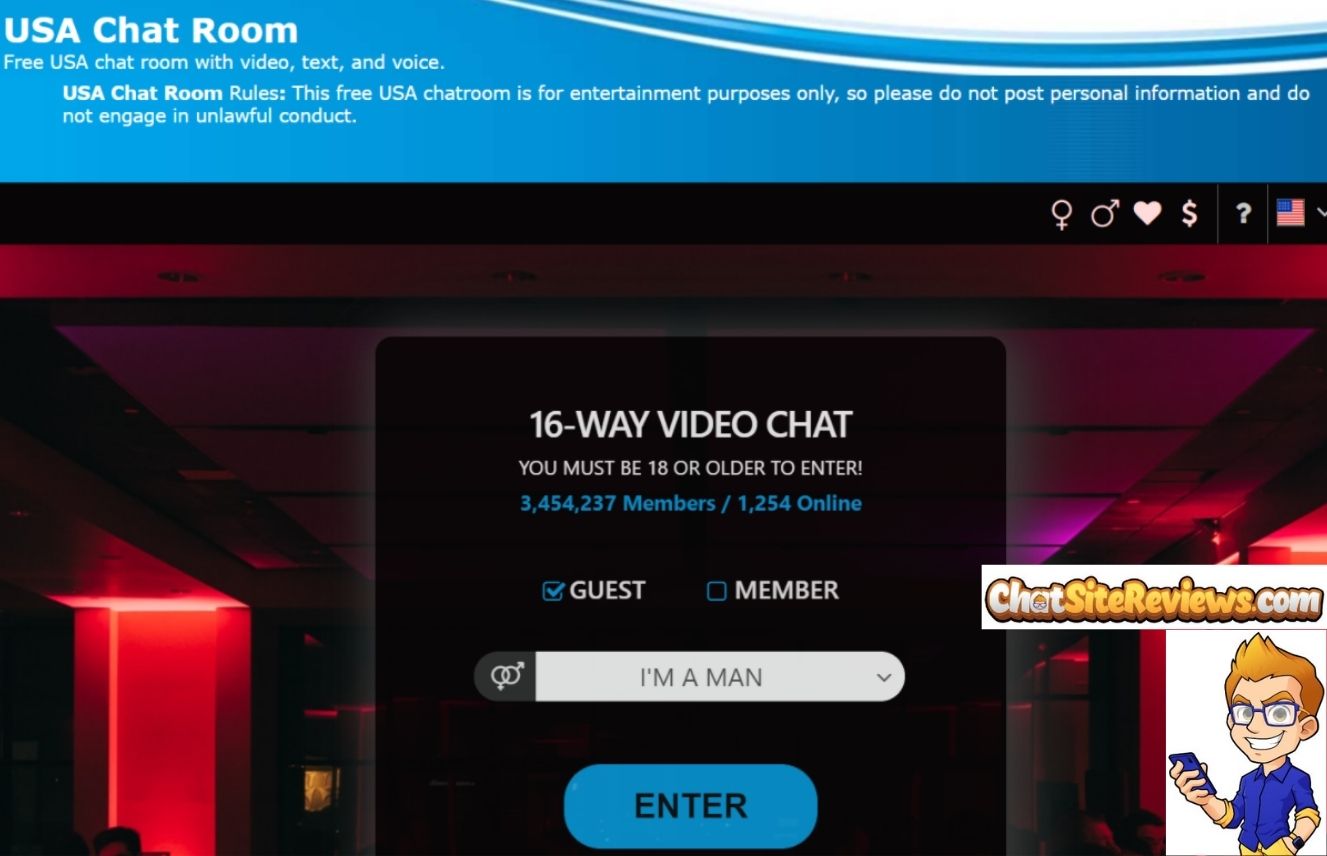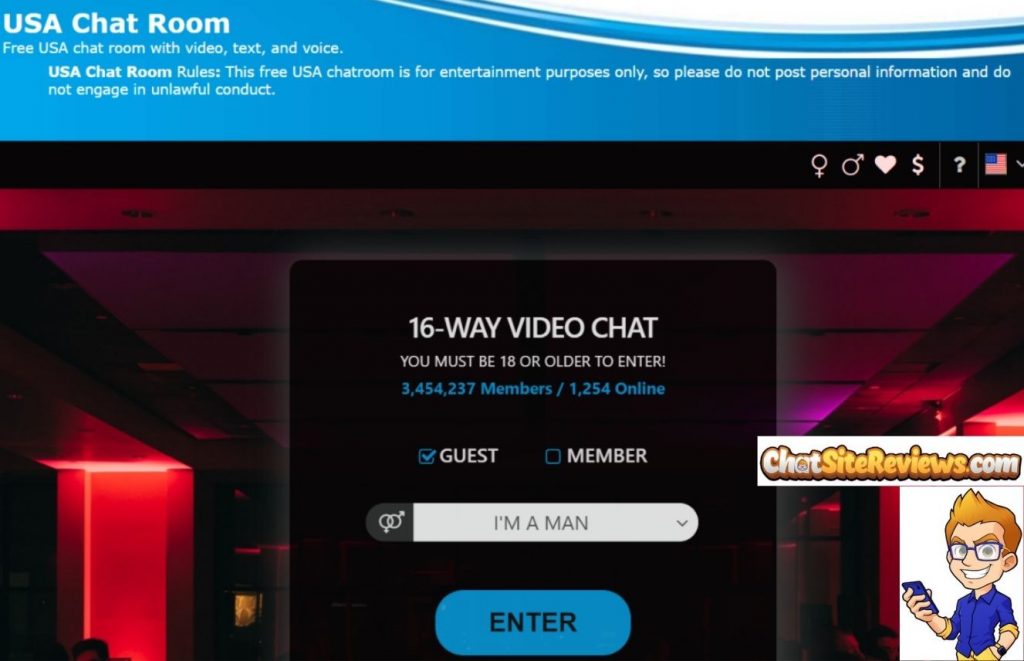 Video Chat Quality:
Of course, enterchatroom is one more integrated product of cammedia.com, and thus, the video chat quality remains very much the same comparing to other sites. You can sneak at CoolChat (review at the link) webcams quality, and it matches 100% percent with the enter chatroom.com.
Anyhow, the 16-way video chat tagline is another ruse way of alluring the users to join the chat rooms. In reality, it is for registered VIP members. However, we can watch free webcams of girls and guys using a guest account, but private conversation won't happen for free.
You can use it for two ways, in particular, that is,
To watch other's webcam
Stream our webcams to others
For that reason, they got the 'get paid' option mentioned right next to 'buy tokens' on the chat window.
As stated earlier, there aren't many options to send text messages free to webcam girls. That's why we don't trust 'free chat no registration or download' websites. We have to purchase some tokens, preferably around 300 tokens (27-28$) to become VIP members and then go for the chat.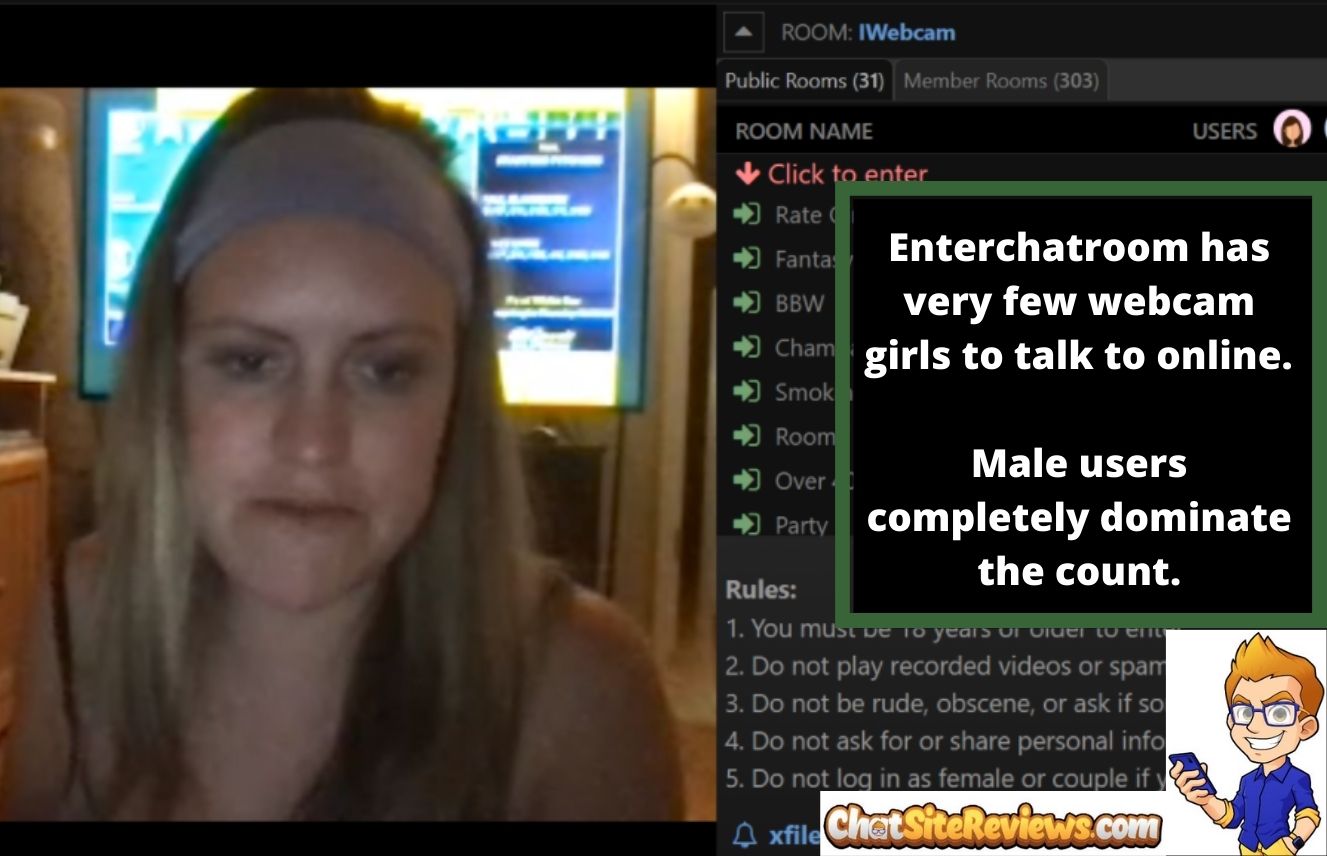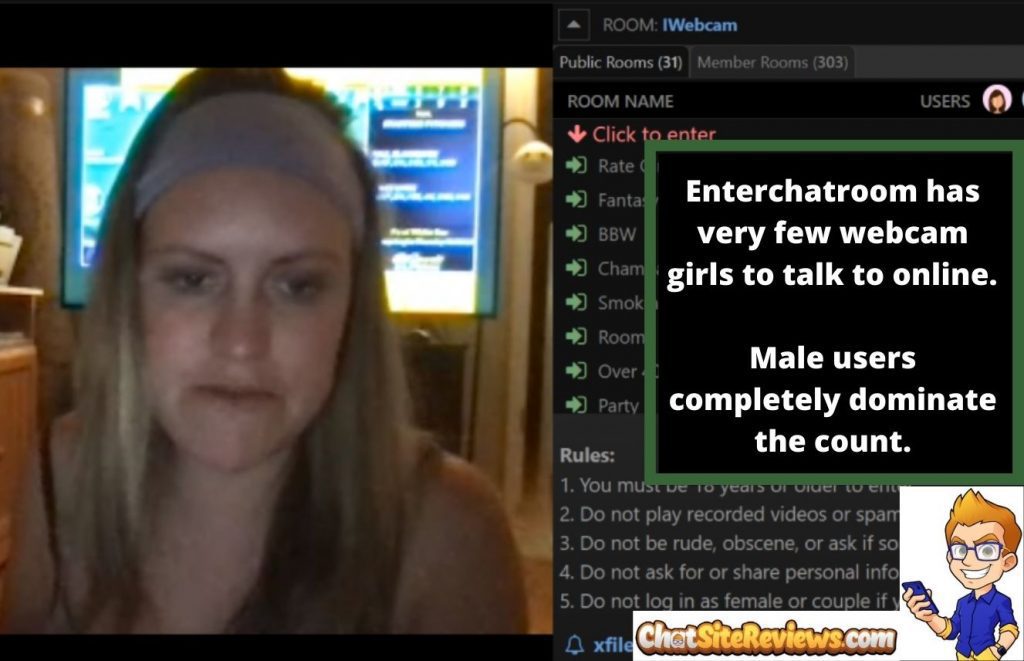 EnterChat Room VIP Benefits:
Before we talk about the benefits, we have to pinpoint something missing on this free online chat room site. User experience, free nude webcam shows, and members count are not the best suit of enterchatroom.com.
Despite being an adult webcam chat, it is unusual to see why they haven't figure out a way to show free webcam shows. Come on, other top adult cam sites like Chaturbate.com does it with ease and streams 3500+ hot webcam performers every minute.
On top of that, it is totally free for adults. Yes, it is 100% true. Free webcam shows are available at Chaturbate (review at the link).
Coming back to the benefits, here are some of the perks for VIP members,
HD video cams
Filter webcams by gender
Spy at any webcams
Complete profile with a description, photos, videos, etc
Private chat rooms – customizable
Send cam2cam invites to any registered member
Block any user you don't like
Set custom messages for users checking your profile
Sites Like EnterChatRooms.com:
Omgchat & Shockrooms (review at the links) are some of the exact alternatives for enterchatroom users. Both sites go with the same webcam chat options and pricing. Nonetheless, it does have fewer features for guest users.
For instance, compare those alternatives with adult cam sites such as ImLive & LiveJasmin (review at the links), and you'll see these two are far richer in user experience and free features. Both adult cam sites give access to guest users to watch spy cams of exotic female streamers.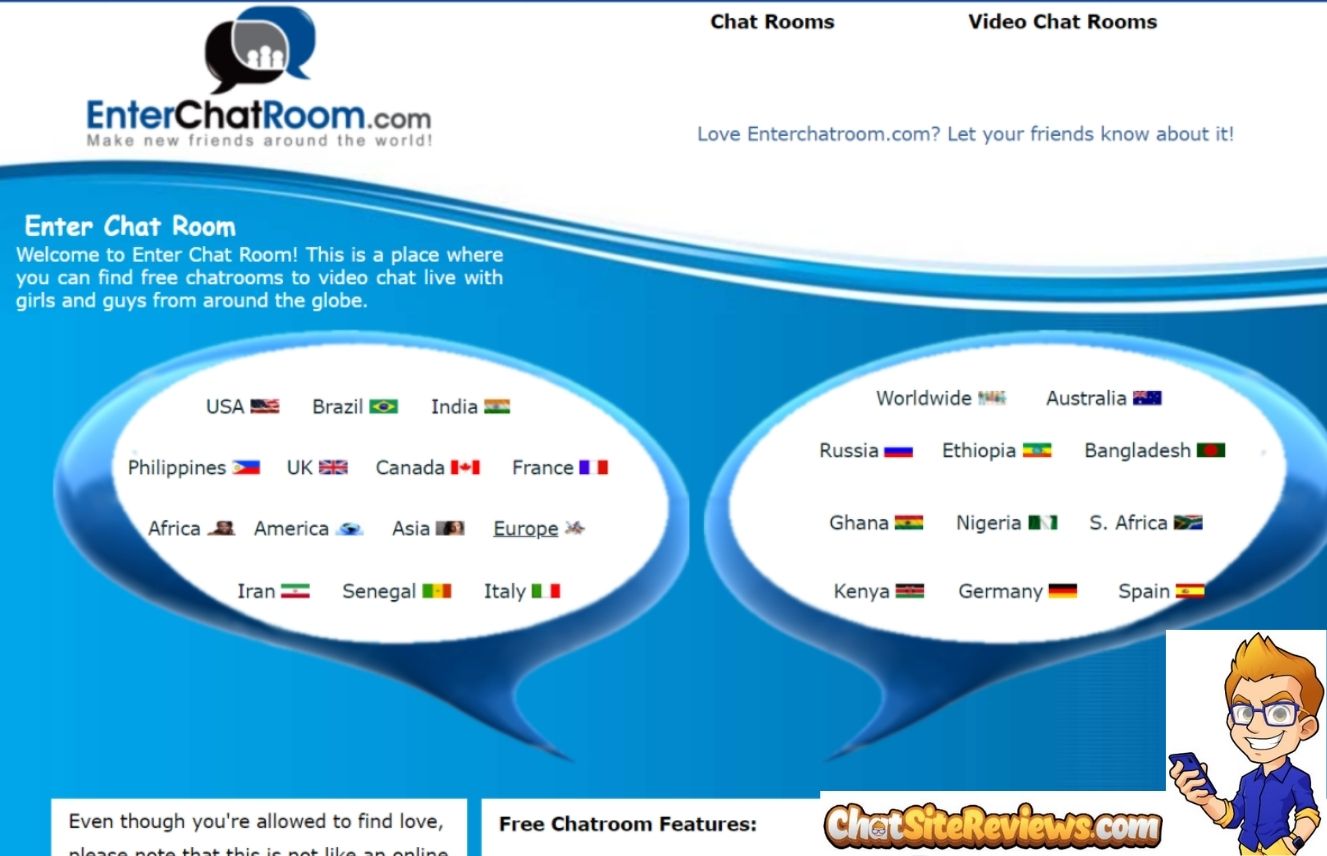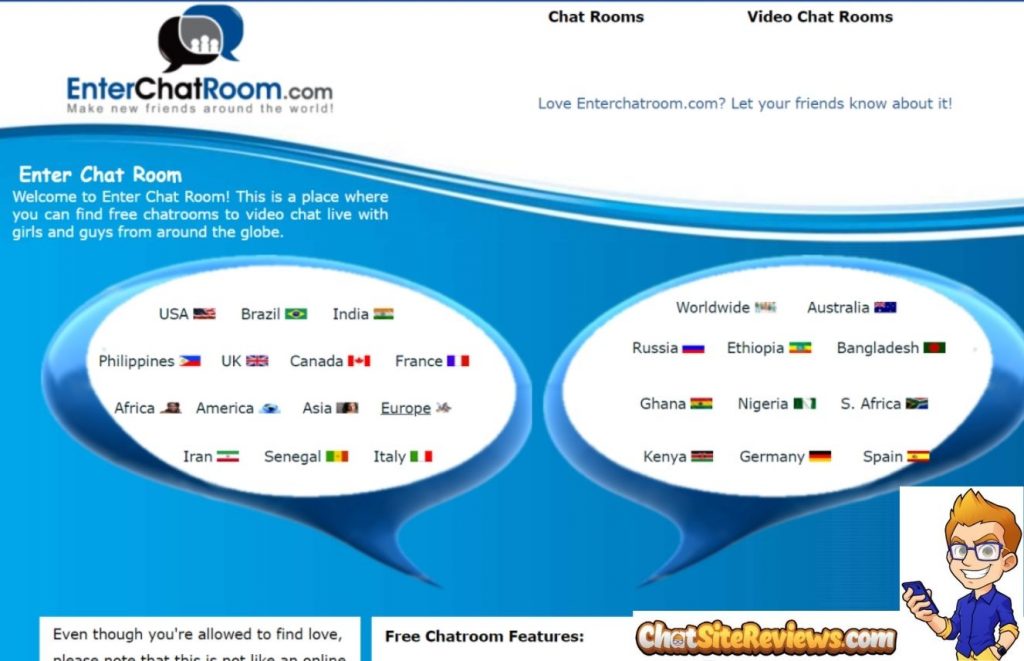 EnterChatRoom.com Reviews Verdict:
Enterchatroom is nothing more than a counterpart of other cammedia platforms. It spins around in different website names and themes on the front end, but the main webcam chat functionalities are the same.
We haven't seen any other site with so many duplicates like this. Whatever the trick they perform, it cannot beat the legitimacy of the best webcam sites.
Overall, enter chatroom.com fails in producing an original webcamming experience for adults. How on earth do people trust the site and buy tokens to talk to girls here? They won't, and you shouldn't.
In short, don't fall for such cheap tactics and spend your money on the enterchatroom. Don't forget to peruse my article on best webcam sites to talk to stranger girls online.
Click to rate this chat site!