Funyo is a free random chat site that helps to find strangers for video chat using webcams. Funyo.tv is 100% free, and no sign-up is required to chat with singles.
Most adults would relate funyo chat platform for random texting and gay chat. Webcam chats with girls and guys are increasing every year, and sites like funyo tv are just the tip of the iceberg.
A decade back, chat with random strangers was one of the hot topics and categories that everyone tried their hands on. We are talking about random video chat too.
Nonetheless, the scenario has changed today, and it is not easy to attract adults to chat with strangers unless we have a secure and private platform.
So, how is funyotv doing these days? Can we able to trust this free random video chat platform? A lot of questions and not many answers to find online. That said, here we are on this updated funyo review to unveil everything you need to know.
Funyo Analysis & Breakdown:

Funyo.tv is more like a mask that covers ChatRandom (review at the link) website. We have seen random texting options, but gay texting options in chat random are new to everyone.
We must admit, camzap funyo chatroulette like sites lacks the magnetism to bring in millions of chat users. The website looks very basic and lacks trust from the first impression itself.
Also, funyo tv doesn't have any mobile apps available on the Play Store. Besides, we wouldn't want to see it on the mobile app, to be honest.
Funyo's Features:
Random Chat
On the top header, we got random chat and gay chat options. That's all the features we have on funyo. Clicking on the random chat will open the integrated website view on chatrandom.
Using that, you can directly enter your gender, agree to terms, add interests and then proceed to watch stranger webcams.
Gay Chat
Clicking on the gay chat opens up the new option to video chat with gay, bi, and curious singles. Also, if you're straight and willing to talk with gay personals, you can do that. Either way, it's open to everyone 18+ years old.
Say, both random video chat members and gay singles can add their interest before proceeding for webcam chat online. Thus, it's available for guest members too. Besides, it helps us find people with similar interests.
Hold on, did we see this before? Oh, yes. The old-fashioned Omegle (review at the link) style of connecting adults.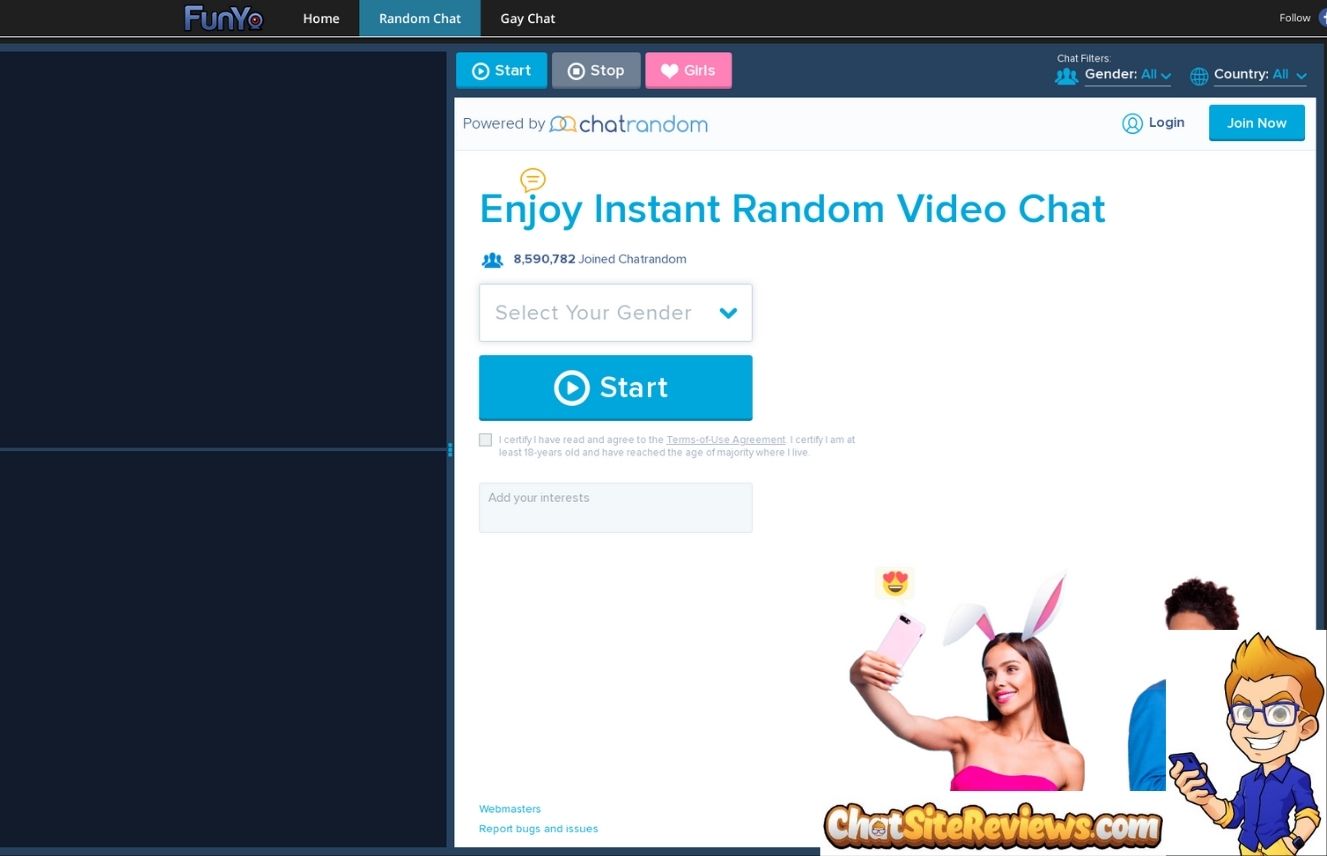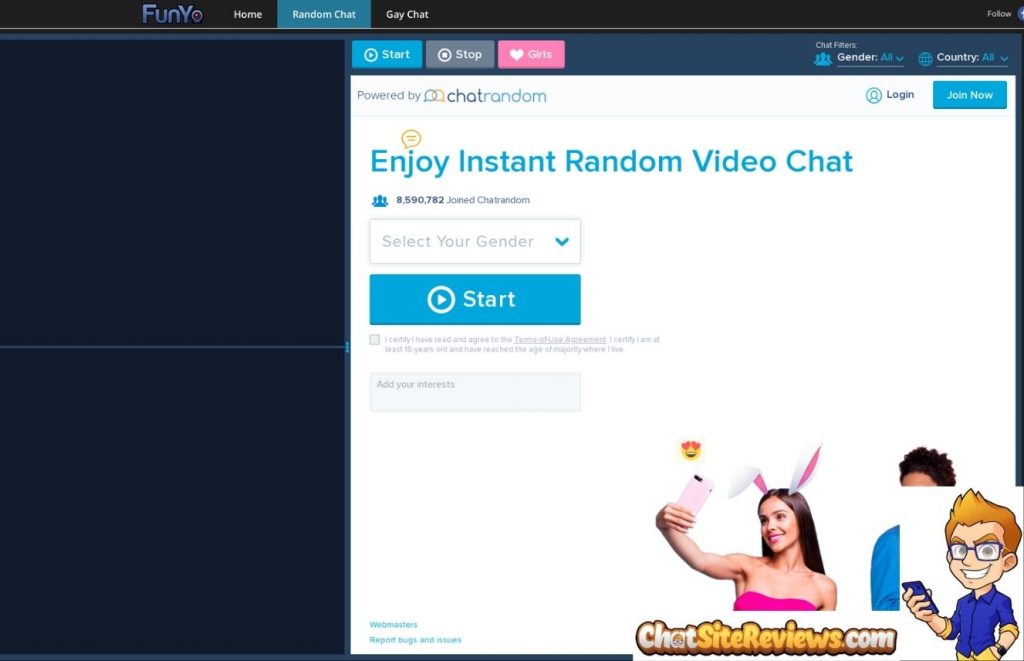 Guest Or Registered Member: Which one is better?
Guest User
Using guest chat, we can see tons of men and a handful of girls coming online and getting vanished. Chat with girls or guys is not of premium charge provided we find genuine and decent singles to talk to online.
However, the system detects your IP location and fetches users nearby of them. Let's say, if you want to chat with girls from the USA or UK, you cannot do that without being a VIP member.
Registered Member
Registered and VIP membership is the way to go for checking the website's stranger chat experience. With a VIP account, you have the choice to choose your partner's location and gender.
Quality of Users
Scary. That's the best way to describe funyo and chatrandom. More than 90% of members are men who are trying to look for sexting with girls online. That's why lots of topless users, dick flashes, and profanity in messages happen often.
Additionally, for users coming to chat roulette sites for the first time, these things about profanity and nude scenes might be disturbing and vulnerable. The report option is available, but still, hundreds of users hide their faces and show their penises to welcome chat users.
Funyo.tv aka Chatrandom Prices:
Just like you, even we thought this could be another free video chat site for adults. Furthermore, the pricing is 100% real, and never believe a single word when chat roulette sites mention free webcam chat.
6.99$ per week
19.99& per month
Billing is automatic once we enter credit card details, and we have to stop the billing manually. Honestly, who would spend dollars to spend time on this crap? It's not going to make you find a genuine girl to talk to on webcams.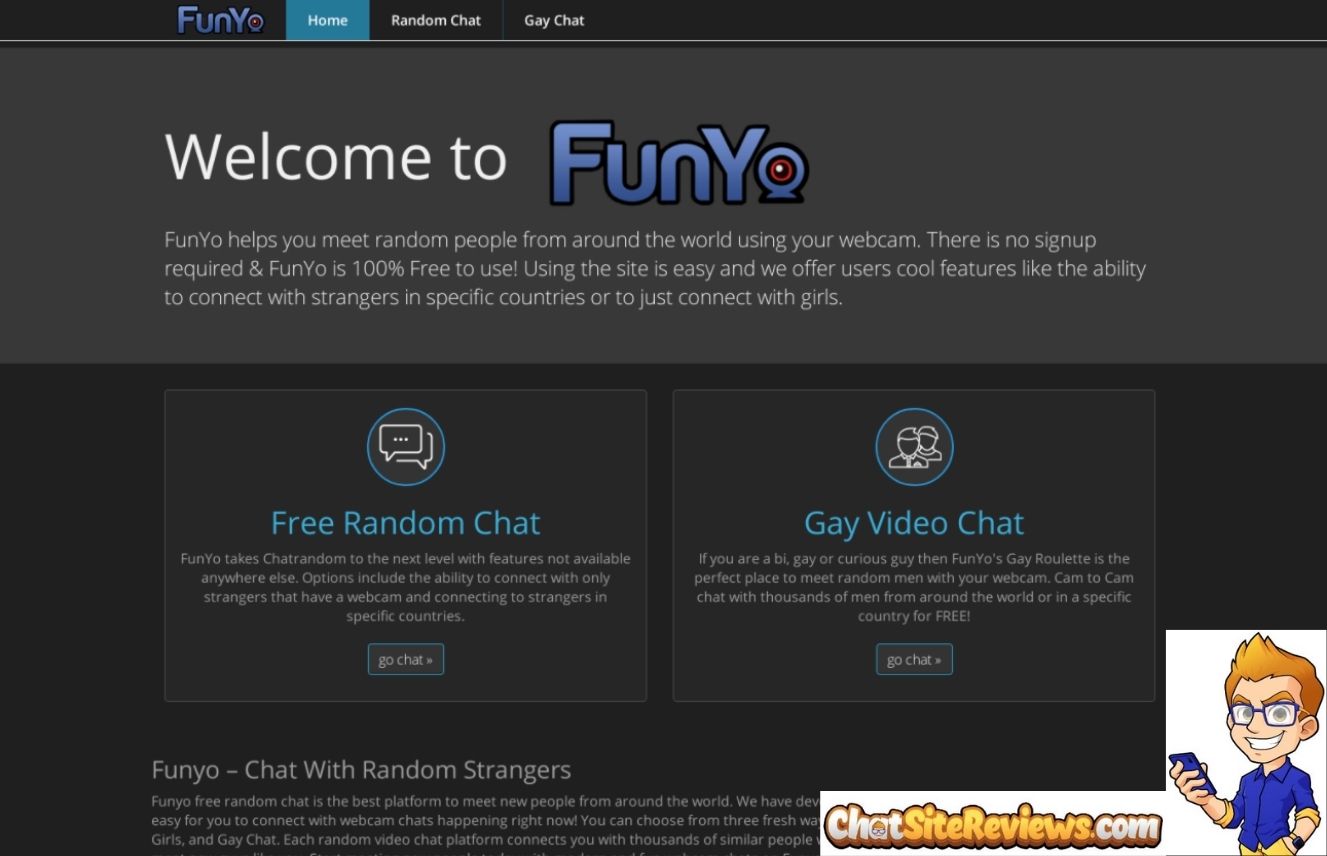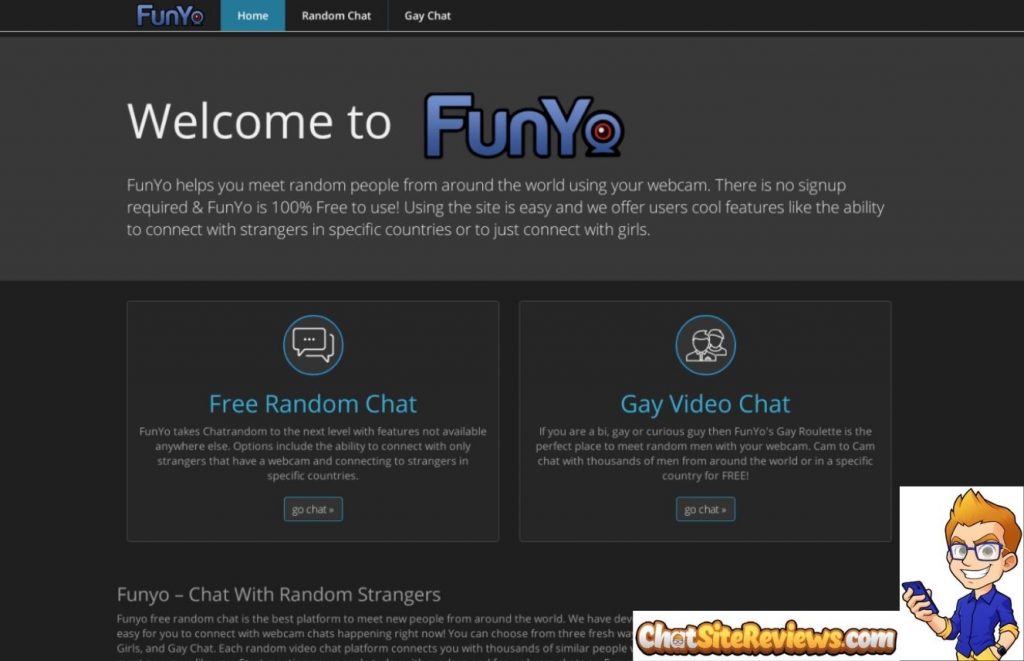 Further, one might ask, what about bicurious and gay singles? Will that be worth spending here? The answer remains the same. Big NO. In other words, most of them are regular male members and not gay singles looking for dirty chats. It is another trick to make you pay for useless websites.
Sites Like Funyo.tv:
Millions of stranger chat users are available, and they keep digging at new platforms to find people to spend time online. In addition, it makes sites like chatrandom get copied similarly and used in different website names and logos.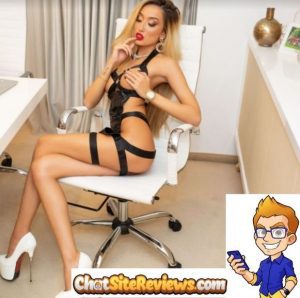 ChatAlternative & OmeTv (review at the links) are two alternative sites with the exact look, pricing, and chat experience.
If you're on a quest to chat with girls online at stranger chat sites, forget about it. That's not going to happen these days.
Instead, look at adult cam chat sites with genuine webcam members to talk online and webcam for free.
Whether it is men, women, or couples, adult chat sites like BongaCams & StripChat (review at the links) have free webcam chat options for 18+ members.
Apart from texting, they also have free webcam shows where we can watch genuine members and not some hidden users as funyo have.
Funyo.Tv Reviews Verdict:
As we stated above, funyo has nothing on its own. It's just a coverup for chatrandom sites to pull users in a different name. Disgrace is the perfect word for funyo tv.
Clearly, this was never the alternative for random chat users looking for webcam chat with girls. Therefore, you got to look for adult cam sites like Chaturbate.com for the such luxury of chatting with beautiful girls.
Overall, users feel cheated on funyo, and it's a type of site that needs to get rejected.
Click to rate this chat site!