Yesichat is a guest chat room site that works without any registration for all age groups. Yesichat.com does have free chat rooms and live video chat features for adults.
Though it is claiming to be free and open to everyone despite different age groups, we must be cautious about accessing these chat room sites, particularly if you have teens in the house.
Yesichat app is also available online with 3.6 ratings out of 5. Of course, it doesn't have the most convincing reviews to pull the free chat users, but still, there is a lot to know about the yesi chat platform.
A boatload of adults still prefer stranger chat rooms sites like yesichat.com, and we need to figure out why. So, buckle up and check out the updated yesichat review below.
Yesichat Analysis & Overview: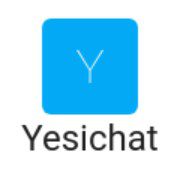 Interestingly, yesIchat is keeping free chat rooms for everyone, and we are telling you that is not an easy job to do. Using yesichat.com, we can make friends, casual chat/flirt, have fun, and even go for a private chat with strangers.
The homepage looks dated with the white and blue color theme. All we have to do is enter any username of our choice and accept terms & conditions to proceed to the main chat room.
Moreover, unlike other free chat sites, yesi chat has no advertisements or banners on the home, and that's a better idea to go. That said, let's check out other features and see whether yesichat is a noteworthy site for chat members or not.
Yesi Chat Features:
Dashboard
Once we enter the username and accept terms, we get guided to the main dashboard with lots of ads and little space to talk to members. Besides, we receive welcome messages and spam messages from paid bots to send us to vulgar platforms.
Chat Rooms
Just like we stated above, this chatforfree site has hundreds of country chat rooms with similar chat window styles. Almost all of them look like hookup chat rooms with guys looking to chat with girls.
Here are the top chat rooms from yesichat.com,
USA Chat Room
Philippines Chat Room
Australia Chat Room
United Kingdom Chat Room
India Chat Room
Filipino Chat Room
We have two options given. First, to join group chat rooms that are readily available, and second, to create a new chat room and invite others to join. It's no secret that group chats are full of male members who dominate the conversation with profanity messages and topics.


Chat Quality At Yesi Chat:
As far as chat quality and users are concerned, it's a mixed bag. Sometimes we get to pick genuine members who want to have some casual fling chats, and most of the time, we face inappropriate horny guys who want to have a sex chat with new members.
Besides, Is there a reporting option at chat windows? Yes. There is one option for that, and it's not 100% working perfectly. There are occasions where even we get banned for no reason. I'm sure whoever used yesi chats has undergone the same treatment.
Blog
Here you find a dedicated section for newcomers on the following topics,
How do to chat with strangers from other countries?
Anonymous chats
Roleplay chats
Gay chat rooms
How to use the yesichat app online?
All these topics get published without new updates on the website or the app. Also, there is no consistency in the information shared on blogs. The last blog post happened in Aug 2020. Yesichat help section is available to send any issues with the website content or users.
Yesichat's Misleading Efforts: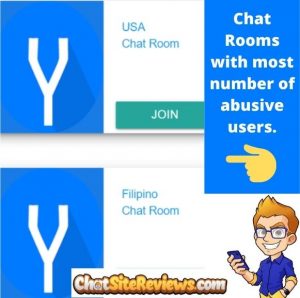 We could see many Chat Roulette sites following the same formula and create duplicate sites for adults to talk to women online. Yesichat.com makes the same mistake by trying out in different variations.
For instance, yesi.chat & y99.in are two of the reproductive sites of yesichat.com. Especially, y99 (review at the link) hoodwink the users with the same style of flirty chat rooms on the mobile app.
Download
The download section on the yeschat header has options to check out the mobile app version. Only google play store has yesi chat and y99 apps available. You cannot find the yeschat app on the iOs store.
Furthermore, there is an offline version available as apk file for download and use on desktops. At the same time, here is our suggestion, not to install any chat room websites that have offline apps. For one thing, it's way too risky and not worthy of our time.
Sites Like Yesichat.com:
Here's how flirty chat room sites are transforming these days. Starting from a casual free chat site; into a group chat site and slowly entering taboo chat rooms and finally becomes dirty sex chat rooms.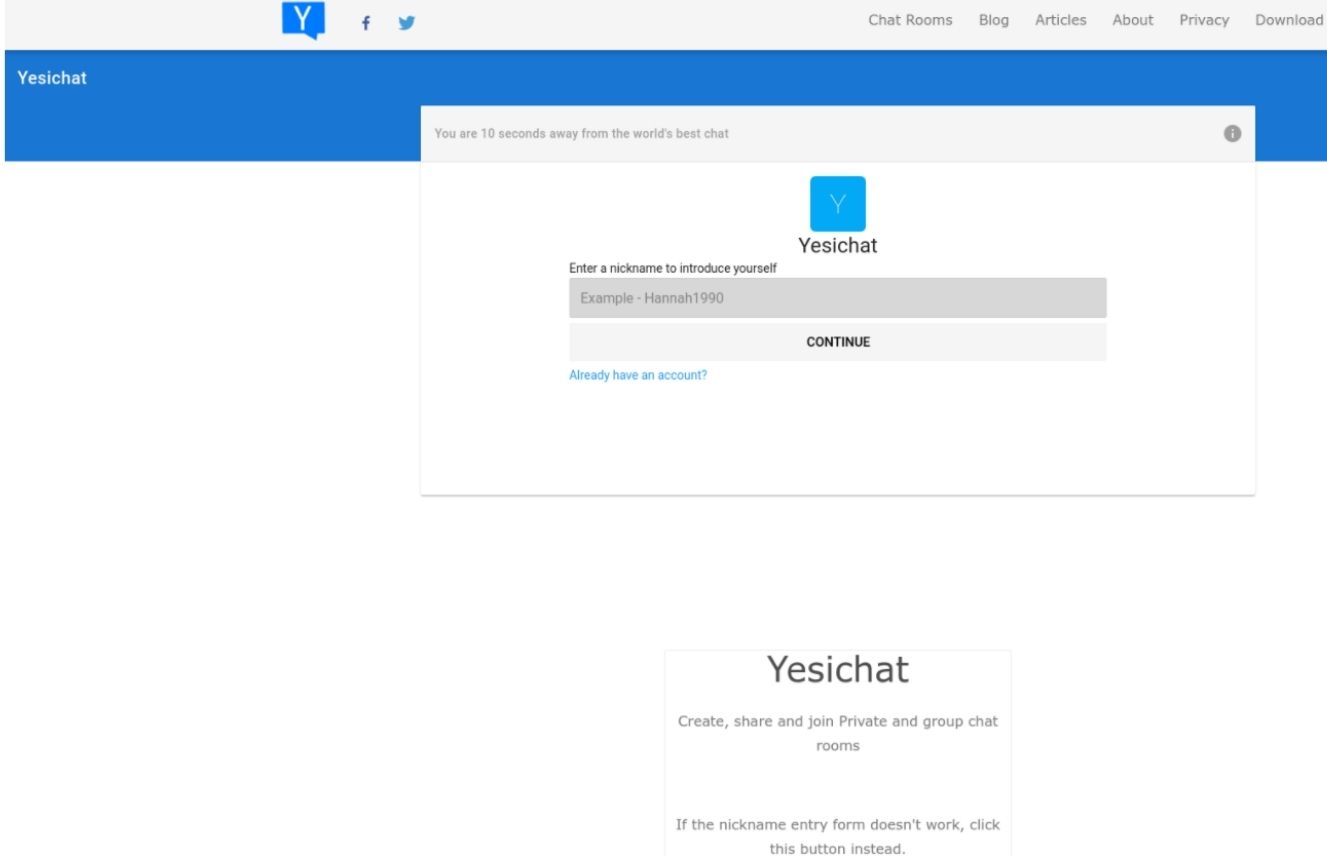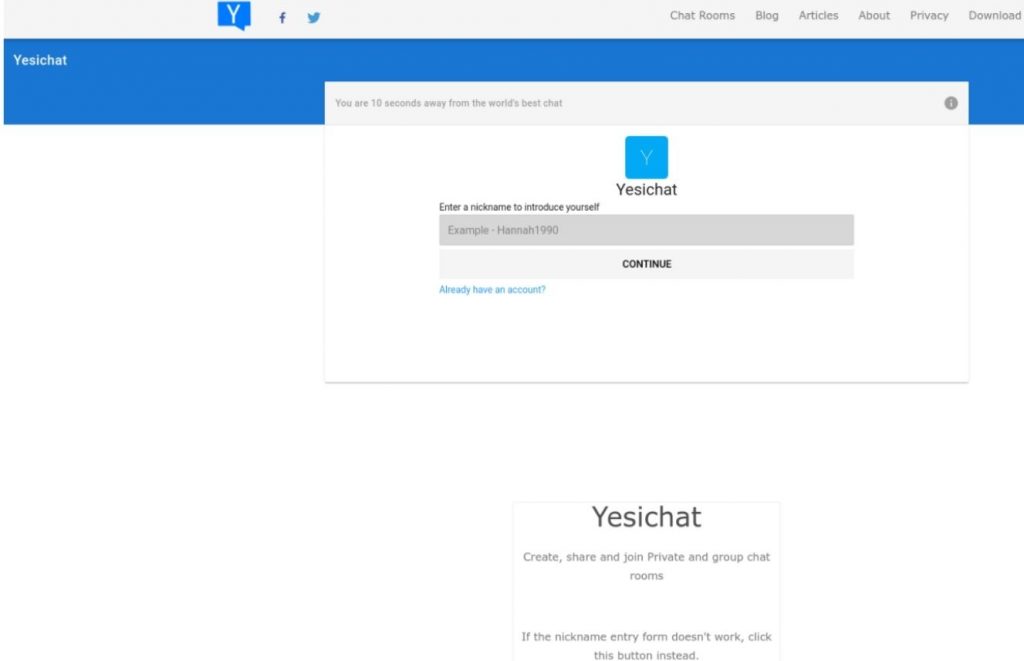 Since sites like yesichat are working as free, it's clear adults would like to have a go for finding some girls to talk to online. Likewise, even if that happens, spam messages and dirty chats spoil the entire user experience. Chatib & Allotalk (review at the links) are two of the best examples of that.
Adults have to carefully pick their choices if it comes to online free chat rooms. Do not go by the cheap tricks like; no registration or sign up required to chat with girls.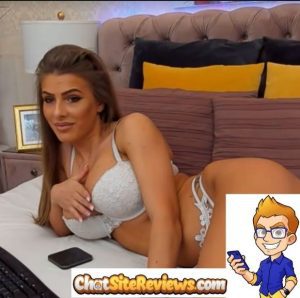 Instead, look for legitimate adult chat platforms like Flirt4Free & Streamate (review at the links). Both are excellent places to video chat with beautiful girls, and that too privately.
Remember, these are 18+ platforms and never proposes for all age groups.
Yesichat.com Reviews Conclusion:
Yesi chat is another bummer of a chat room site for adults. That's how we have to sum up the overall user experience.
The mobile app has mixed reviews because of the unique features like games, voice, video call options, music, news & jokes.
Overall, we think there are far more secure and reliable platforms for adult chat users. You could take a spin at LiveJasmin.com and see how free chat and webcam shows are garnering thousands of adults every minute.
Anyhow, yesichat is not suitable for all age groups, and with growing male members every day, it's almost impossible to find genuine female users. That said, we reviewed the hottest girls on adult chat room sites and placed their free webcam shows for adults. Happy webcamming with real girls!
Click to rate this chat site!