Chatib is a free chat room site for strangers around the world. We took the time to give it a whirl and wrote this review to fill you in before you waste your own time. Will Chatib provide a genuine free chat experience for all users? Is it spam free chat site? Pretty much no. Here is the skinny! 
Free chat sites like Chatib.us are often considered scary or shady sites to enter because of the user interface and all the ads covering most of the site's spaces.
This review will certainly be an eye-opener for readers, already existing users of chatib, or common chat room users around the world.
Is Chatib.us able to deliver an excellent free chat experience? Let's dive into the site and see what it really has. 
Chatib Reviews: Does it really provide an authentic free chat site?
We have thought of this and Chatib is exactly like what we expected. Chatib.us is a 100% SPAM site. Free chat users can sign up in two ways, Guest user or Normal user with email credentials submitted.
Let's cut to the chase. Both login formats are almost the same and don't give the user any big difference. There are a lot of chat rooms available but you know what? All you received is a SPAM MESSAGE from bots or paid SCAMMERS. 
People who came for a genuine free chat would be devasted by the experience in Chatib. We wish we forget about Chatib's existence online. It is an UTTER BULLSHIT SITE full of FAKE USERs.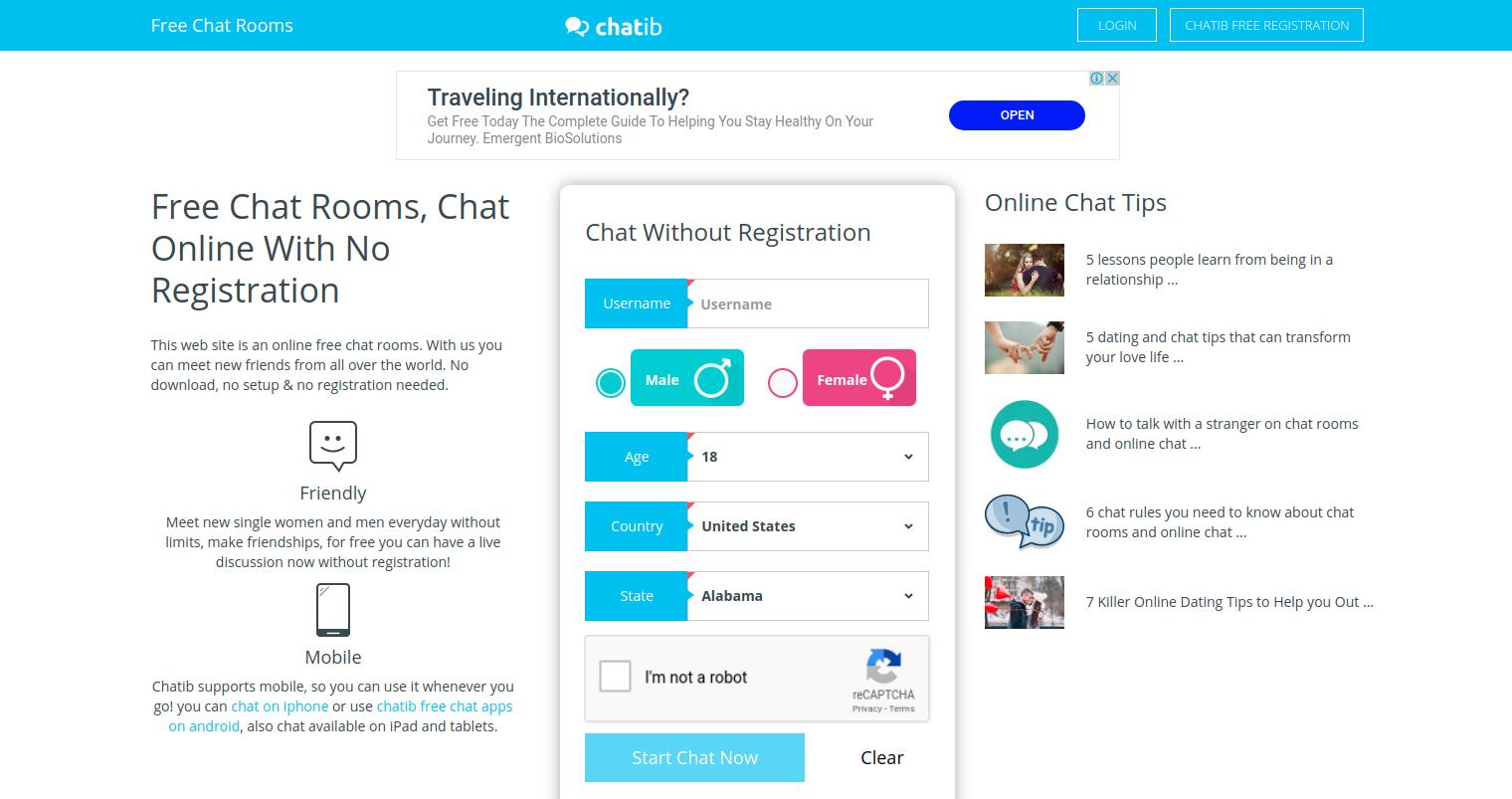 Chatib's Features: WASTE OF TIME
Sign Up – As previously mentioned, the chat user can easily sign up as a guest as well as a normal user. Here are the things needed in sign up process,
Guest User:
Username

Gender

Age

Country

State
Normal User:
Username

Gender

Age

Country

State (But mistakenly mentioned as "City")

Email

Password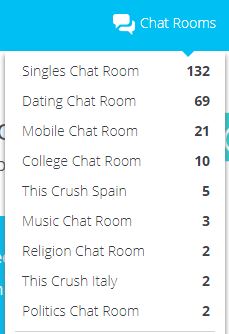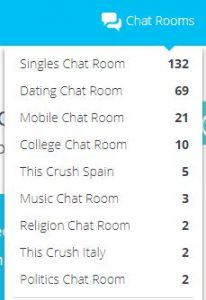 Home – The home page of this chat room site after login has users who are online. Both Male and Female users.
Gender – Free chat users can see the users are mixed with the category "All". We can select Male and Female options to sort users according to gender. Similar to the way Chattusa works as a free chat site.
History – Users can check their history of all the messages sent as well as the conversations here. 
Sort – Chatusa Users can sort online users by the city as well as the shuffle option. 
Inbox – All the incoming messages are delivered here. FULL OF SPAM, that's what you see on Chatib.us site.
Favorite – As a Chatib registered user, you can see this favorite option available. It will a star next to the user's name. You can click on that and all your favorites are mentioned in this area. However, guest users can't use this function. If you happen to save any girl from random chatting, you can get the details here.
Search – Users can search other users by Username, Gender, and Country.
Users Online – The number of users who are currently available online is mentioned here. (Both guest and registered users)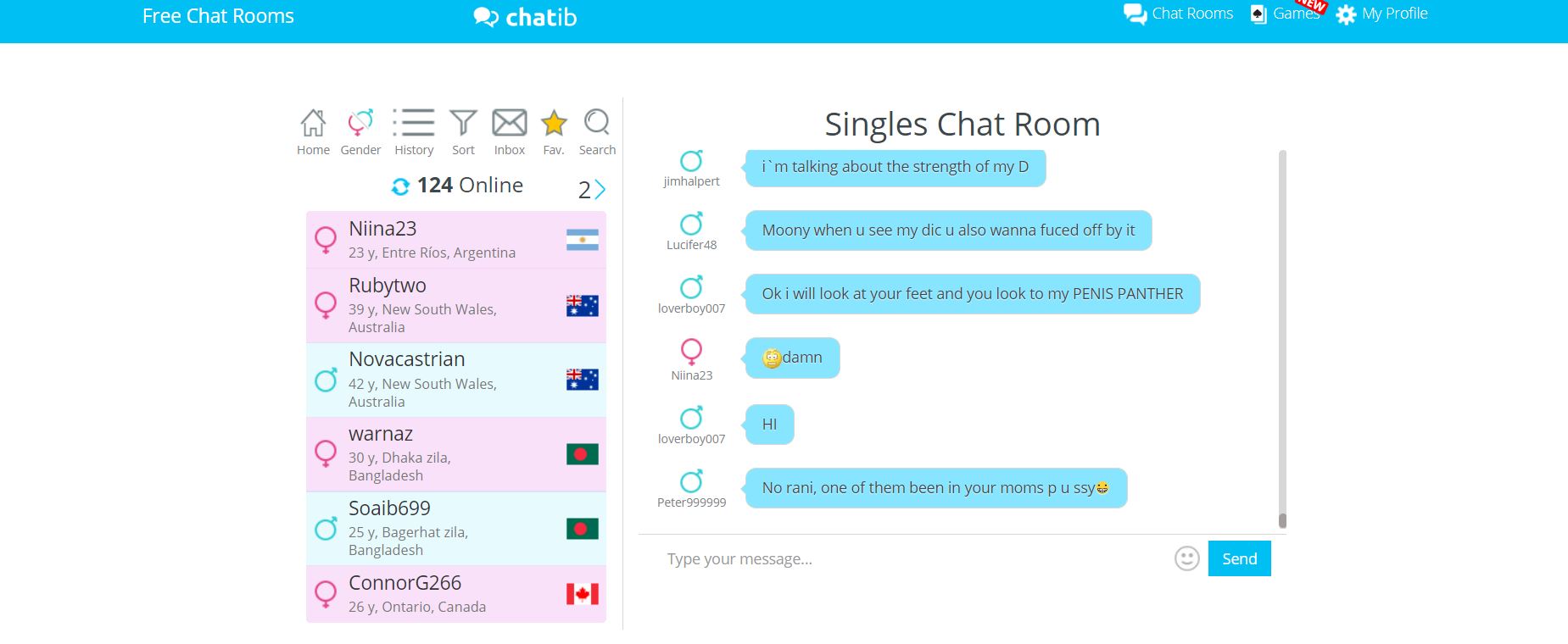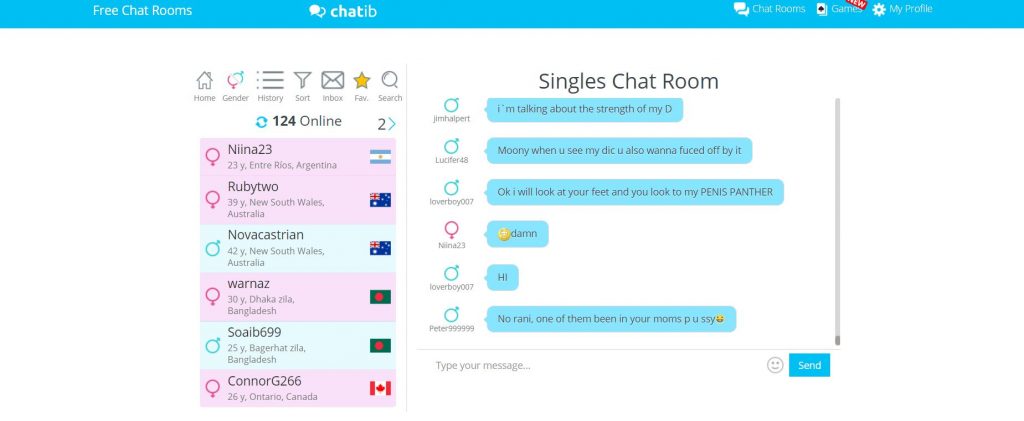 Chat Box – The chat box in Chatib has got the following things mentioned,
Name

Gender

Age

State & Country

Report Spam

Block this User
Chat Rooms – A lot of chatrooms are available and it's pretty outdated by the way. The chatrooms are divided into two parts,
Chat rooms by theme – Some of the popular chat categories are sorted and mentioned under this tab.
Games chat rooms – Game related chat rooms are available under this tab. Users have to chat separately and play the game.
Games – For directly opening the game section, users can click the right top corner of the Chatib site.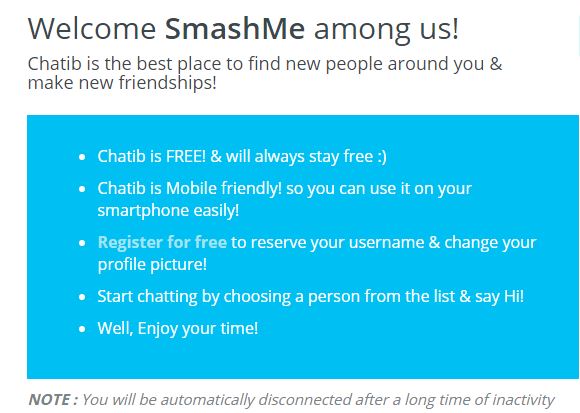 My Profile – Clicking on my profile option enables the user to edit the profile which includes username, age, gender, country, and state.
FAQ – For users checking the site for the first time, this FAQ section at the footer will help them look at answers to the most asked questions. There is nothing on this site to ask.
Safety – It's a JOKE. There is no actual verification for people to enter the chat room.
Especially, since the site is filled with perverts, this is not a SAFE site to use. Yesichat (review at the link) is one more example of that.
Contact – Users can contact the admin using this section in the footer.
Chatib Pricing:
Chatib is a free chat site but with poor design and user experience. There is nothing to pay on this site because it has got nothing but full or dirty chat. 
People are looking for girls from random chatting sites and this Chatib is filled with SCAMMERS AND PAID BOTS. Chat rooms are even worse, in the name of senior chat, people are ABUSING others with bad words and it's total garbage.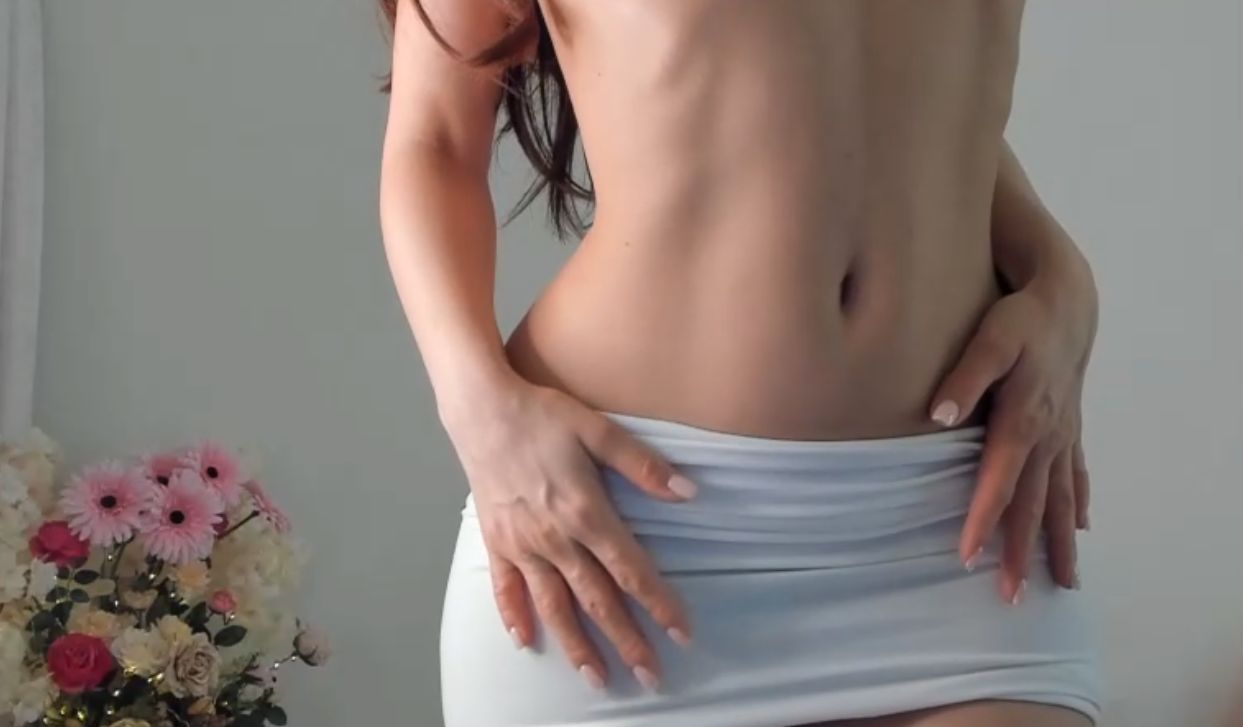 Girls chat is a total LIE. There are no real girl users, all are FAKE and covered in the name of girls. Girls chat is mostly highlighted and in fact, a lot of the live users are full of CRAP.
Chatib happens to have the mobile version of the chat room as well, we are literally losing words to describe what a USELESS site Chatib has been.
Chatib Findings and Summary:
Well, this might probably be one of the WORST sites for chatting with strangers. People are only here for free sexting. That's the truth they are trying to cover but failed. Online free chat sites like Chat ib needs to be ignored completely. 
Free chat line sites are everywhere and we are quite disappointed by Chatib. Free sexting is not a crime but you gotta have to look at sites that are legitimate and got some excellent features.
We hope our HONEST review would have shed some light on the self-claimed safe free chat room site – Chatib.us.
One Word Review, Chatib = GARBAGE.
If we were you, at least we would have looked up genuine sites like Streamate and LiveJasmin for all sorts of free sexting and fun. Why waste our time in this piece of crap when we have excellent live sex chat sites like Chaturbate.com and Cam4.com.
Click to rate this chat site!