Chattusa is a free online chat room site like Omegle without the video chat function. Chattusa.com works anonymously and doesn't require sign ups or registration.
As the name suggests, chatusa is specially launched for chat users to connect with Americans from any part of the world. Chat USA is 100% free to use and never asks for signups or premium charges.
If you've experienced using random chat and chat roulette sites before, then chattusa.com will be more or less similar with quite recognizable features.
Using chattusa.com, you can connect with strangers, men, women and make new friends. It's a free pass to kill some time online. All said and done, is chattusa safe to use for adults? We will check that out on these updated Chattusa reviews here.
Chattusa Analysis & Breakdown:

No matter how advanced the technology is moving, thousands of people still use chat roulette and free chat sites online for timepass. Chat USA is a simple and easy-to-chat platform designed for random chat users.
Chatusa mentions it as a 100% anonymous and secured platform that doesn't store any data or messages. Chat rules and updates related to fixing bug issues are available on the home page itself.
In terms of catchy front-end design, chatusa doesn't bother giving too much effort into that. We could see only one advertisement about the login button. One would say it's a strategic placement, but it's more like a clickbait trick these days.
Chattusa's Features:
As stated above, there isn't any need to register on chattusa.com as it is anonymous. However, it does ask for a few things to get things started. Here is the list of things we have to fill to join the chat rooms,
Username
Country
Age
Gender
Avatar
After that, solve the reCaptcha and then proceed with the login. There is no verification for chat users. So, it's visible to see anyone could add dummy input and start the conversation. We can feel the danger signs early on for teens and adults using this chatrandom site.
We do understand most of the free chat sites have male and female options on gender selection. It has become an obsolete feature, and adding more sexual orientation is the way to go forward.
Main Dashboard:
After entering the details on the homepage, we receive welcome messages from the main page with indications to pick any user online to start chatting. The top header area consists of three things such as volume, notifications, and profile settings.
By default, we will receive sound for the incoming and outgoing messages. We have the option to keep it or turn mute by clicking the icon.
If you send messages to different chat users, there is no option for separate tabs. So, in that case, the notification area is the only option to check the messages.
Clicking on the settings button will give you two options. First, to edit and update the profile with images, description, bio, and so on. Second, the logout options to close your guest profile.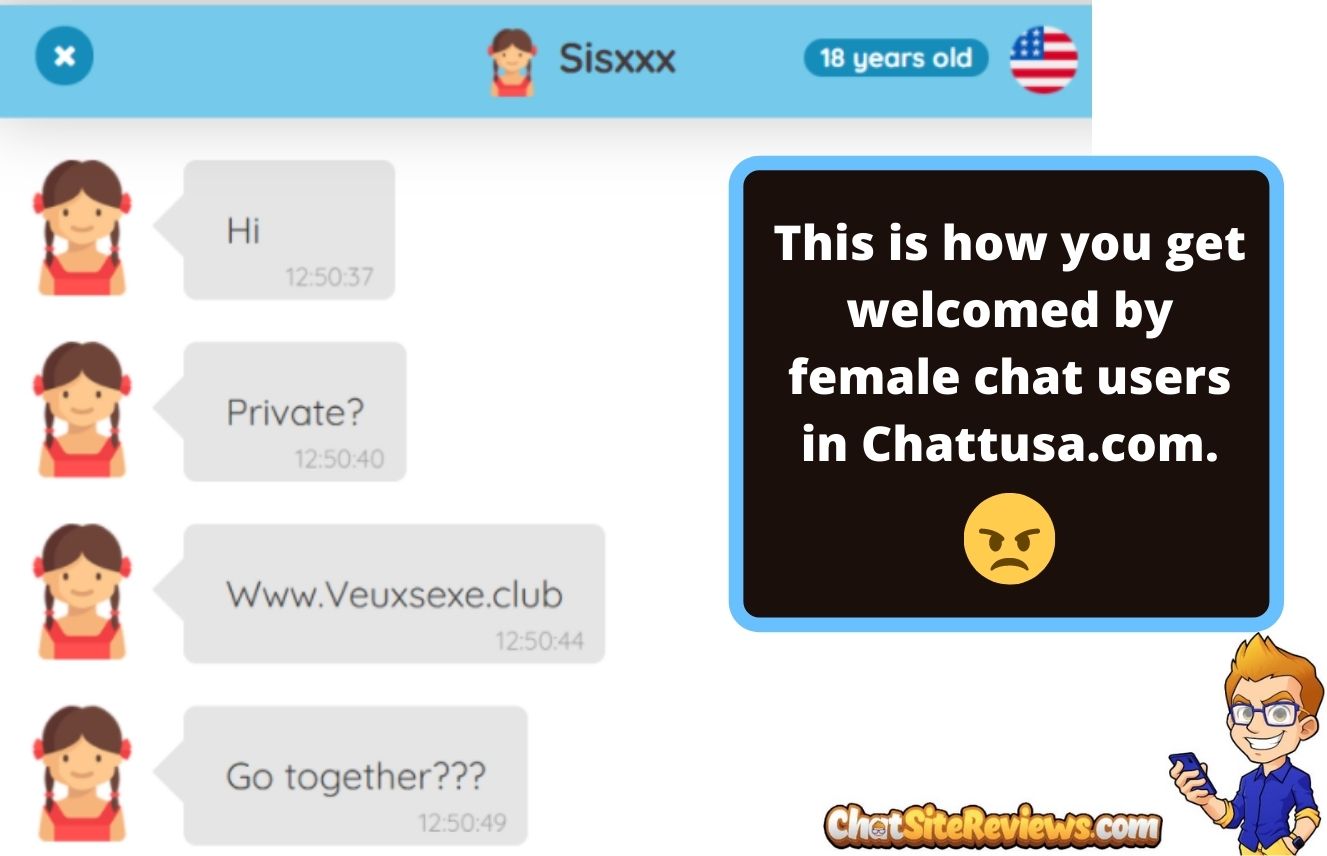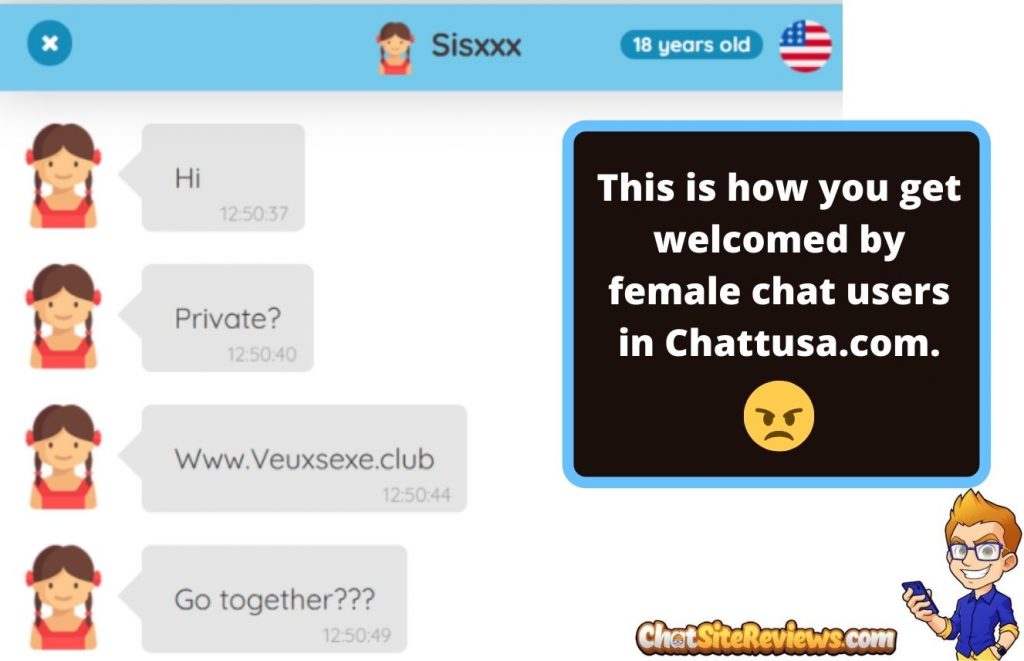 Online Chat Users:
On average, the online chat users count comes around 100 – 400 maximum at chattusa.com. That's unbelievably low considering the standards and the wide range of opportunities. 50% of chat members come from the USA, and the rest are from different countries.
User Quality
Sucks. That's the word to sum the chat experience on the chatusa website. Almost 90% of the USA chat users are bots that send deceiving messages that include porn sites and potentially dangerous websites. And, the rest of the members are looking to chat with the hottest girls for some dirty chat.
Crazy to see the common thing about free chat platforms is that everyone is looking to find beautiful girls to have a naughty chat. Furthermore, the message box also has options to add files and photos.
So, all the more reason for pervy and spammers to send unwanted and inappropriate content to genuine chat users. If not mentioned clearly, this is a vulnerable and unsafe platform for teenagers and adults.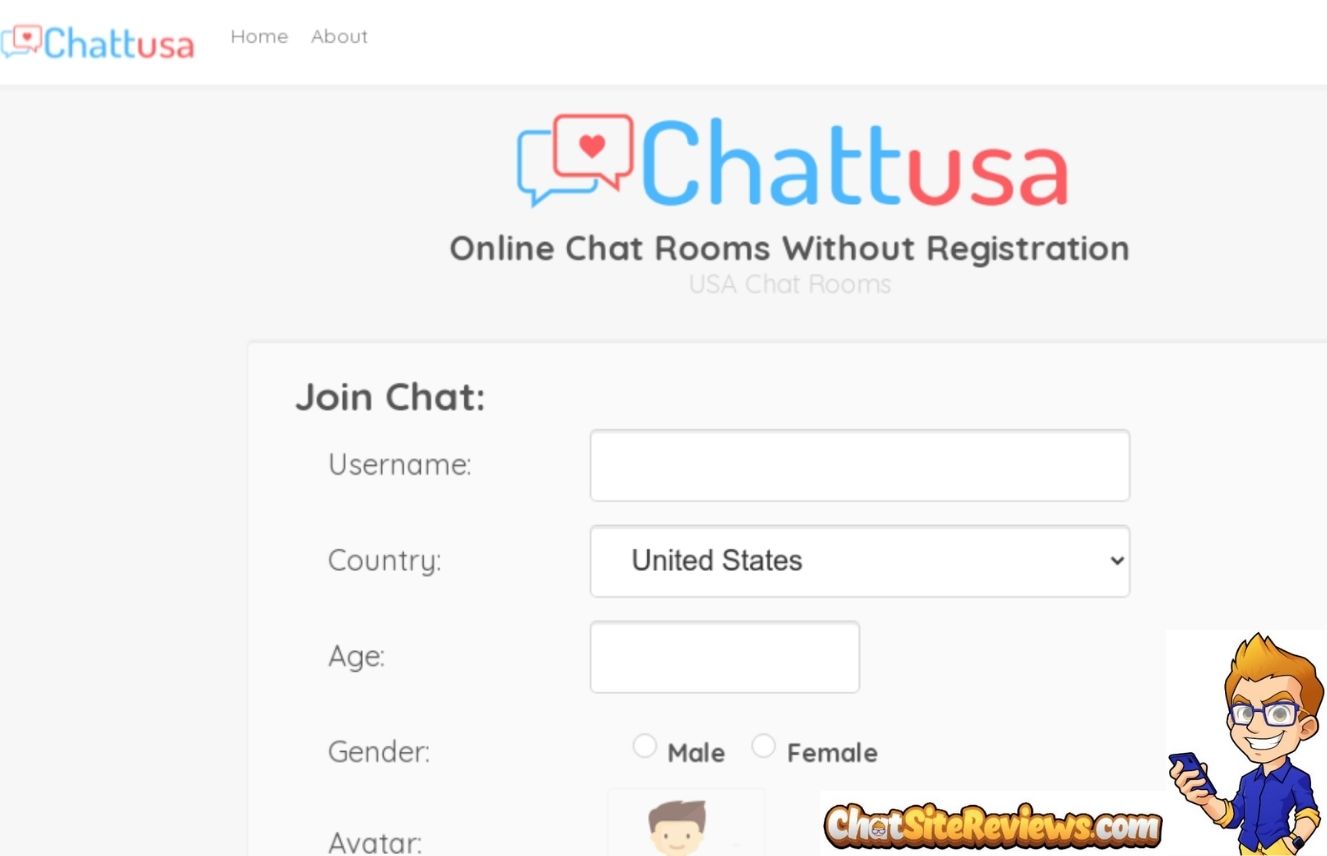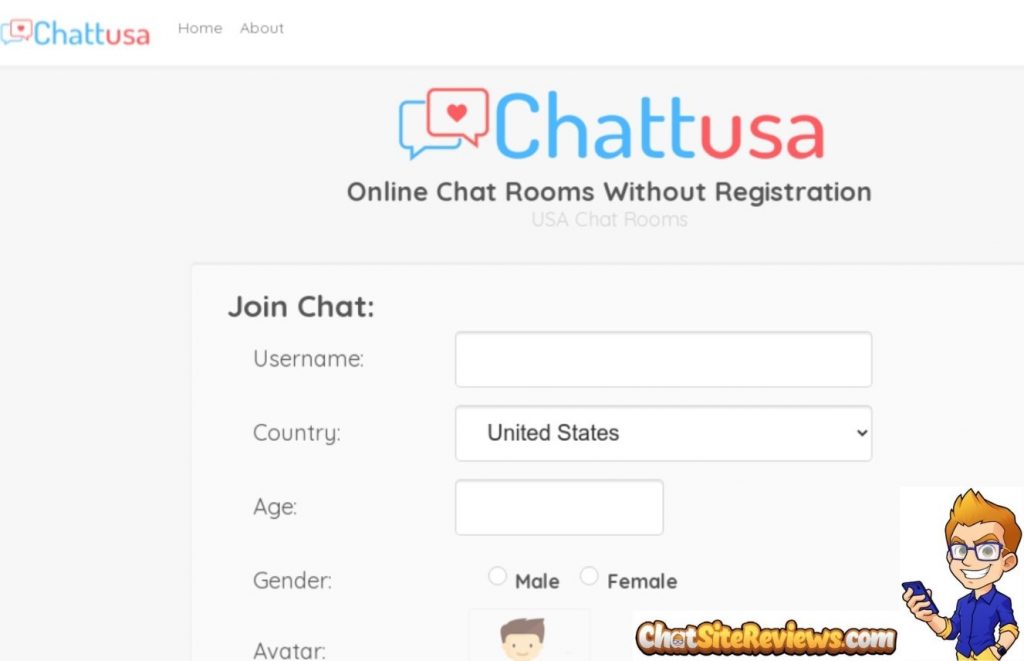 Sites Like Chattusa.com:
We thought this could be worthy of claiming as Omegle alternatives. Unfortunately, chattusa isn't the safest of places to spend our time. It is just another stranger chat site like Flirtymania & Chatogo (review at the links) with nothing extraordinary to stand out.
Two things are visible to us. First, people love dirty chatting, and second, they love to do it with genuine female members.
Instead of wandering in unsafe places like this, it's far better to peek into adult chat sites like Streamate & Chaturbate (review at the links). Bonus, we get to sext and watch hot girls on webcams for no cost.
Chattusa.com Reviews Verdict: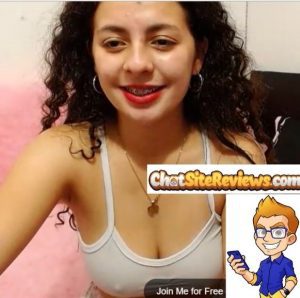 Chattusa.com has become an obsolete platform, and we wonder why people are marching in for a free chat experience.
The last update was in Oct 2019, and their home page mentions that they are working on creating a report function. For heaven's sake, this website was done and dusted.
Get your facts straight once and for all. Free random chat sites will never get you a secure chat and user experience that you are hoping for online.
Having said that, other genuine adult dirty chat platforms do the job for your naughty ideas.
For example, StripChat.com has 3-4K webcam members online every minute who can do dirty chat, cam shows, and private cam2cams for adults. That's a solace to chat and meet genuine girls for fun online.
We almost forgot to mention that chatusa have an Android app with the same name available on the play store. With pretty much similar functionalities and user experience, it has 3.4 ratings right now. In short, it looks fake and works fake!
Feel free to peruse my blog for finding free cam girls and places to find cheap and best cam shows.
Click to rate this chat site!