So I just finished using EmeraldChat.com for a week and have your review here. EmeraldChat is a free chat platform that claims to be the alternative of Omegle (by themselves). With the EmeraldChat site, users can text chat and video chat with anyone around the world.
For those who love to try random chat with others, you can try the EmeraldChat site but there are limitations that you need to consider as well.
EmeraldChat may claim as an alternative for sites like Omegle, however, truth to be told, there is not much of verification for using EmeraldChat. Especially, when the site doesn't verify the members with age. 
Let's not hide the fact that people are using the Emerald Chat site for sexual desires. Whether you like or not, that's the sad truth about chat random sites like EmeraldChat.
There are two sides to study the Emerald Chat, although the intention of providing a free cam chat site is appreciated, however, it is been heavily let down by the users who prey for sex chat.
Let's get this straight if you're looking for people who are interested in sex chat, not that it is wrong, you got to be on the right platform, so be SMART and stick to legit sex chat sites.
EmeraldChat Review – How does this chat random site work?
EmeraldChat is a simple chat random site to use for free. You don't have to include too much information to get started on this webcam chat site.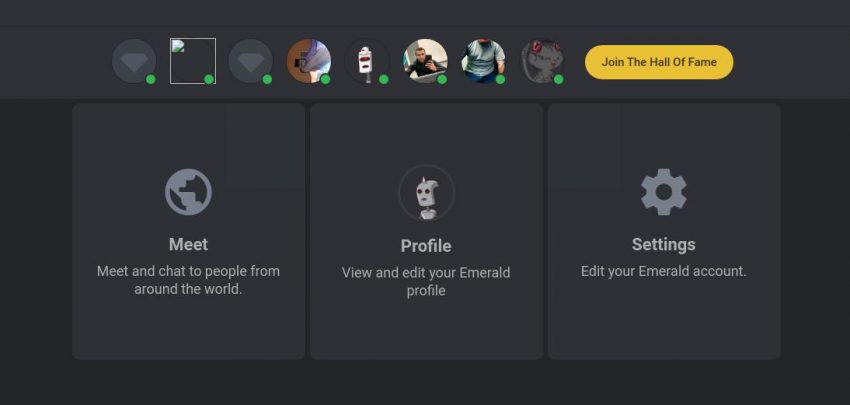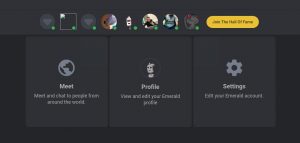 Let's be honest, these are the two major feedbacks we have after using the random cam chat site – EmeraldChat. 
The site is pretty easy to use with a much better interface compared to Omegle.com

The site EmeraldChat is filled with guys who just want to show their dicks to random girls for sexual desires. Sounds disturbing right?
Forget about Omegle.com for a while and let's dive into the features of this chat random site called EmeraldChat.
EmeraldChat Features – Let's see what they got
Sign in:
Go to the home page and tick "I'm not a robot" and click the "Start" button to access this chat with strangers site.
The site will ask for the selection of gender i.e Male, Female, or Other and followed by three options such as,
One on One Text Chat

Video Chat

Group Chat
One on One Text Chat:
This option helps the user to chat with one person at a time. Users have to do the following steps to begin the process,
Click on Trending Hashtags. There will be 13 hashtags to choose and users can select any of that according to their interests or even select all of them if they want to.
Users can also choose the time to wait for someone with similar interests and hit the "Start" button to proceed.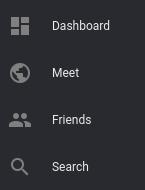 Video Chat:
Just like One on One Text, clicking on the Video chat option enables users to see other users for webcam chat. 
Like we mentioned before, watch out for the creepier dudes flashing their dicks and masturbating on EmeraldChat.
Group Chat:
Clicking on the group chat option enables us to chat with users from different groups. (mostly hashtags named under Text Channel)
Interesting Match System like Omegle:
Interest Tags are mentioned similar to Omegle.com and users can find other users using that for random chat.
Photo and Media Sharing:
Users have the option to send photos and media to any users even without adding them to the friends' list. Unlike other random cam chat sites, this is definitely a different function to engage.
But not sure how it helps for cam users. Generally, all we receive is guys sending dick pics once in 10 mins. To precisely explain, PERVERTS EVERYWHERE in all three chat functions at Emerald Chat.


Matches by Gender, & Karma Rating:
With Emerald Gold membership, users can find matches by different genders, karma rating,s and much more. A basic user cannot access this.
Home Page:
The home page of EmeraldChat consists of the following options mentioned below,
Dashboard

– Options such as Meet, Profile, and Settings are available.

Meet

– 1 on 1 Text Chat, Video Chat & Group Chat are available.

Friends

  – Added friends are available here.

Search

  – Users can search for a particular profile by username.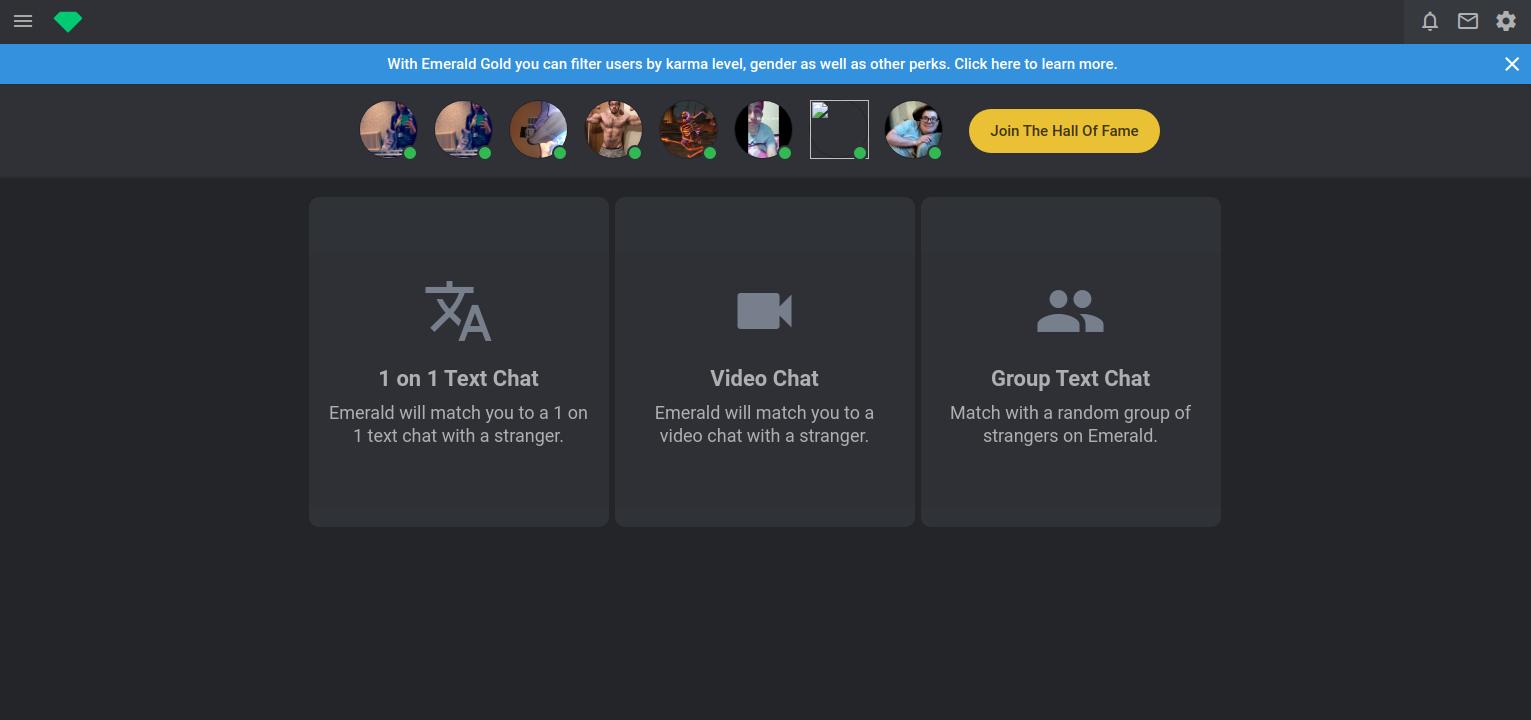 To add an important point, Emerald Chat doesn't give users the feeling they're using a stranger chat site. It's more like a software company site! A major error in user experience and judgment.
We have seen sites like Chat42 (review at the link) works similar, and technically easier for strangers to chat and connect with strangers without spending any cost.
Settings Option:
Users can check the settings option at the right corner of the page and it has a lot of options such as,
Emerald Gold

– Membership Function

My Profile

– To edit the user profile, upload images, add a biography, display name, flair color, interests, etc.

Settings

– Under account settings, users can edit the default email address, username, and set a new password to access the account. Also, the delete my account option is available.

Rules

– Clear information on how to use Emerald Chat is been mentioned here.

Terms

– What are the terms users need to read before using the site is mentioned here.

Privacy

– Information about the privacy of users is explained here.

Help

– Frequently Asked Questions about the Emerald Chat site is mentioned here.

Donate

– If users are willing to donate the money, the option is here.

Log Out

– Option to log out the user from the site.
We understand the idea was to create sites like Omegle but the execution in terms of the user interface could be been better.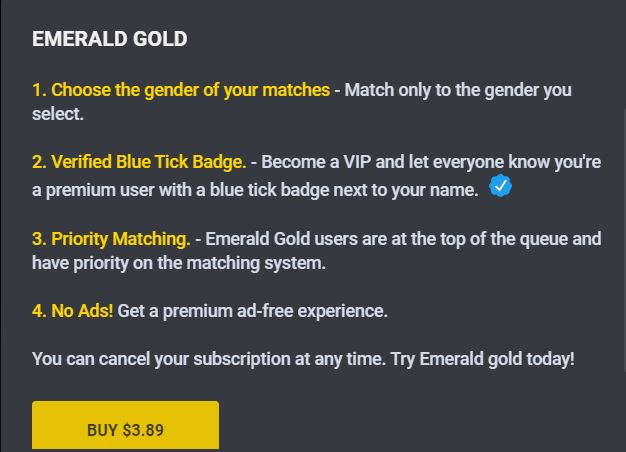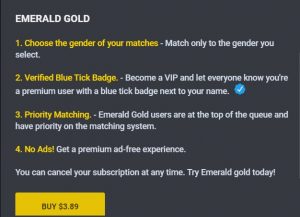 EmeraldChat Pricing:
Emerald Gold Membership – $3.89 per month.
With Gold Membership, users can access the following things to chat with strangers,
Filter users by karma level set a min/max range of the level you want to meet.

Filter the users by gender – Male, Female & Other.

Filter the stranger accounts.

Verified blue tick next to users' name
Emerald Hall of Fame – $8.89
Emerald Famous – Users' profile appears at the top of the results page in front of everyone for random chat.

Meet Tons of People – Users get tons of friend requests and a chance to meet people from around the world.
EmeraldChat Findings and Summary: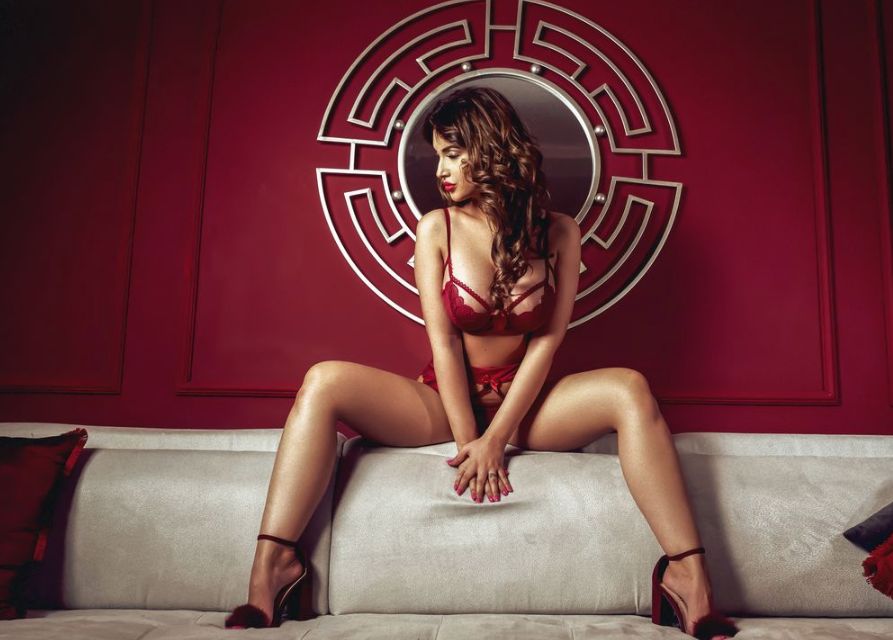 If you're looking for a random cam chat site, you can try out EmeraldChat for a start but that's not the entire solution for your needs. But yes, you can talk to strangers around the world without spending a penny.
Chat with strangers using 1 on 1 text chat, video chat or group chat whichever is comfortable for you. Nevertheless, if you're looking for a legit webcam chat or a random video chat app, the EmeraldChat site might not be the best. 
Apart from that, the EmeraldChat site is more like a software site and not a chat site. Probably the makers are focused on trying to create some replica of Omegle but they have let down here in User Experience also.
The Mobile App is still under development mode but users can access this chat random cam site on mobile also. Talk to strangers pretty much the desktop way.
For minors under 18, take this as a warning and skip this stranger chat site. All you will see is guys showing dicks or preying to get personal information. DO NOT GET DECEIVED and get caught in danger using this stranger chat site.
If you ask us to review on ONE WORD about EmeraldChat, it is DISAPPOINTING!
Nevertheless, for all the adult sex chat lovers, EmeraldChat is not the right place for that, if I were you, I'd rather check out the legit sex cam sites like Streamate.com for all the fun.
Click to rate this chat site!