The PornDude features detailed reviews of the various porn cam sites so that you don't have to waste your time looking for the best ones. Today let us review this eporn review site and figure out how comprehensive and genuine the reviews are.
The PornDude Review: Old & Wasted Review Site!
Undoubtedly, The Porn Dude has been created after extensive research and a lot of time spent on porn sites. The most annoying thing for a porn site viewer is the pesky ads that show up every now and then. But on porndude.com, you will have an ad-free experience which is definitely worth applause.
In a continuously evolving adult industry, every day there are hundreds of cam sites coming up and it is difficult to find out the ones that will suit our preferences. This is where the porndude comes into the picture who has reviewed more than 600 sites of different genres.
With that said you can not really get a 360 degree look at porn chat sites because it is not what porndude.com offers. Charlie covers dirty chat unlike anyone else online. We're talking balls, deep partner. I mean who else is going to just come right out and tell you that tinychat is a bust or that pornhublive is a copy.
The examples go on and on. Like how ChatAvenure may really put you in harm's way or why DXlive tends to be the best place for Asian girls nude chat. We expose the 321sexchat scam and so much more.
The PornDude Style of Streamate Review:
If you just compared the porndude live sex cam site list you can see that he has no fucking idea what he is muttering about.
Porn dude cams reviews are honestly clueless and terrible. 
The porndude.com may know everything there is to know in the world of free porn online but you really want better advice when it comes to adult chat.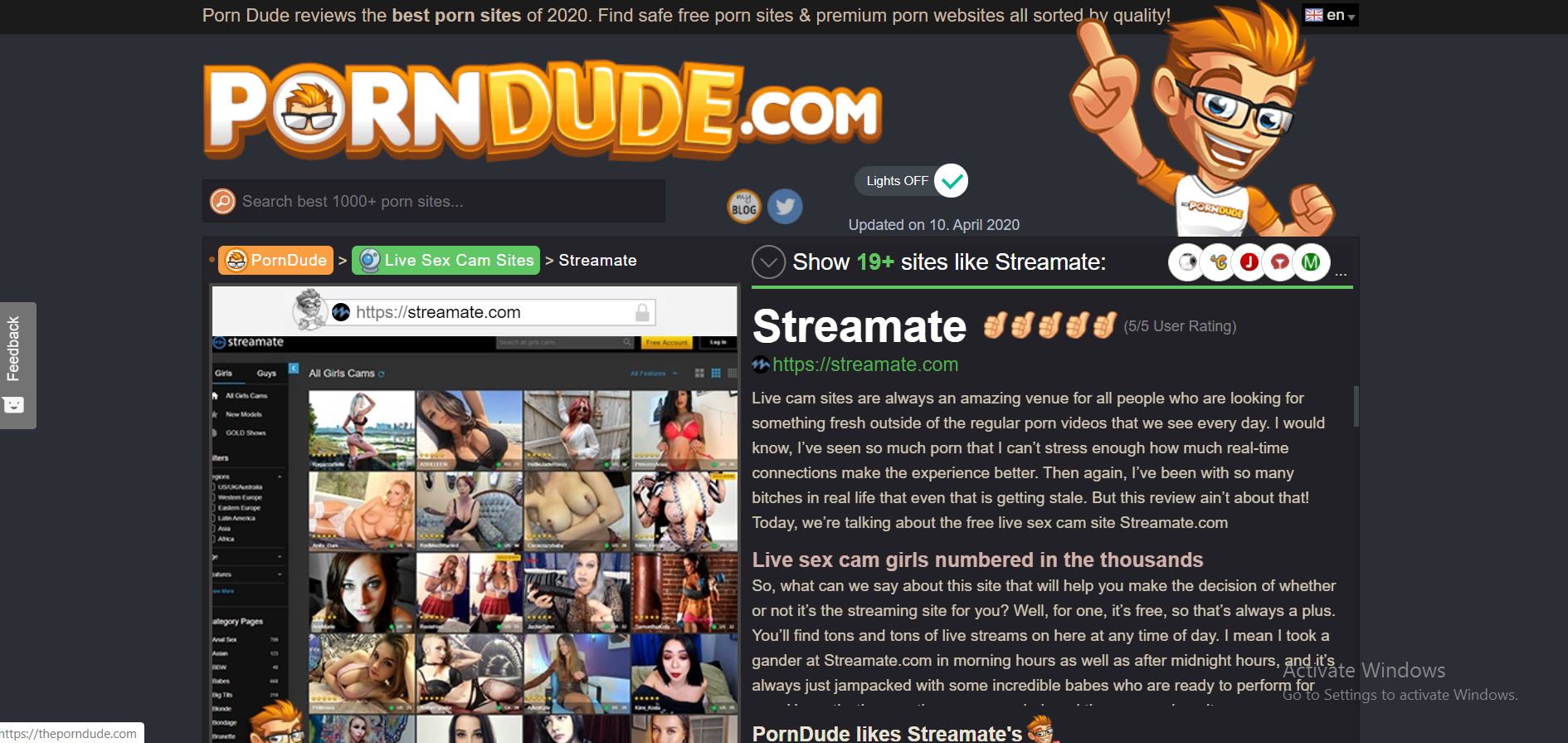 Now, here is the Chat Site Charlie's Streamate Review: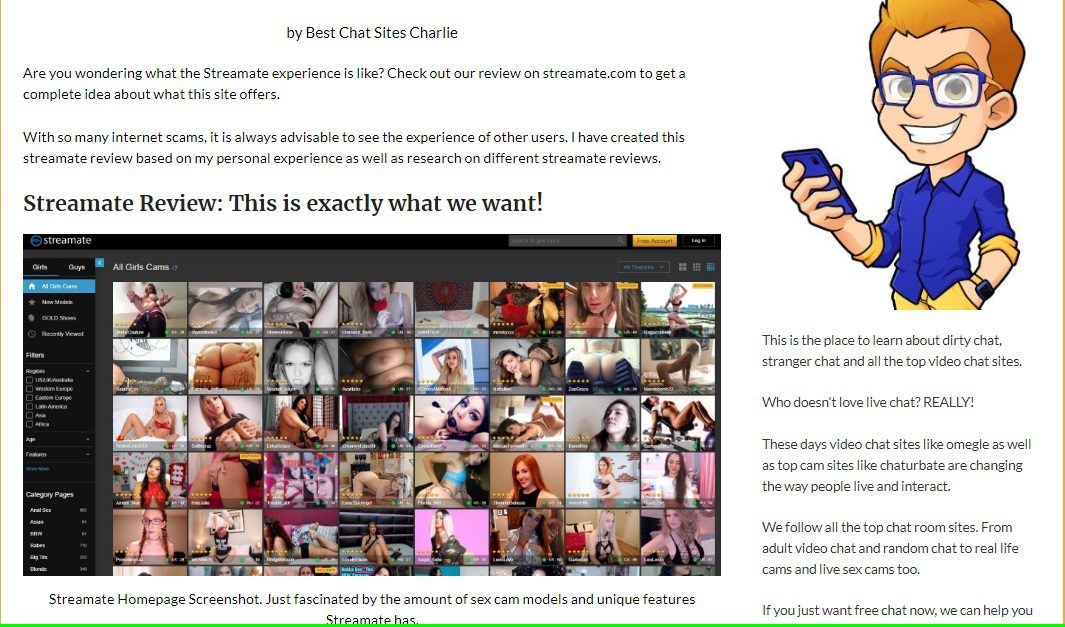 Whether you are looking for sites that offer free adult videos, amateur webcam sites, or premium hardcore adult sites, you will find pretty much everything here. But has he really used all these sites?
If you go through his reviews, you will understand that it is a product of sheer enthusiasm for porn. This guy has been beating his meat on every porn content he sees which makes him behave like a Mr. know it at times.
ThePornDude Features:
PornDude.com has a grey background that displays the different categories of adult sites and some of them are:
Free porn tube sites
Amateur porn sites
Live sex cam sites
Top premium porn sites
Those who don't like the bright background can use the "lights off " feature to view this site in a dark background. The porn dude is available in 27 languages, which is pretty cool. A search box is provided at the top, where you can search for the top adult sites. New porn sites are not mentioned clearly, to be honest.
I am amazed by the fine details the porndude takes into consideration in every review. He doesn't shy away from talking about the best and worst of porno even if he has to get blunt and brutal. Not much application in explaining the sites that offer free adult movies, & free adult videos.
However, it is essential to understand that this place is primarily dedicated to dudeporn, keeping in mind the fact that this stuff oozes from the brain of a horny dude. So there is not much in store for gay porn or new porn viewers. That's a bummer! I would have rather visited Streamate.com than waste my time here.
He has a feedback tab where you can give him feedback on the things you didn't like on his site. If you are a porn enthusiast, then you might wanna check out his blog.
ThePornDude Findings & Site Summary:
The PornDude is someone who has really strived in creating a hub where you can find the best of porn, also feel free to contact him if you think he has missed out on a terrific site.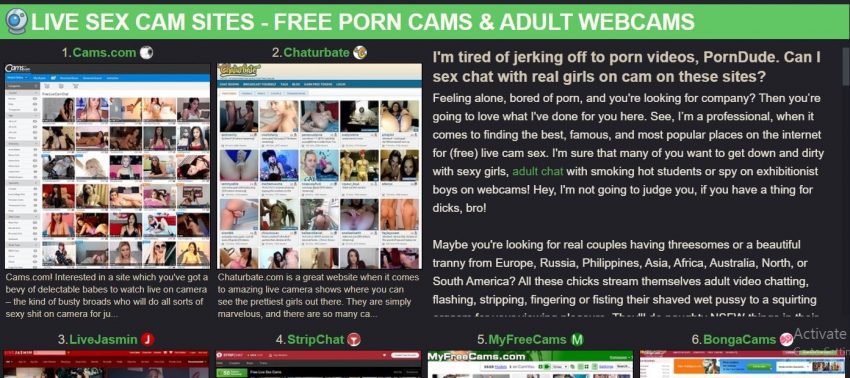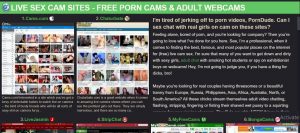 The site might seem a little bland and boring, with not many interactive options for the users. The issue I have with theporndude as far as chat sites go is that it's clear he really hasn't used most of the sites he reviews.
I have no issues with all the sloppy writing and choppy fucking grammar his porn site reviews have. I mean who cares, as long as it's solid advice about the best porn sites. Right?
Dear ladies, visiting ThePornDude will be pointless because this guy is indifferent when it comes to the interest of females. That said theporndude sounds like some horny college guy with a porn addiction. Not much Pornsite explanation is available throughout the reviews.
Apparently, this guy just can't get enough porn. He must be staring at tits and ass porn sites all day long! …and most of the sites he discusses are recorded premium porn which is super old school.
We go balls deep into the world of real experiences on chat sites. From roulette chat sites to voyeur cams and cam girl chat sites, there's a lot more to learn with chat site Charlie!
Our goal is to create stuff for all the masses from mainstream porn viewers to fetish freaks, gays, transgenders, and females. It's all about adult chat and sex cams though!
This is what makes us different from the other pornsite reviewers, we care about everyone. To support my claims, I suggest you read our reviews on Streamate and ImLive (review at these links) and you will know why we recommend them for a truly elite live cam experience.
Just remember that Chat Site Charlie knows cam whores and live cam sites a fuck ton better than porndude and right now my favorite xxx webcams platform has to be Streamate.com.
Click to rate this chat site!