Tinychat is a live video chat room site that works like the old Yahoo messenger. The idea is pretty outdated, to be honest, and we wonder how this site is still on the internet world? Whether it is deceiving people with fake marketing and promotional techniques? We guess so! 
For all those important questions that need a clear answer, we have thought of giving an extended full review of whether Tinychat is a worthy site to spend our precious time or not!
Tinychat Review: Another PATHETIC Chat Site!
Starting from the word go, Tinychat site looks vague and pretty outdated for the current generation. A doubtful mindset arises immediately looking at Tinychat, mainly because of the chat rooms and the users mentioned.
Free chat room sites are everywhere flooded and nothing as such is legit and safe for common chat users. Tinychat has got many users, not denying that. But the Tiny chat site has got shit features and it is evident many users have been fooled.
Nevertheless, check this full review of Tinychat and clear all your doubts you have as a free chat user.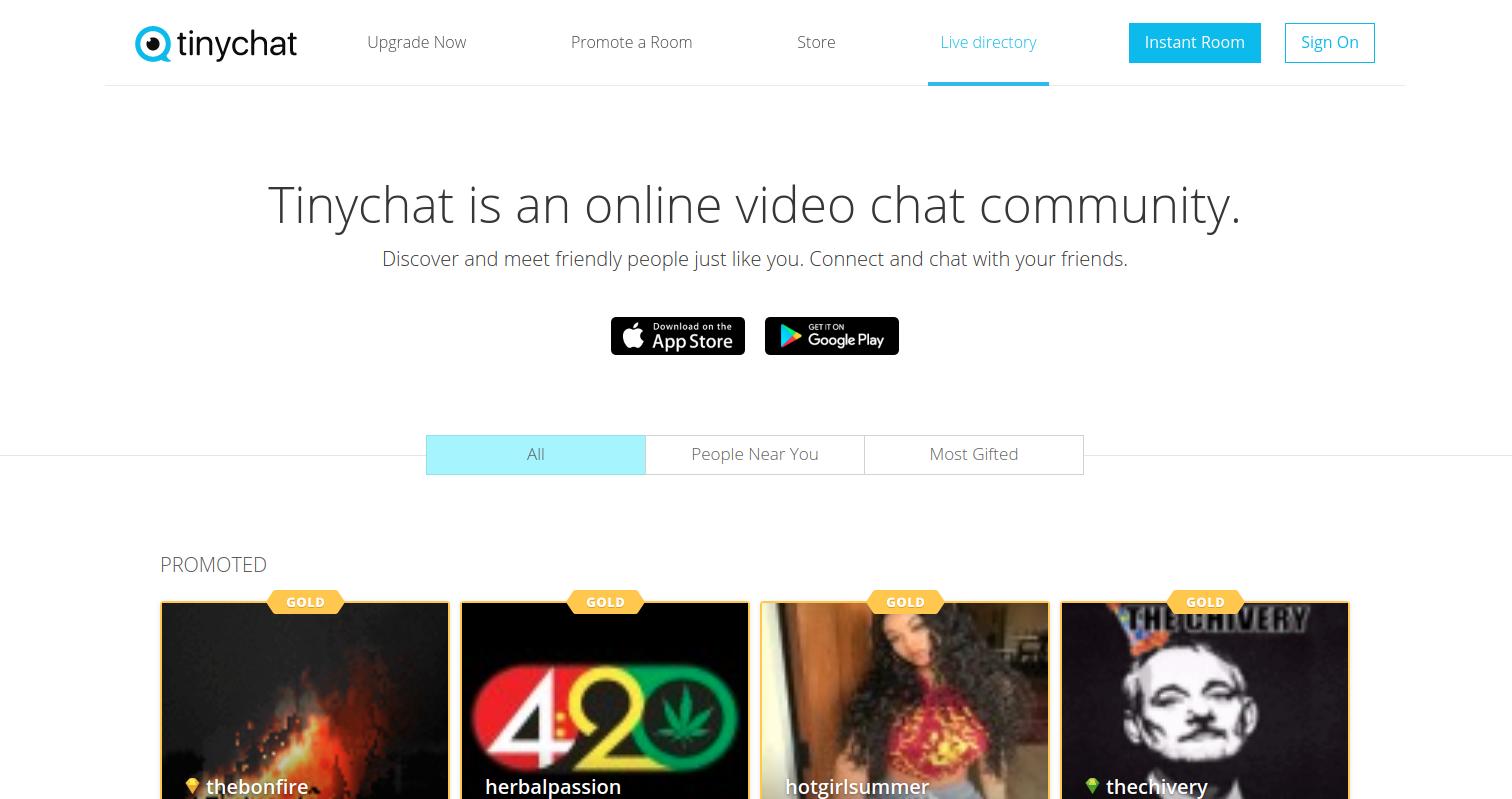 Tinychat Features: 
Instant Room: As the name suggests, Instant Room aka Guest chat rooms are available and it's nothing but SHIT! 
Live Directory – This section gives the free chat users the different rooms and in most cases are the promoted free cam to cam rooms.
Upgrade – Premium membership details and pricing is mentioned here. For more details, check the pricing section below.
Random Room Name – A random room name is created and notified once we click on the Instant room option. Nothing much to offer for free chat users.
Settings – The settings section in the Instant chat rooms has some options such as Play YouTube Videos,  Receive Private Messages, & Notification Sounds. Apart from these, extended chat privacy settings are mentioned, and clicking on that will open a new privacy settings page that has various options.
Give a Gift – Selecting this option will allow free chat room users to check out all the virtual gifts that are available to send to others. Every virtual gift has its own points/tokens mentioned before sending it to online friends or any users.
Get Coins – Tiny chat users can buy coins by selecting this option. The extended list of coins cost is mentioned in the Pricing section below. 
Start Broadcast – Click on this section would ask free chat room users to allow access to their cams and microphones to start the cam to cam chats. Anytime users can block the access of the cam as well as a microphone.
Chat Box – A plain chat box is available right next to the broadcasting option. No smileys are available. Just an old chatbox.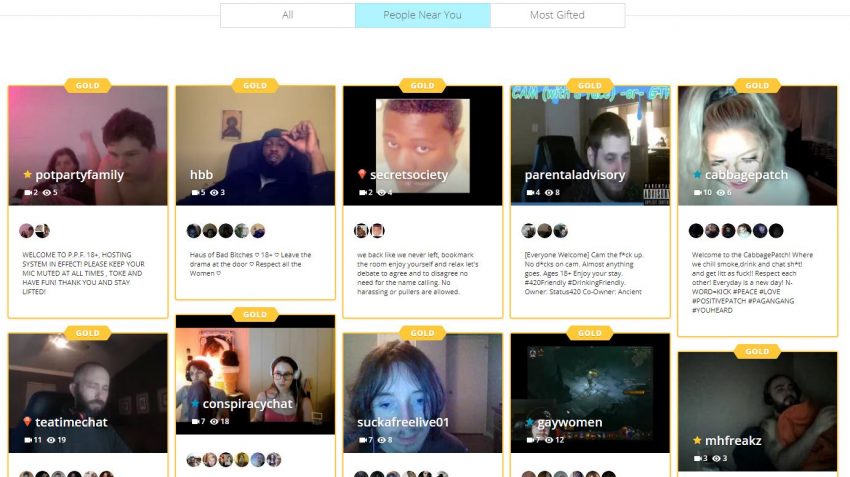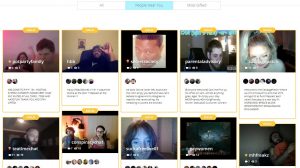 All Free Chat – The free chat that includes the promoted and rest of the free cam to cam rooms is available here.
People Near You – The chat rooms next to your city/state should be mentioned. However, a common set of chat groups are only mentioned. Leaving the common Tinycam users confused and cheated.
Most Gifted – This section shows the most gifted premium rooms in Tiny Chat.
Upgrade Now – If any guest chat user wants to upgrade to premium status, they can check out the pricing details here. Also, a free 3-day trial of premium membership is available with a catch.
Promote a Room – If any user creates a chat room and wants to promote it, they can use this option. A minimum of 200 coins need to be available in your account to promote it.
Store – All the available virtual gifts are mentioned under the store section.
Live Directory – This happens to be the main page showing all the chat rooms under different names. Both the free and promoted tiny chat rooms. The moment when sites mention Free Chat with no registration or download, you can guess it. It's a SPAM!
User Profile: Click on the very top right corner where the Tiny chat icon is available and it has
Username – Registered user's username will be shown in this section.

Try Pro Free – 3-day free trial option is mentioned here.

My Room – Free cam to cam rooms registered by users are available here.

Buy Coins – Users' can buy coins using this section. Also, it shows the coins count.

My Gifts – The virtual gifts received from random cam chats are mentioned in this section.

Settings – All the profile, security, and privacy-related settings are mentioned here.

Sign Out – If a registered tiny chat user wants to log out of the site, then we can use the "Sign out" option here.
Overall, this free chat no registration technique didn't go well for Tinychat and ended up in a shitty site for users. Jeez, how on earth people would still go for this useless site? All we request Tinychat is ENOUGH of promoting useless features and looting people's money in the name of membership. 
Tinychat is full of SHIT and deserves NOTHING. Yet another site like Omegle tried something but FAILED miserably. Sorry mate, we can't really consider Tinychat as a Live Video chat site.  
Other free chat sites like Camdolls, Ometv, & Chatrad (reviews at these links) are also giving the same disappointment to free chat users.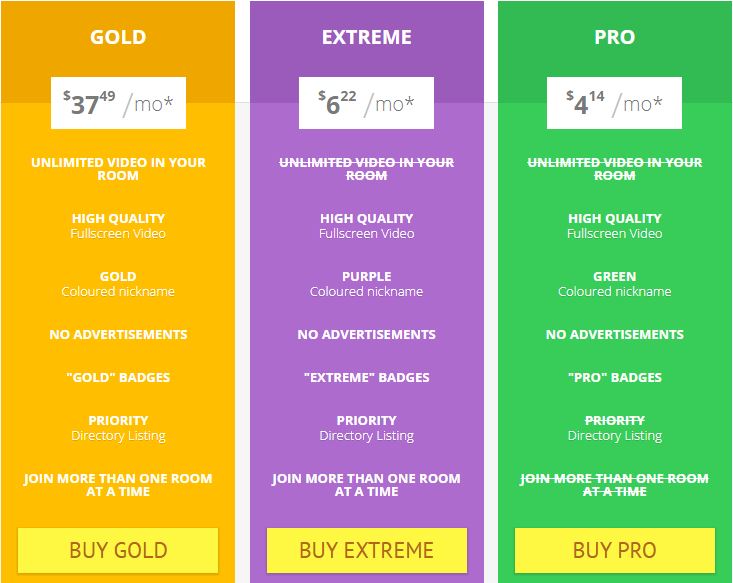 Tinychat Pricing:
Tinychat Gold – 37.49$ (per month)
Tinychat Extreme – 6.22$ (per month)
Tinychat Pro – 4.14$ (per month)
Here is the complete list of features available on premium membership on Tiny chat,
Unlimited Video in your Room

High Quality (Full-screen video)

Colored Nickname

No Ads

Badges

Priority

Join More Rooms
Tinychat Coins Pricing List:
250 coins – 7.99$

520 coins – 15.99$

1530 coins – 39.99$

3550 coins – 89.98$

5000 coins – 129.99$
Tinychat Findings & Summary:
Free chat rooms and video chat are always great entertainment platforms when it is done well, but Tinychat is a FAILURE in that. Nothing can cover up that big a LIE from users.
We are glad that we have covered and saved many of the free chat room users who didn't fall for this PREY called Tinychat. Trust us guys, Tinychat is worse just like Omegle, OnlineFreeChat & FreeChatNow (reviews at these links) sites.
Moreover, the site Tiny chat is filled with perverts, looking for hookups and random sex chats. This is definitely not what we expected from Tinychat. It's not a worthy video chat platform for anyone.
For all those users in Tinychat hear this out, if you're into live sex chat sites, you better stop using this site. World-class sex chat sites Streamate and LiveJasmin (reviews are added in these links) is the best place for that.
If you got a doubt regarding that, check out the erotic cam girls from Streamate.com. For those who are new and didn't about the Tinychat site, please ignore the site. Not worth your time, mate!
LiveJasmin.com is another erotic place to meet and chat with live cam girls as per your preference. We can't imagine Tinychat anywhere near this sort of experience.
We would like to conclude the Tinychat review in one phrase: Am I being punked right now? That is EXACTLY the feeling you have once you burn an hour at tinychat.com
Click to rate this chat site!