Sexeey in an infamous live sex site that has been blowing smoke in people's eyes. Learn the truth about this sex chat site before you invest your time in it.
Sexeey Overview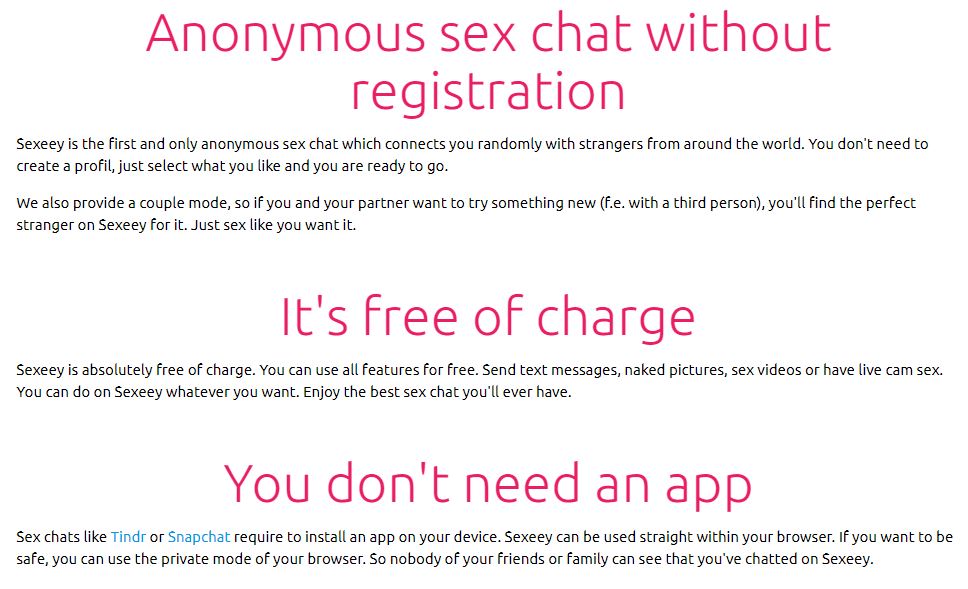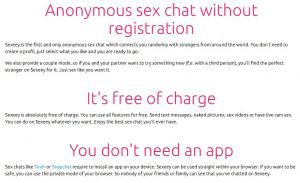 The Internet is crowded with bazillions of camsex sites claiming to offer the opportunity to masturbate with strangers. What people don't know is that 80% of these so-called sex chat websites are scams luring people to join.
Time and again, we have been exposing such ruses and we intend to keep our readers informed about safe live sex cams.
Today, we are gonna talk about sexeey.com, an anonymous sex chat site that helps you find a jerk off partner. There is no need to register so you can start spanking your monkey without wasting any time.
Does this sound familiar? You see, sexeey like any other random chat site pitches the idea of "no registration" and we gotta say it has been quite successful in doing so.
Horny dudes who don't want to go through the hassle of providing their personal details flock to such free sex chat sites oblivious to the fact that they are walking on thin ice.
To be frank, we understand how these shady sites function which is why we never promote them. With that being said, we review them to bring light to the fact that these random chat platforms are filled with sick fucks.
Sexeey chat claims to be different compared the other naked video chat sites because it respects your privacy and doesn't ask for any personal information.
You can exchange text messages, nudes, and videos with random strangers. Likewise, if you want a more immersive experience, you can try dirty talking using the audio messaging option or turn your webcam on to watch each other while you masturbate.
Sexeey Features
Here is a screenshot of the homepage of sexeey.com: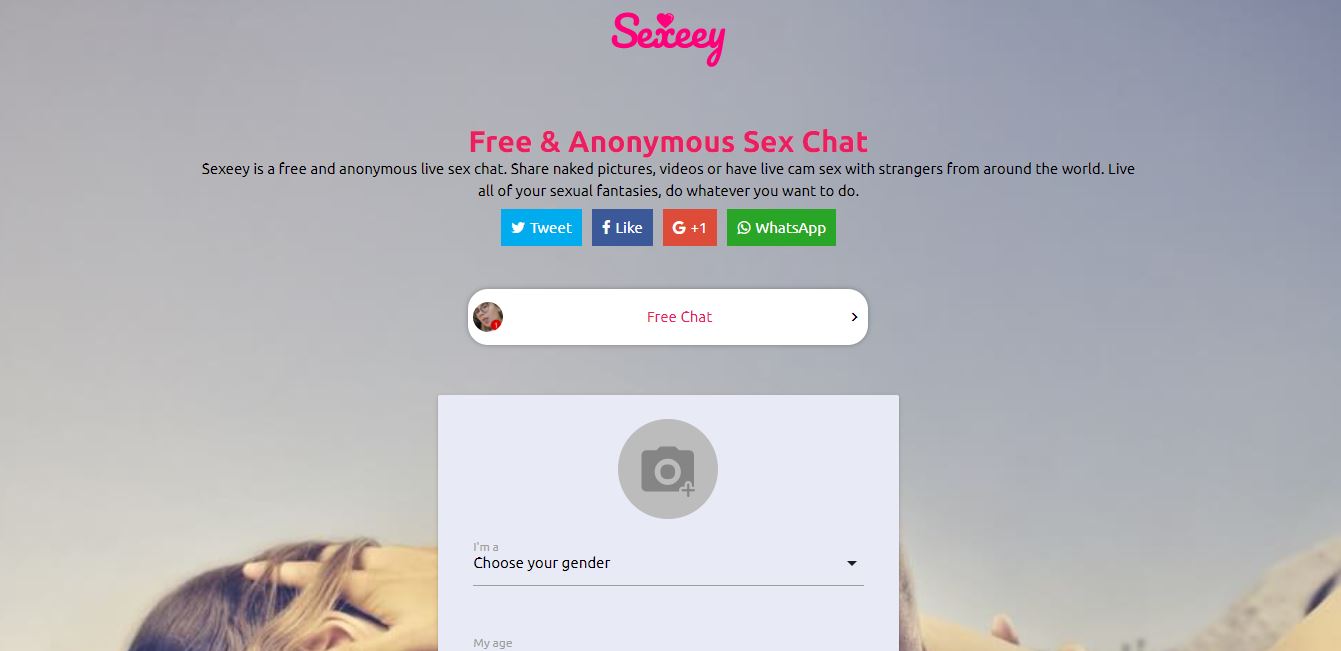 How to engage in live sex?
Firstly, sexeey.com asks you to specify your gender, age, and preferred gender. The next thing is to add a little bit about yourself and choose the age range of the people you want to interact with.
Once you fill out the details, you will be directed to another page that displays a chat window. You will be paired off with a stranger randomly and if you don't find your partner you can always switch to the next one.
Users can send and receive texts, images, audio messages, and videos. If you prefer to masturbate with strangers on webcam, you can use the cam2cam feature.
Seriously though, why would you want to witness the cringe-worthy sight of gross wieners? I remember my experience with sexeey chat.
I got into a sex chat with this 40-year-old German lady and damn, her profile picture was fucking hot. She seemed quite sensible and mature in the conversation we had.
So I asked if she wanted to do cam2cam but she was reluctant initially. She agreed after some convincing and guess what I saw when she turned her webcam on?
A DICK. A hairy dick. Then she was gone. Or should I say he?
Look dude, this is the problem with these shoddy random cam sites. You never know who you are talking to.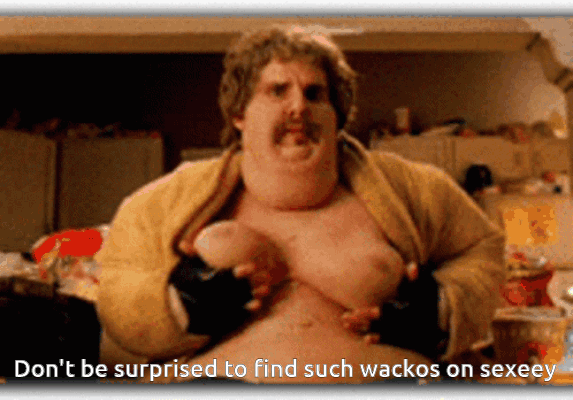 Just think about it, the chick you are sexting with might be a big fat oldie with man boobs! The thought itself makes me shudder.
Sexeey.com is associated with a lot of dicey adult sites so don't even bother clicking on them if you want to protect your privacy. Apart from the features listed above, there is nothing even remotely interesting about this site.
Sites Like Sexeey:
The adult industry is never short of scams like sexeey and you will find plenty of subpar sites like it. Chatzy (review at the link) is the first one that comes to my mind.
No kidding, it is the epitome of boredom and there are no hot girls here. PERIOD. How about you ditch these sites and check out the best adult cam sites instead?
Stripchat (review at the link) is one of my favorite places to watch nude babes toying with themselves and showcasing some of the most intense orgasms on camera.
Sexeey Summary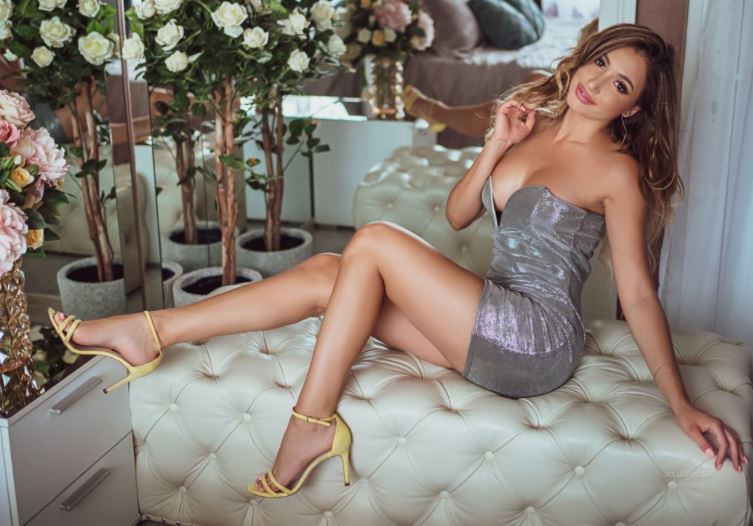 The verdict is pretty clear, sexeey chat is not worth your time. It's always advisable to stick to legit platforms that are designed for getting your load off.
We are pretty sure of the fact that this lousy site has nothing to offer. So instead of getting dumpster fire, visit StripChat.com which is indeed a fapper's paradise.
From outdoor sex to taboo fetishes, StripChat has everything you need on a lonely horny night. Thousands of HD live sex cams can be accessed without paying a dime.
Well, if you are a big spender who likes to interact with classy women, LiveJasmin.com has the right amount of glamour and sophistication to excite you.
My final words? Steer clear of random webcam sites like sexeey.com and choose legit adult cam platforms.
Click to rate this chat site!