Are online chat sites reliable? We are sharing some important facts about an anonymous BDSM chat website called Zadomaso.
Cybersex has become the popular means of jerking off as more people are opening up to the idea of expressing their sexual fantasies on the web.
For those who like to dig into the extreme side of sex, BDSM is one of the most exhilarating genres. Although sexual bondage is something people are yet to completely acknowledge or accept, several attempts are being made to make BSDM more mainstream.
When it comes to the adult webcamming industry, kinky bondage has become one of the most sought-after categories. You can look into the top sex cam sites and you will get an idea of how many freaks are getting off on women whipping themselves and torturing their nipples with clamps.
Y'all know how much I love getting my rocks off with the beautiful chicks on adult cam sites but I strongly condemn these so-called anonymous chat sites for obvious reasons.
The anonymity makes these sites a zone for sexual offenders to share unsolicited graphic images and texts without the fear of being caught. So every time I come across such bogus sites, I expose them and direct people to secure adult chat sites.
In this review, let's take a closer look at Zadomaso and see if it's any good.
What Is Zadomaso?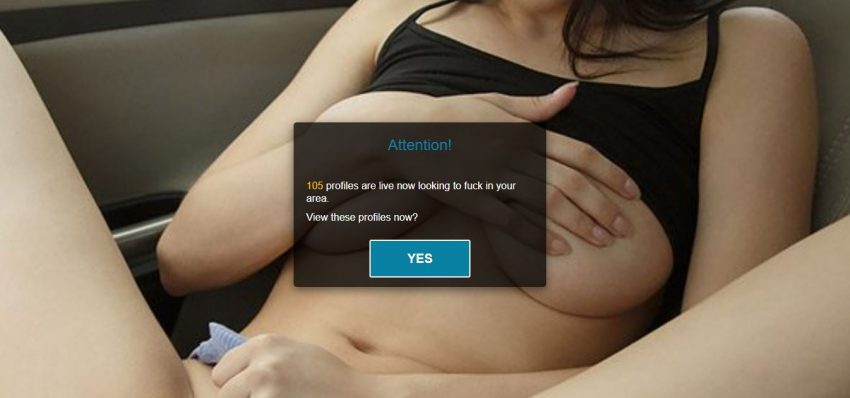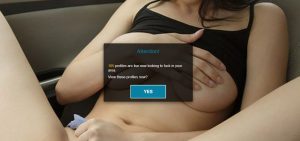 Zadomaso is a fetish chat that connects you with strangers who are into BDSM from all over the world. This platform lets you participate in BDSM chat rooms to share your love for masochistic fetishes.
You don't have to install any app and can access zadomaso.com from your browser. Zadomaso pitches the same old "no registration" hogwash to attract people.
As per the claims, this BDSM chat site is not biased toward any particular sexual orientation. So whether you are gay, bisexual, or trans, you will find someone of your kind here.
All these random chat sites heavily rely on advertisements and tie-ups with other sites and Zadomaso.com is no different. What it does is redirect you to some dicey dating/hookup websites that access your private information.
So don't even bother putting yourself through this nonsense and rethink before becoming a part of such shoddy sites. If you want to get a better idea about how zadomaso chat works, keep reading.
Zadomaso Features
Zadomaso.com likes to keep things anonymous which is why you don't need to create an account to get started. There are a few things that you will have to specify like your gender and age.
Furthermore, you have to pick your interest from four options namely:
Dominant
Submissive
Master
Slave
You can add your profile picture but that's totally optional. The final step is to choose a fetish from the available ones like roleplay, fisting, bondage, and more.
Once all these details are entered, you will be sent to the BDSM chat room where you will be paired off with a random person.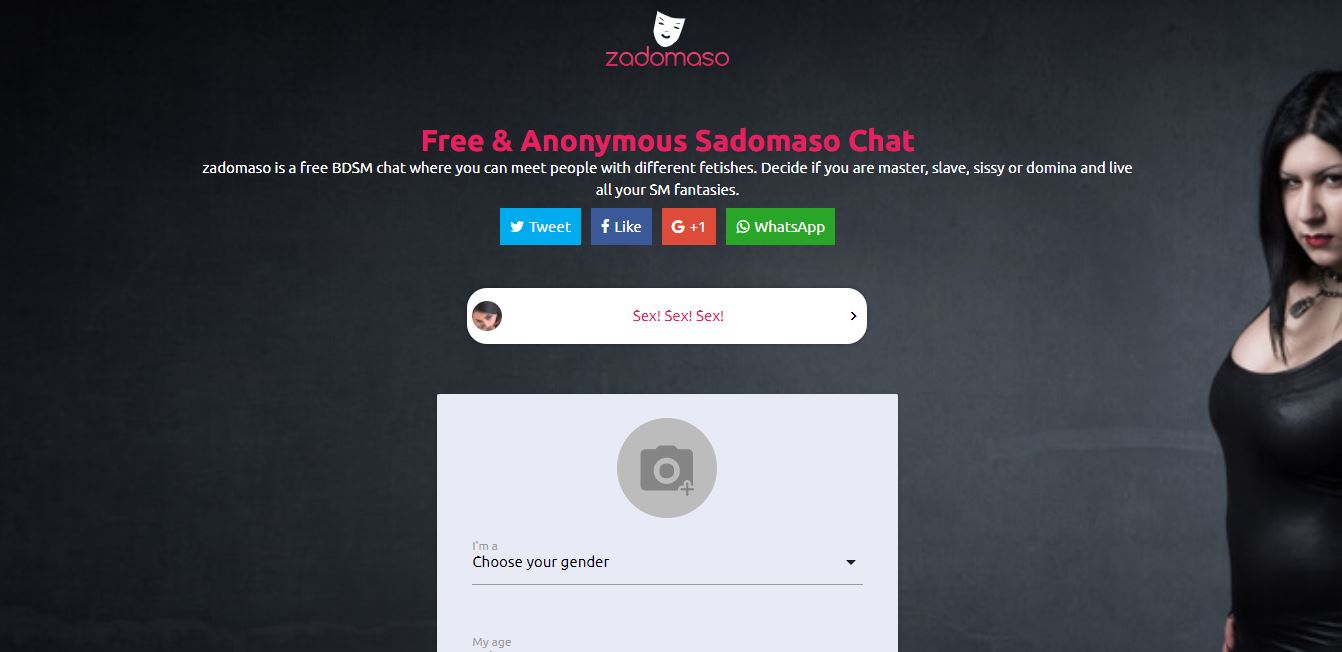 Apparently, gender preference doesn't work because once you enter the room, you will be connected with both men and women.
I really don't see the point of choosing the female option when I am getting weird messages from pervy dudes! Do you know what's more ridiculous than that? Most of the users aren't even talking about BDSM!
To be blunt, 80% of the users are wackos trying awful tricks to pester women with sick talks about their baby carrots if ya know what I mean.
Frankly, nothing about zadomaso.com seemed appealing to me. In fact, it offers the same lousy service as sexeey (review at the link).
I gotta say it only gets worse because this stupid fetish chat site is associated with dozens of sketchy services. It is downright scary to even think about how these predator entities are using your information.
Sites Like Zadomaso:
You can find thousands of subpar chat roulette types of sites that have surpassed all levels of absurdity. For instance, Lollichat (review at the link) strongly markets itself as the go-to place to meet interesting people.
That's complete bullshit! What you find here are a bunch of perverted men preying on unsuspecting users.
Joingy (review at the link) masquerades itself as a promising cam chat site but the truth is that it's just a bare-bones version of Chaturbate.
I couldn't stress enough that sites like Zadomaso do not put any effort to keep minors away. You could end up in some serious trouble so for fuck's sake, stay away from it and choose secure adult chat sites.
Zadomaso Summary: Is It Worth The Risk?
You might think that there's no harm in giving zadomaso a shot, especially since a few very sites cater to the fantasies of BDSM freaks. However, the truth is that there is no such thing as "free BDSM" here.
It's just a sea of lonely dumb fucks fooling around and you deserve better! Man, if there's one place that features the freakiest sexual bondage on camera, it has to be Chaturbate.com.
You can use tags like BDSM, slave, or femdom to be matched with hot women who will go to any extent to drain your balls.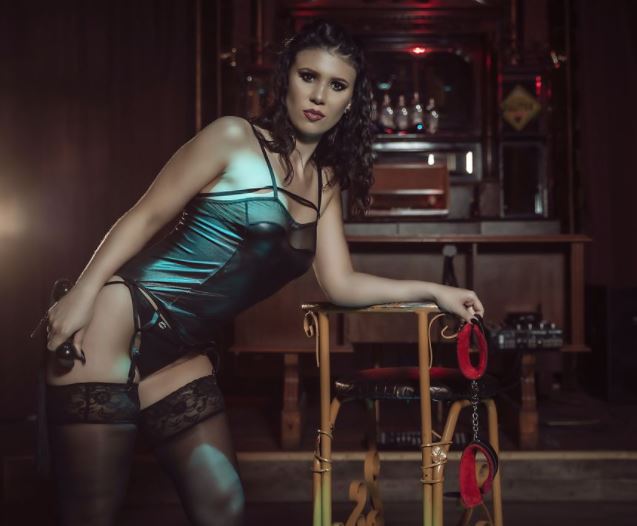 Likewise, if the thought of being whipped by a Dominatrix thrills you, then you will have the best experience at LiveJasmin.com. Feel an explosive release of cum when a mistress goes down on her knees giving you access to her beautiful ass!
Or surrender yourself to the gorgeous femdom queens and you will not be disappointed.
The verdict is crystal clear, Zadomaso.com sucks so keep a safe distance from it.
Click to rate this chat site!