Joingy is a random video chat site people use to interact with virtual strangers. Read our review and find out if it's a safe medium for cam chat or not.
Random cam chat sites are preferred by millions due to the anonymity factor they provide. Sure it feels great to interact with unknown people from all over the world through roulette cams but one question keeps niggling in my mind, "Am I safe here?"
What do you think are these chat random sites being used for? To be blunt, more than half of the people you find on these sites are just hot and bothered.
I am talking about lonely men sitting in front of their webcams with pitched tents. Yes, these are the kind of strangers you will encounter on roulette chat.
What's even horrifying is that minors who have just discovered masturbation also use such platforms to show off their stroking skills on camera. Therefore, you might wanna reconsider your choices of the sources you use to get your rocks off.
Before you screw up, read our Joingy review that will help you make informed decisions.
What Is Joingy?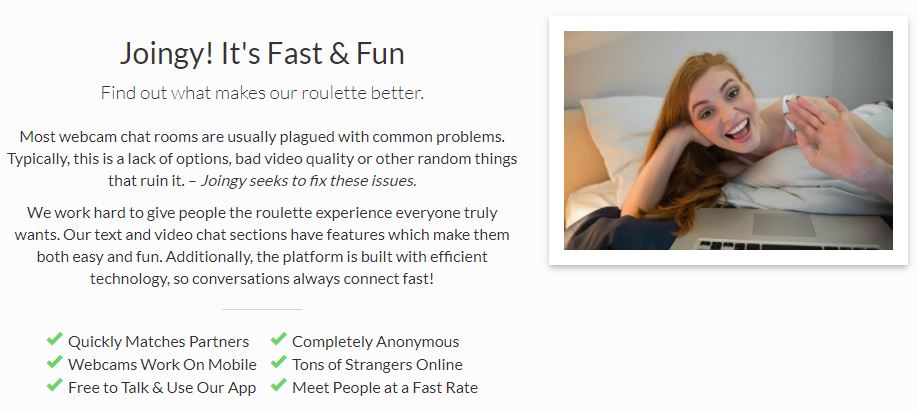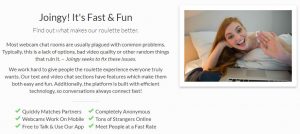 Joingy is an interactive platform to find intriguing people you can chat with or flirt with. The algorithm of this webcam chat pairs two strangers randomly.
However, if you wish to talk about a particular topic, you have the option of using the "interests" feature.
You can utilize the random video chat to find virtual friends or if you prefer to keep yourself hidden, "text-only" is the option you can choose.
As expected, joingy doesn't want you to sign up or register. You are free to start talking to strangers anonymously.
Joingy employs an insubstantial method to keep minors away and that gets lost in the long-ass list of chat rules nobody gives a fuck about.
In short, there is no way you can refrain youngsters from accessing this adult roulette site unless there is a valid age verification procedure. Clearly, joingy.com is a breeding ground for predators and sexual offenders so the only way you can ensure your safety is by staying the hell away from it.
With that said, let us proceed deeper into the functionalities of joingy which will help you guys get a clear picture of how awful things get with this chat random site.
Joingy Features
When you enter the site, you are welcomed by a blue theme with a stupid looking logo that looks like a mixture of a bunny and a teddy bear.
I have no clue about how joingy came up with that inane logo. Anyway, to get started, choose among the two interaction options namely text-only and video chat.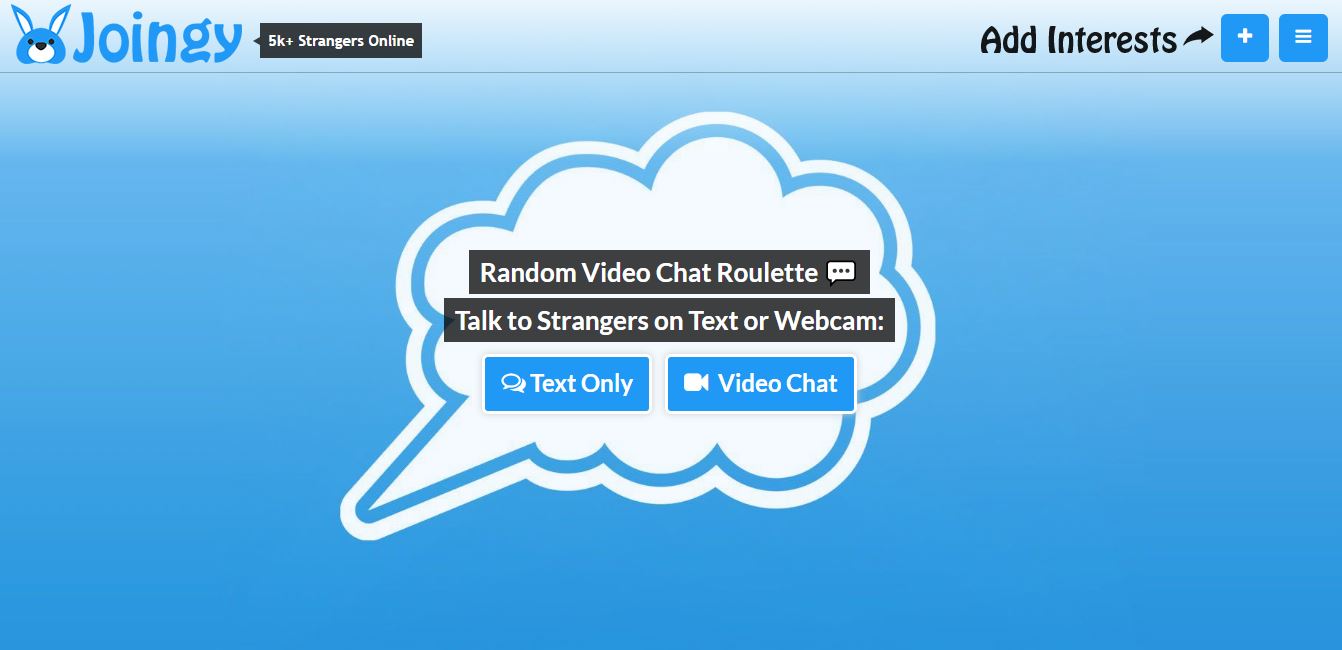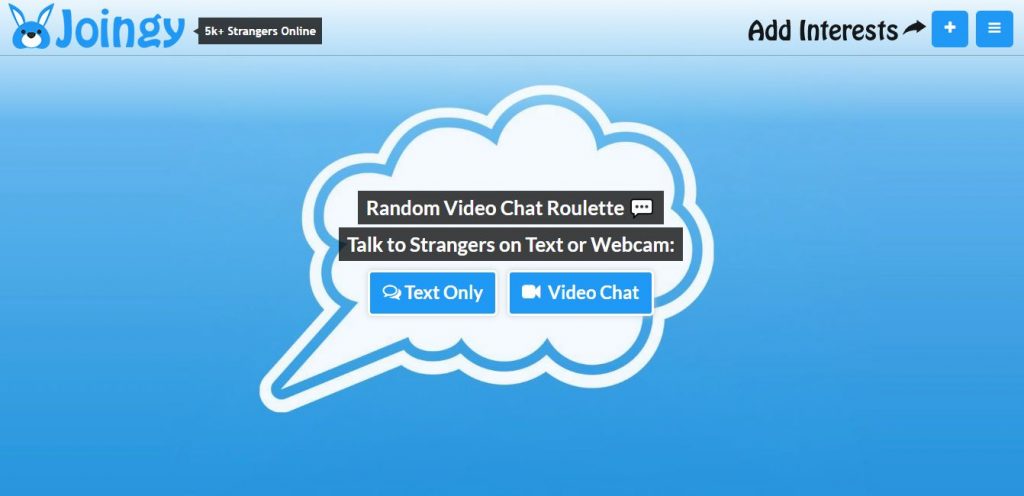 Text only: 
As the name suggests, this can be used if you are not willing to expose yourself on a webcam. On clicking the text only button, joingy will connect you with a stranger.
I gotta tell ya, my experience was so awful that I started zoning out. First off, there is no moderation so you will come across plenty of spambots and perverts every few minutes.
Moreover, you can't even tell if your partner is a sexy milf or an old fart typing with one hand.
Video chat:
If you don't wish to become a victim of DBD (death by dicks), skip this option. This zone is strictly for those who get aroused looking at filthy peepees.
Really though, it's ridiculous to see how these losers unabashedly whip their junk out without even asking if their chat partners want to see it or not.
Consent is dead on joingy and other adult roulette platforms like it. Hence, you will get it even if you didn't ask for it!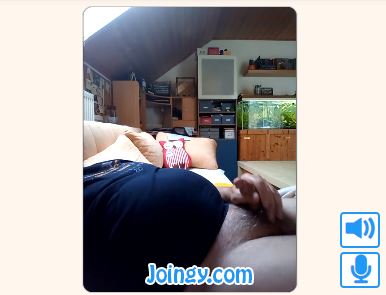 Girls roulette:
The creators of Joingy use the oldest trick in the book to garner users. The majority of the people using this chat cam are men who want to chat with girls, nude girls to be precise.
So what joingy.com does is tempts them to visit their girls roulette page which is strictly for adults. Well, do you know how it verifies if a user is an adult or not?
It's simple, you just have to click on "ok" and it doesn't fucking matter if you are a 12 year old! You will be easily able to access sexually explicit content.
Also, the page you are redirected to has a different URL and name called Tempo cams which is powered by an entirely different site. Here, you are shown previews of random nude cam girls that keep changing every few seconds.
To confirm that you are 18, you have to click on the verify button. Once you do so, you land on Chaturbate (reviews at the link) which has nothing to do with joingy.
You see, joingy is just a made-up brand to make a buck from users by making them register on the chaturbate affiliate program.
While I love Chaturbate, I don't think it is ethical to fool unsuspecting users, so I would suggest you visit the actual website of Chaturbate.com to enjoy its services.
More sites like Joingy
When it comes to offering cheap services, Jerkmate comes to my mind which is a rip-off version of a top cam site Streamate (review at the link).
Don't want to get trapped in inferior clone sites? Head over to the best adult chat sites that ensure an authentic live camming experience.
Final Verdict On Joingy
Joingy.com is an epic fail like most roulette chat sites. The lack of awareness amongst the users is helping joingy make good money.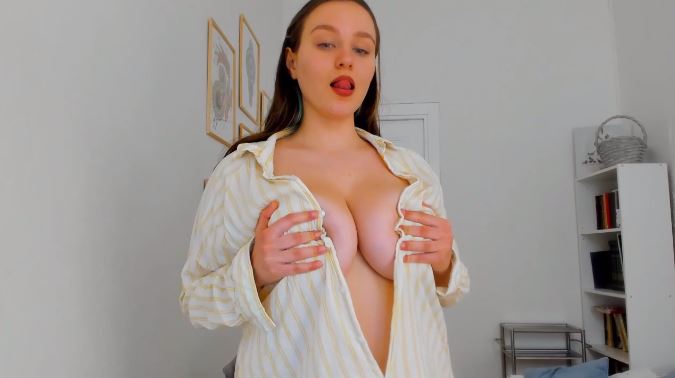 Instead of falling for its tricks, you can register at the real platform that offers the services you see on joingy and that is Chaturbate.com.
When it comes to adult cam chat, trust reliable cam sites like Streamate.com which are filled with thousands of registered cam models to please you.
I hope this review helped you get an insight into the truth of roulette cams. Steer clear of them and be safe!
Click to rate this chat site!