Chatiw offers a free chat site that focuses on users from all around the world without registration. It is positioned to be a free chat platform with no registration. We have checked many sites and there will always be a catch when they mention it as without registration.
Chatiw is like chatrandom in that offer a place for stranger chat as well as dirty chat and they do keep the no registration promise. It is similar to chat iw and fcn aka freechatnow, as well.
Right from the word go, we can see the Chatiw site is not setting the right tone when it comes to verification. That is a major VULNERABILITY for users and especially teenagers and people who are under 18.
It's a DISAPPOINTING start even for us. We expected something better and bigger. We don't want to brag but this site is a mere waste of time. Anyway, let's dive into a deeper look at what the site can deliver.
Chatiw Review: Piece of a CRAP SITE in the name of FREE CHAT ROOM.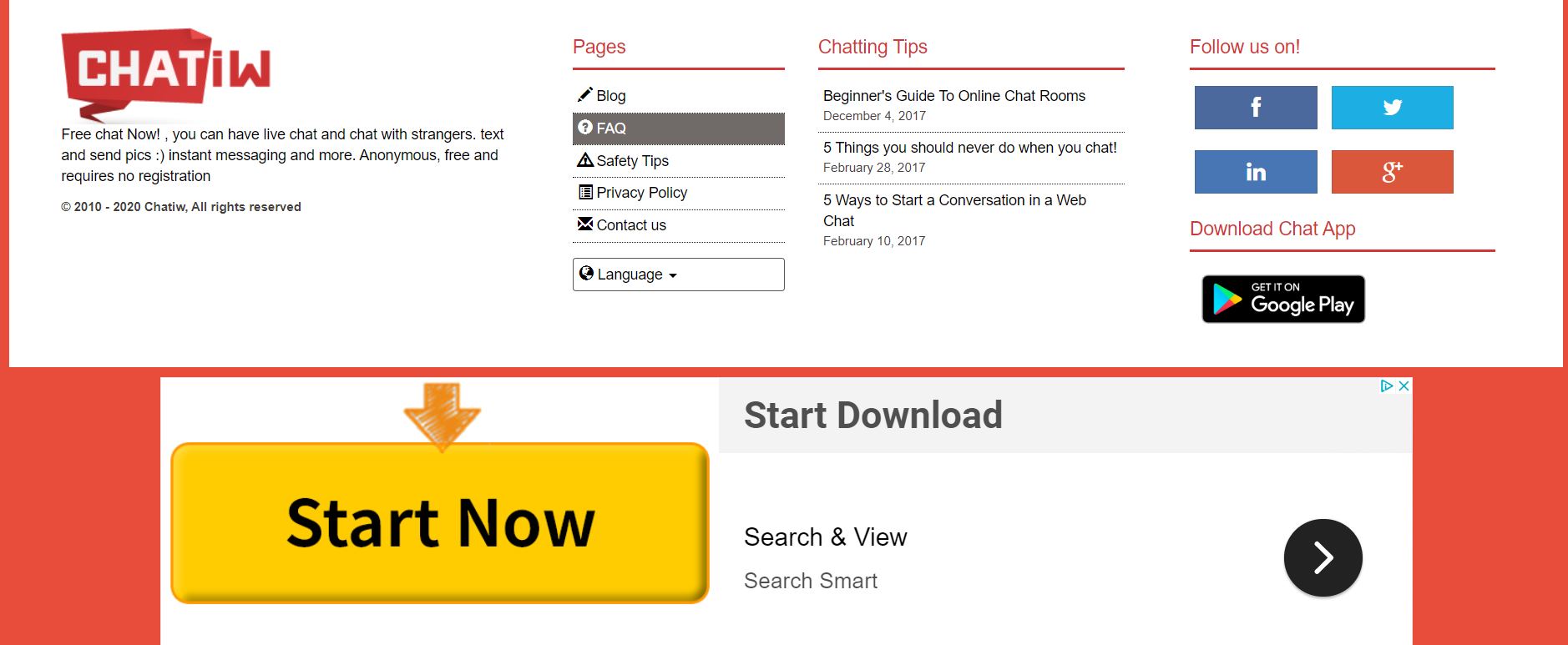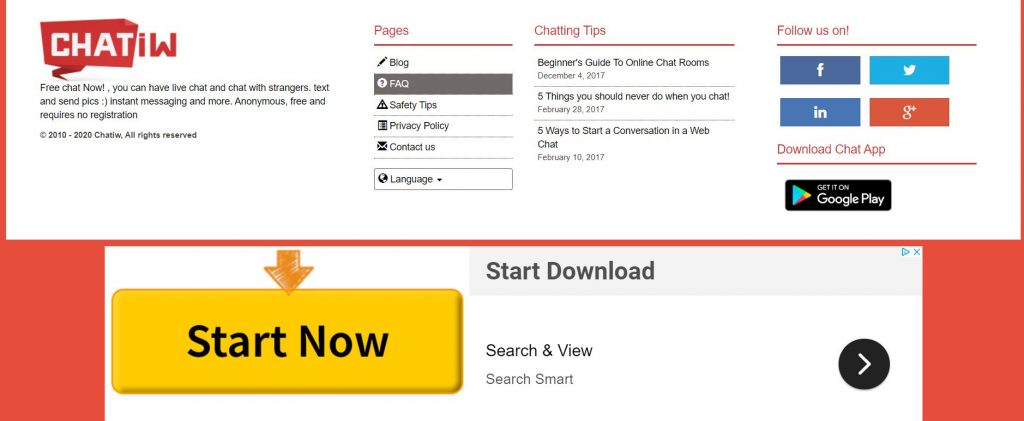 Many chatrandom sites are available and people are not making a great site that has proper features. Chatiw or chatib, is no different from the rest of the sites. Stranger chat sites are meant to be free, I mean what more can you ask for in a stranger chat site? It's not a dating site.
It's a simple chatrandom site.
Chatiw is a poorly designed stranger cam site that offers nothing but SPAM messages for users. There is no proper verification.
Anybody can be deceived on this website because nobody really has to prove who they are or even their real age. 
That really is scary, man!
Wanna know how? Check the below article for a detailed review.
DIRTY CHAT is what you can expect from users on Chat iw site. There is NO GENUINENESS in Chatiw and probably that tells you the overview of what a pathetic site this has been.
Chatiw site will make you wonder whether this a good site or a sexting site that is covered with features. If we were you, we would cautiously think twice before using it.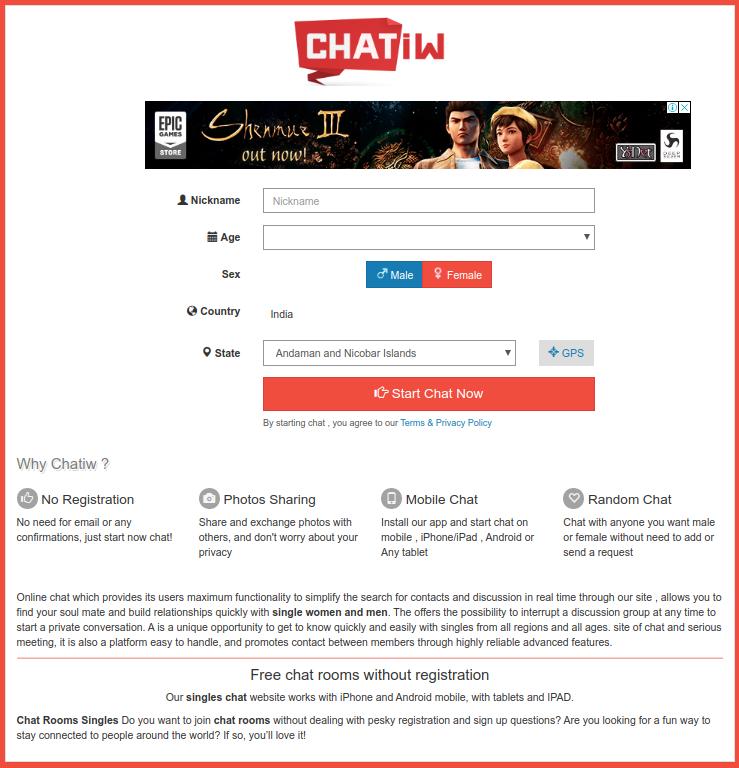 Chatiw Features:
Let's see how this crummy chat room site works and what features are available.
Signup Process:
Nickname – Users can choose any nickname from here. If any other users have the same nickname, you can't use it and you have to change it.
Age – Users can add their age in this section
Sex – Only two genders are available right now. I.e Male and Female
Country – By default, it will show your country by recognizing the IP address.
State – You can only choose the state or region, the country can't be changed as mentioned and stated above.
Popup: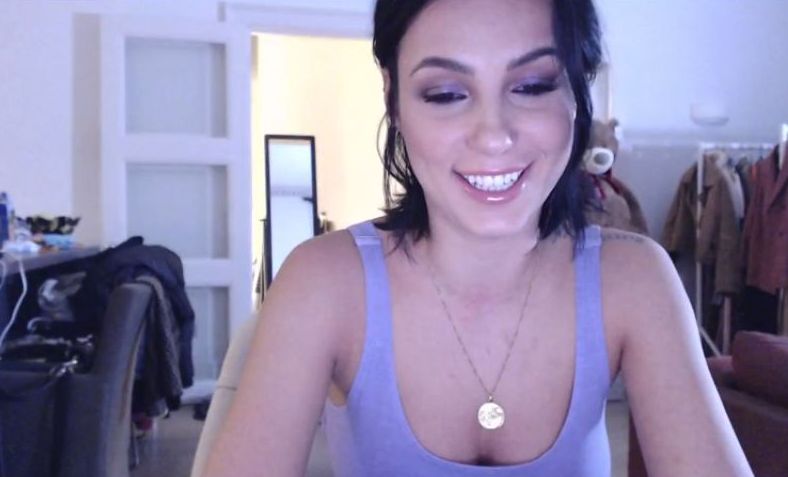 Once the user enters all the basic sign up details, a popup will appear mentioning the below two important points. (Pretty USELESS)
Inappropriate Name Ban – If any user is having a bad or offensive username, it will be banned immediately. (But it is not working, people are having bad names mentioned in user names)
Disrespect Ban – Users will be banned if anything inappropriate has been said to other users. (Again a FAILURE, people are saying abusive words in the chat and still get away with it)
Try Video Chat – Users can select this option at the right corner to have a video chat with other users. It's FISHY and the redirected link will ask you to sign up with email and stuff.
Not something you came here for but you don't get to see that authentic feeling for sure. Allotalk (review at the link) does the same as well in their random chat feature.
The video chat option looks more like free sex chat lines but is truly vulnerable for people who have come here just to chat. That is a major flaw and disgusting thing about the Chatiw.
Chatws.com – Another CRAPPY site that has been suggested in the top right corner.
Chat History – All the received and sent messages are shown here. Pretty much a PATHETIC function and you can't really delete the messages.
Inbox – All the incoming messages are seen here. Messages from PERVERTED USERS! As simple as that.
Search – Users can search others by gender, age, and country wise.
Active Desktop Notifications – If you wanna receive active message notifications, you can select this option. If I were you, I prefer not to. ALL YOU RECEIVE IS SPAM AND PERVERT MESSAGES!
Become a Premium VIP Member – An option to upgrade the membership account is here. SERIOUSLY? Who wants to pay for something like this stupid random webcam site. Literally! 🙂 
Blocked Users  – Although it is mentioned as a Blocked users section, it doesn't really show how many people are blocked from your end.
Profile Settings –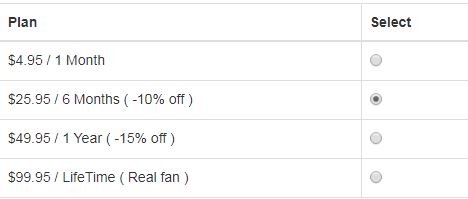 Name – Option to check your username again.
Country – Default Country name mentioned.
State – The state user chosen at the start of creating a profile.
Age – Users can change their age from here! Welcoming option only for SPAMMERs.
Visibility Settings – Users can be invisible for 30 minutes or 1 hour according to their preferences.
Sound Notifications – Not something you would like to set unless you are okay with 50 perverts shooting the messages at you every minute.
Logout – If you want to opt out of this CRAPPY site, you can use the logout function here. Thank god it was easily accessible.
Chatiw Pricing:
1 Month – 4.95$

6 Months – 25.95$ (10% Discount)

1 Year – 49.95$ (15% Discount)

Life Time – 99.95$
Here is what you can get for VIP membership in this useless site, (This looks more like sexting site than a proper chat site)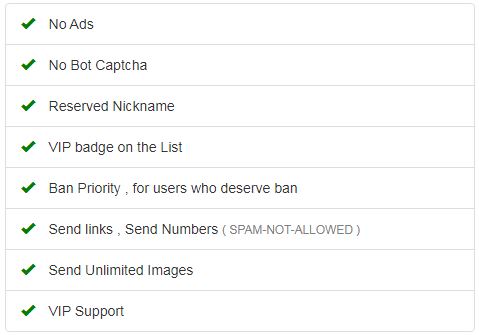 Ad-free Chat

No Recaptcha

Unique Nickname

VIP Badge on Profile

Ban Priority

Send Website Links & Phone Numbers (Truly DANGEROUS)

Unlimited Messages

VIP Support
Chatiw Findings & Summary:
If you're in Chatiw looking for a proper free chat experience, you're in the WRONG PLACE. Chatiw is a free chat lines site and users have only come for sex chat lines and sexting. DISGUSTING to the core.
Let's keep it simple, it is truly understandable that people are looking for free sex chat sites, but we gotta think Chatiw is not the correct place for that. There are some remarkable free sex chat room sites specially made for adults. You don't believe us? Dive into Streamate and LiveJasmin and you can decide for yourself.
The amount you're spending in Chatiw makes ZERO sense!
Yes, literally ZERO sense for a VIP BULLSHIT MEMBERSHIP. With that same money, if we were you, we could have spent half of it on Streamate.com and ImLive.com for an erotic and satisfying sexting experience.
That's all we can say! To sum it up, here's the one-word review for the Chatiw site = GARBAGE!
Click to rate this chat site!