Room7 is a live social streaming platform for adults to chat with strangers and friends online. Room7.com provides a path for video chat with anonymous singles for free.
Anybody looking for some fun or kill some time online can chat randomly using room7.com. That said, there are three features we can expect from the room7 website. First, webcam chat rooms, second voice chat rooms, and third the text chat arena for strangers.
Let's clear that the room7 chat site did not have any mobile app associated with their platform. If you happen to hear about the room7 app, it is not from the iwebcam chat network and is 100%, not a free video chat app.
The homepage puts the answer for those asking whether room7 is a teen chat or not. The answer is no. Room7.com is an adult webcam chat platform for 18+ personals online. Is Room7.com an authentic social streaming site? Our updated room7 review has answers you should know.
Room7 Overview:

Chatroom7 comes with three options for strangers to access the webcam chat completely. Those three options include using the website as a guest, registered member, and VIP member.
And for those thinking room7.com has a similar resemblance to WickedCamChat, yes, this is a white-label chat network of iWebcam.com.
Additionally, all the features, credentials, and user experience we get from room7.com belong to the iwebcam chat site.
On the front, the chat room7 website promotes a video chat room place for strangers, and on the home page, it mentions adult webcam chat. In other words, it's a deception for users. Adults enter the website imagining as a video chat platform, but the reality is not.
Room7's Highlights:
Sign Up Process
Before signing up, adults should know they can access the room 7chat network for free. All you got to do is; select the gender, date of birth, and enter the platform.
For continuing as a registered member, you have to enter your username, email address, password and enter the main dashboard. In particular, we have gender choosing options as men, women, couples, trans, and groups.
However, do note you cannot enter fake gender and continue to webcam chat with members. If found guilty, the account gets terminated forever. And, for accessing the webcams as a VIP member, purchase 300 tokens from the site. Tokens/credits get seen as cash in webcam sites.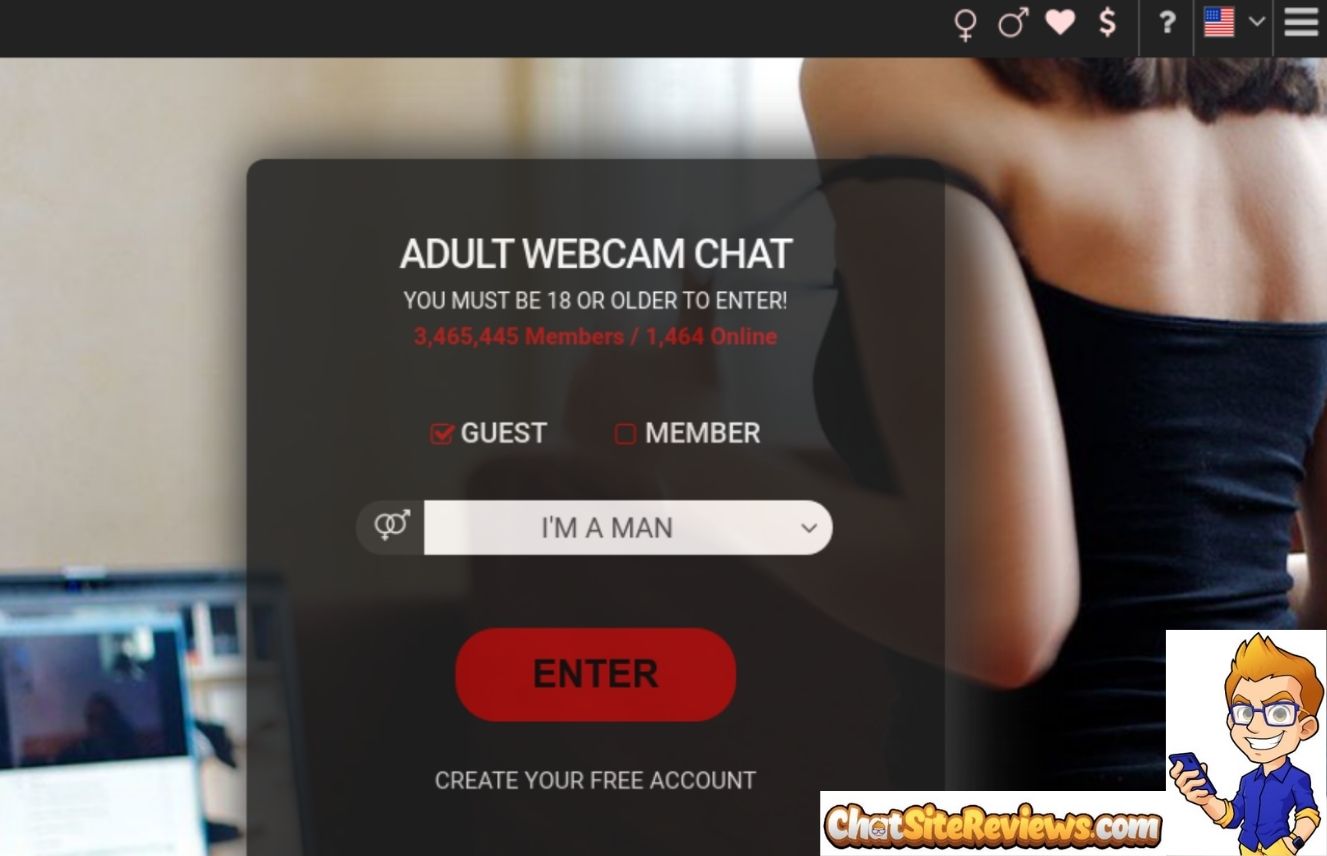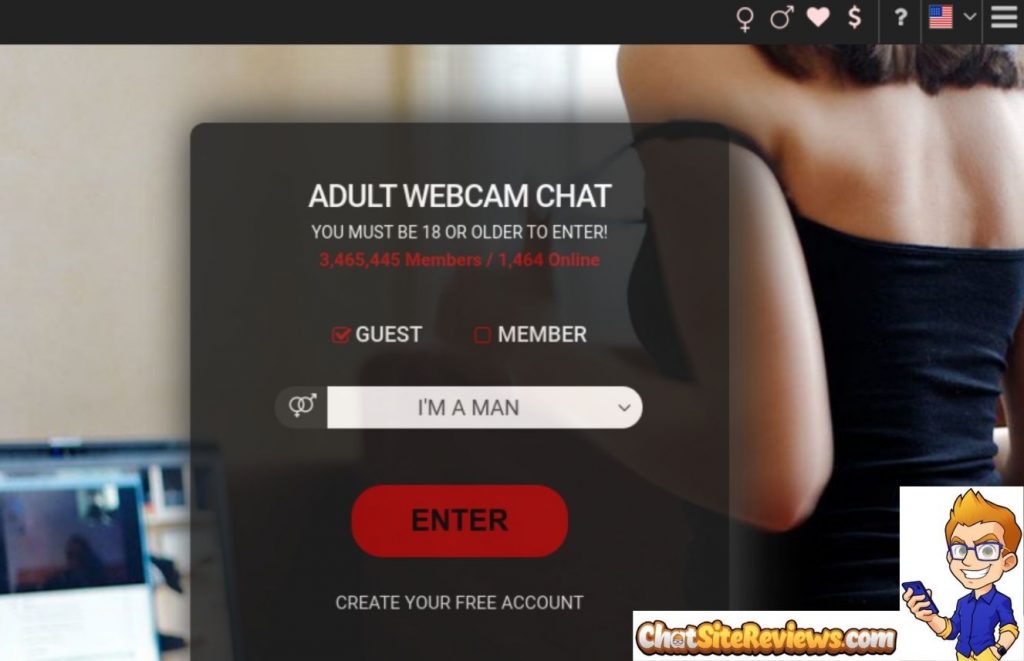 Viewer versus Streamer
Adults can use the room7 video chat site as viewers and streamers, aka performers. As a viewer, you can watch free webcams, chat with girls & guys, perform anonymously sexting with strangers, etc.
Furthermore, if you want to become a webcam performer, check out the rules and procedure for that on room7.com. Also, you have to be over 18 for that.
Webcam Chat Rooms:
Unlike adult webcam chat sites, the room7 chat site prefers to keep two unique webcam rooms for adults, such as public chat rooms and member chat rooms.
Under public chat rooms, there are eight webcams available. Here are they,
Party, Over 40, Room7, Smoking Lounge, Champagne, BBW, Fantasy, & Rate Girls.
All these are free chat rooms for guests and non VIP members to come and glance at the adult video chat. Further, we can send messages to female streamers with limitations. If any chat room crosses mark 240 members, then guests cannot enter the site.
On the other hand, member rooms are 100% designed for registered & VIP members. In the same way, either we can watch the sexy exhibitionists & send naughty messages or invite them with tokens for private conversations without any inconvenience.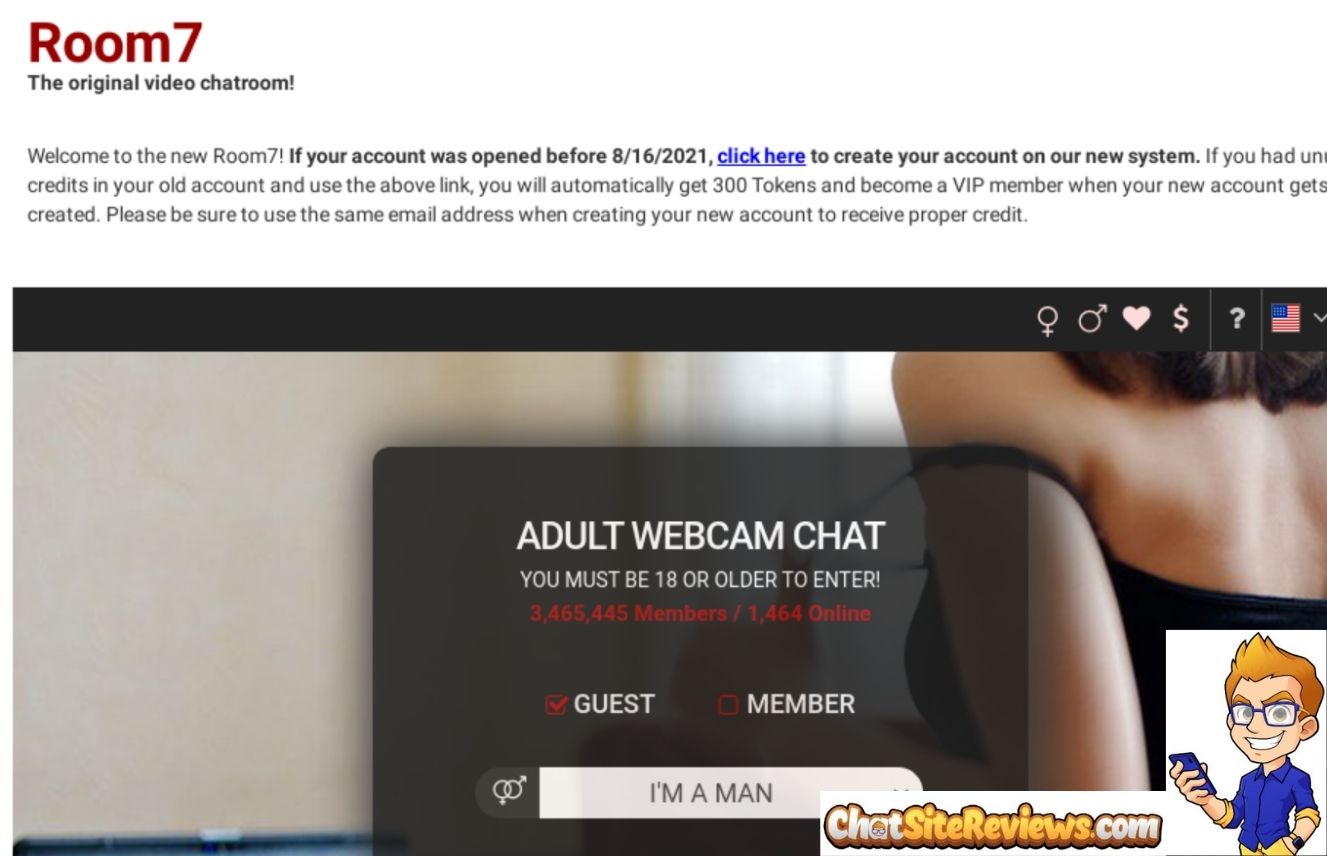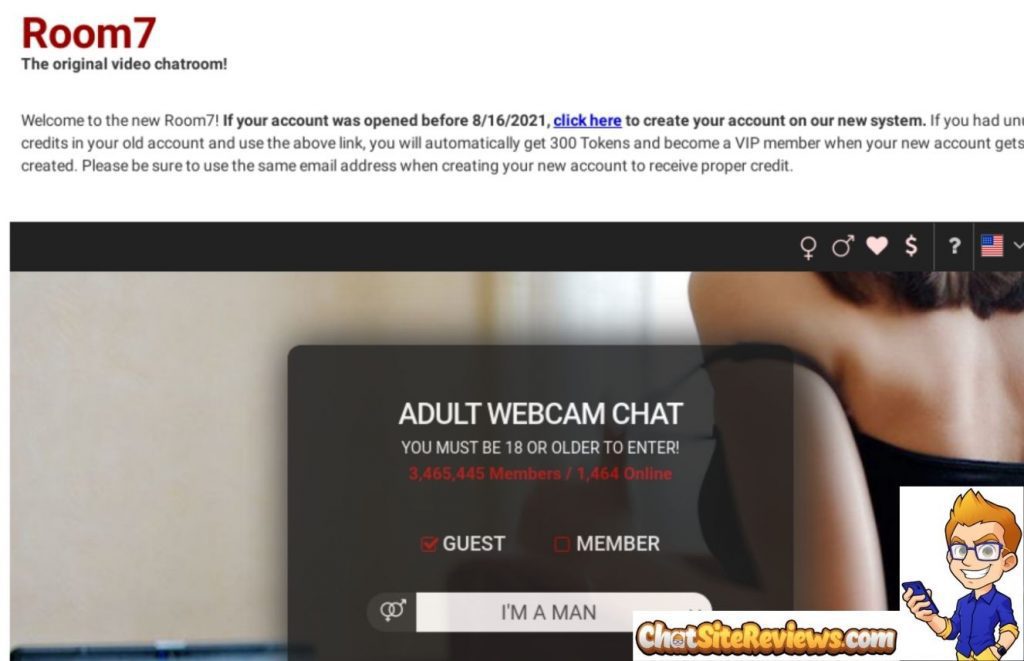 Free Adult Content
Check each female and male streamers' profile for viewing their hot pics and previous cam show videos. Rather than encouraging webcam members to view the adult content, almost 90% of the videos and pictures got kept as premium content.
Despite having many features and a handful of delicious streamers, free adult content is not in huge numbers. That is why experienced webcam viewers prefer to pick cam sites Streamate & Flirt4Free (review at the links) instead of the white-labeled room7 website.
Perks of Room7 VIP Membership:
Here are some of the additional benefits of VIP premium membership at room7.com,
Send tokens to any webcam streamers
Share love notes to your favorite webcammers
Watch up to 16 webcams simultaneously
Filter webcam members by gender
Save favorite profiles and messages
Set up a profile with a short bio, photos, and videos
Give and receive ratings from VIP members
Custom avatars & badges for premium users
Nonetheless, the chat rooms are relatively compact with webcams, text windows, and online users at the same interface. Likewise, it is strange to see adult webcam chat platform goes by such website design.
Typically, webcam chat sites with webcam shows of performers and their glimpses of live streaming are successful. As a result of the compact design, room7.com looks pretty awkward on mobile screens.
If you're looking for sites like room7.com, the experience will be the same. Coolchat & Enterchatroom (review at the links) are two of the latest duplicate video chat sites from iwebcam.com. Be cautious while spending money on such webcam chat sites.


Room7.com Reviews Conclusions:
All the previous registered members got advised to create new accounts on iwebchat, with no improvements on room7.com. Cam chat site iWebcam is trying multiple ways to push their webcam rooms for adults by using different names and logos.
In short, the trustability factor, lack of speed and experience on mobile cams, and fewer webcam members backfired room7 com despite having commendable features. To avoid all these dramas and misconceptions using free webcams, users should switch to 18+ adult chat sites.
For instance, if I were in the place of a newbie or previous user of room7 cam, I'd pick Chaturbate.com instead. It has a massive number of live cam members, free shows, spy cams, mobile 18+ cams, and so on for adults.
And thus, room7 proves it is another replica of the iwebcam chat network and not original.
Click to rate this chat site!