ChatAlternative is a free cam chat for random people around the world. We have checked upon many chat random sites and their features. Most of the so-called random cam chat sites are running with useless features and poor users. 
Does ChatAlternative a legit free stranger chat site? Most of the chat random site users would love to know an extended and honest review about the ChatAlternative site. Here we are doing exactly what random chat users are waiting for.
Video chat with strangers has become extensively famous among teenagers and adults. Because, the information we share is minimum but at the same time, our privacy can be under the scanner. Most of the self-claimed free random video chat sites are VULNERABLE to use. Let's dive in to check for the Chat Alternative site.
ChatAlternative Review: Another day, another PERVERT site!
The title says it all! ChatAlternative is another poorly made attempt to lure users to the Ometv site which itself is useless. ChatAlternative.com is trying so hard to prey the random chat users into a shithole called Ometv. 
ChatAlternative could easily deceive chat random users if they haven't paid enough attention.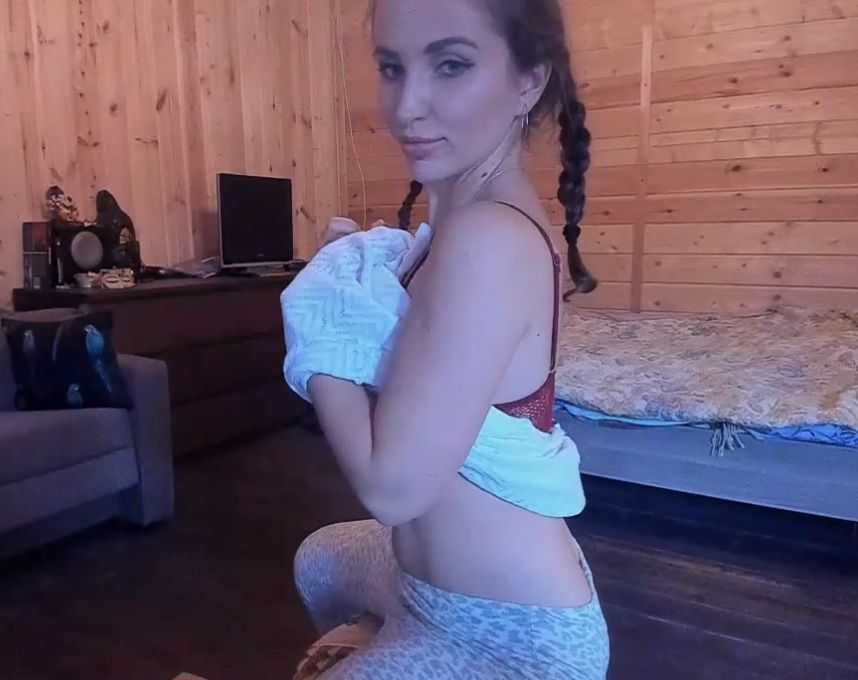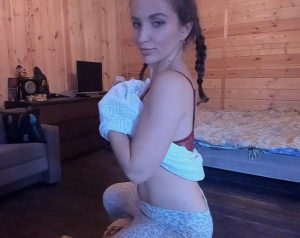 Nevertheless, our review will give HONEST feedback from another random cam chat user.
Chatalternative is a random cam site with no proper age verification. Anyone can access it and that's a huge VULNERABILITY for teenagers.
Let's look at some features ChatAlternative has claimed they have.
ChatAlternative Features:
Here is the list of features ChatAlternative have,
Start – Any random chat user can click on the "Start" option here and let the live chat begin. Please note, random chat users much have webcam and microphone facilities to access this site.
Stop – Choose this option to STOP the live cam chat at any time. Most lively you need it because all we can see is guys showing dicks as a welcome.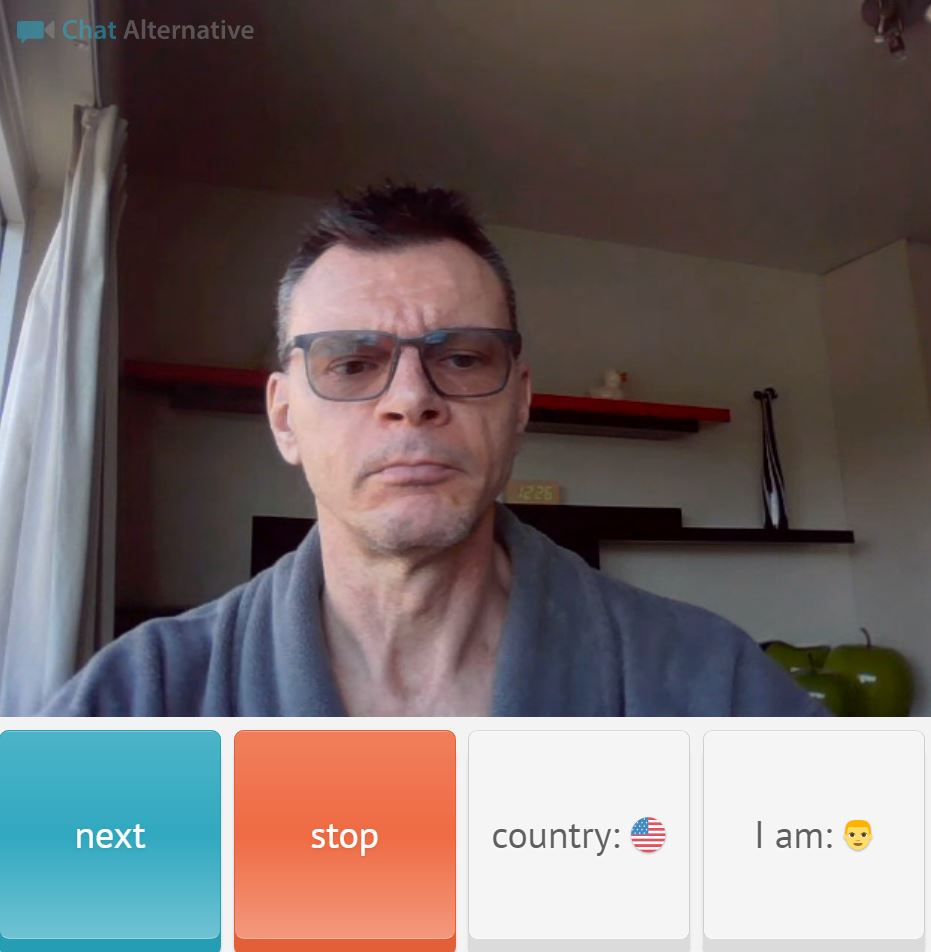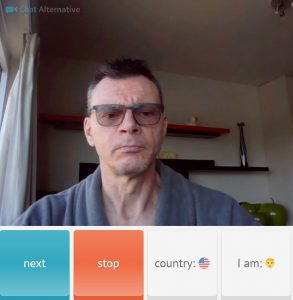 Country – A list of 60 countries is available to mention your location. But don't think it is smart, you'll end up showing your native country address and the other live cam shows are also from your country.
I am (Gender) – Male, Female and Couple are the available gender options to choose from ChatAlternative.
Settings: Click on the settings on the right cam are will give us more options such as,
Gender Update – Change or update your gender correctly using this option.
Language – 28 languages are available to choose from the ChatAlternative site. Check your preferred language here.
Translation – Free stranger chat users can select the translation option here. It will help in the conversation with another stranger.
Login – Click on login here and you'll use popup coming from Ometv, completely deceivable thing. It has two options to choose from, 
Continue with Facebook

Continue with VK
User Count – Nice try by Chat Alternative. But we do know, it is full of shit and complete FAKE numbers.
Live Cam2Cam – Like mentioned above, this random chat site can allow you to see others and start chatting. Not much of difference whether a random cam user has logged in or not. The site is pretty useless and full of perverted dick shows. It is a dangerous site for common users, you certainly do not want this to be shown to any teenager. 
Report – Reporting of users can be done by clicking on "Report" right in the middle of the streaming cam. It seems like the rules indicated in ChatAlternative are a JOKE and no one is following it. 
Chat – The chatbox situated right below the live cam is pretty alright. Different smileys are included to make the conversations interesting. There is not much conversation we can expect because people are only showing their private parts to random chat users. 
Mobile Apps – ChatAlternative looks like a TRAP site and we certainly don't want to risk by downloading their apps in Playstore and App Store. We would never recommend this video chat with strangers app for anyone.
Rules – As we mentioned earlier, we don't think ChatAlternative is looking closely at users. PERVERTS are everywhere in this free random video chat site.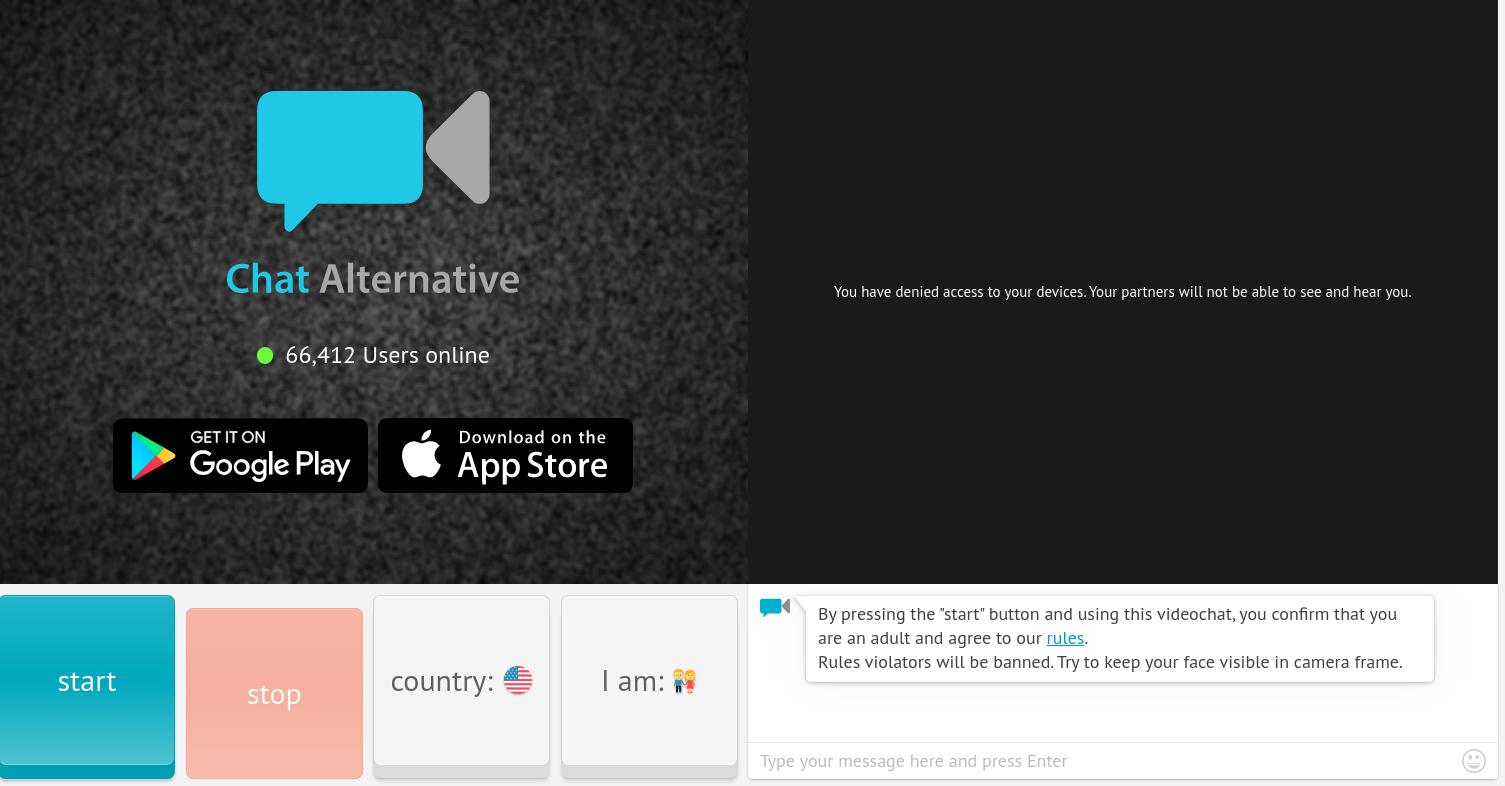 ChatAlternative Pricing:
Many users actually like trying video chat with strangers provided it is a safe and legitimate platform. ChatAlternative happens to be an empty balloon. The girl from random chatting site might be a catfisher. You can't chat with random people unless you give the necessary access which can be dangerous. 
The mobile app ChatAlternative has the app is a feature that costs around 11$. Utter waste of money to spend here. When I think of shitty chat sites like chatalternative, isexychat and chat avenue come to mind.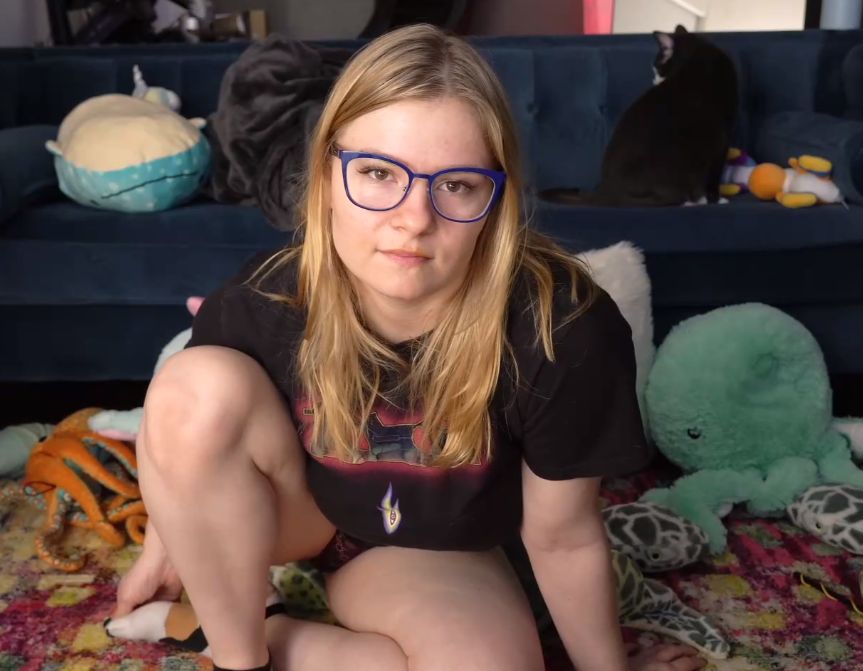 ChatAlternative Findings & Summary:
Chatalternative.com is a nonsense site that claims to be a random video chat app/site. The video chat for strangers site slogan is COMPLETE BULLSHIT. Only a moron would believe ChatAlternative as a good site.
Let's cut the chase, ChatAlternative is totally a bogus site has nothing exceptional. Stop cheating common users. Enough!
You know what? Adult random chat is what people like but they have mistakenly come to a shit called ChatAlternative. Looking for adult sex chat is not a crime, but visit the authentic sites that are worth your time and money. For example, sex chat sites like Streamate and LiveJasmin are excellent to spend time. 
In the name of free random video chat sites, ChatAlternative and Ometv are diluting and deceiving genuine users into terrible platforms. We strongly believe at least our review could have spotlighted the truth behind those lousy random cam chat sites.
Streamate.com and LiveJasmin.com are arguably one of the front runners for the best adult random chat experience.
Not to brag anyone, if you ask us to name two sites that have a huge number of adult users and tons of models other than the sites mentioned above, it has to be ImLive.com and MyFreeCams.com.
Click to rate this chat site!