This detailed review will unravel the truth about chatblink and other random chat sites like it. Find out how to chat blink works and if it is a legitimate site or not.
Online chat rooms came into existence during the 1980s and have been alive and kicking to date. Some people enjoy sharing their life experiences with strangers while the bulk of people is just lonely and horny.
Today, there are thousands of platforms that claim to help you find great companions. Sure, making friends is great, but are all of these online friends real?
Catfishing is real and each day, several people fall prey to it. So if you are considering becoming a part of such sites, you might wanna rethink.
After testing chatblink.com, we found out that this free chat site is just like any other chat roulette site designed to trick users.
What Is Chatblink?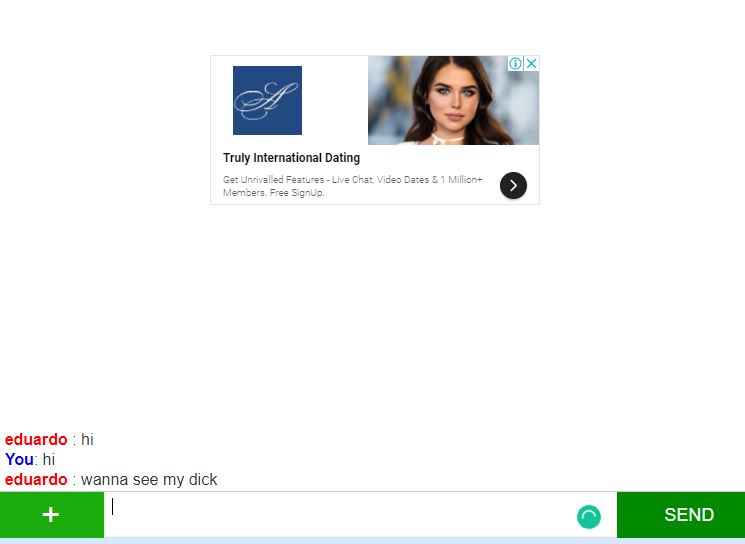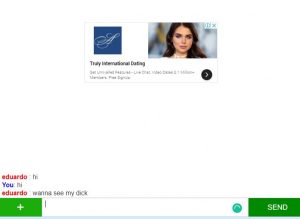 Chatblink is a free online platform that gives you a space to interact with like-minded people from all over the world. Signing up on chatblink.com is a cakewalk, or at least that's what it claims.
Once you register, you can begin chatting with strangers. So whether you are bored and need company or want to debate about a particular topic, chat blink has a lot of options.
A lot of socially awkward teenagers are curious about how to talk to girls online and end up on stranger chat sites like chat blink. And because of the anonymity, people can portray themselves as anyone they want to.
Expect a lot of pervy men who never miss a chance to talk nasty stuff about their gross dicks. No wonder this chat site claims to be an Omegle alternative which is undoubtedly one of the shadiest sites we have ever come across.
You can read our Omegle review that blows the lid off its gimmicks. This site is filled with twisted men sending unsolicited pictures of their junk.
Chatblink heavily promotes itself as the best place to talk with strangers and since no registration is required, you save a lot of time. As far as random chat sites are concerned, chat blink has nothing out of the box to offer.
Well, if hairy men showing off their sausages attract you, chatblink.com does have a lot of it for ya!
Stay with us as we take a closer look at its features and user interface.
Chatblink Features
Homepage:
The landing page of chatblink.com is quite plain and boring. There's no eye-catching tab or feature. Images of some random people are displayed and I doubt if they are actual members of this so-called chat site.
Signing up:
As a chatblink guest user, you can access the free chat rooms but if you want to chat privately, you have to register. Users can register via their Facebook or google accounts.
Alternatively, you can sign up using the following steps:
Specify your gender and add a username.
Enter your email address and set up a password.
Add your age and click on sign up.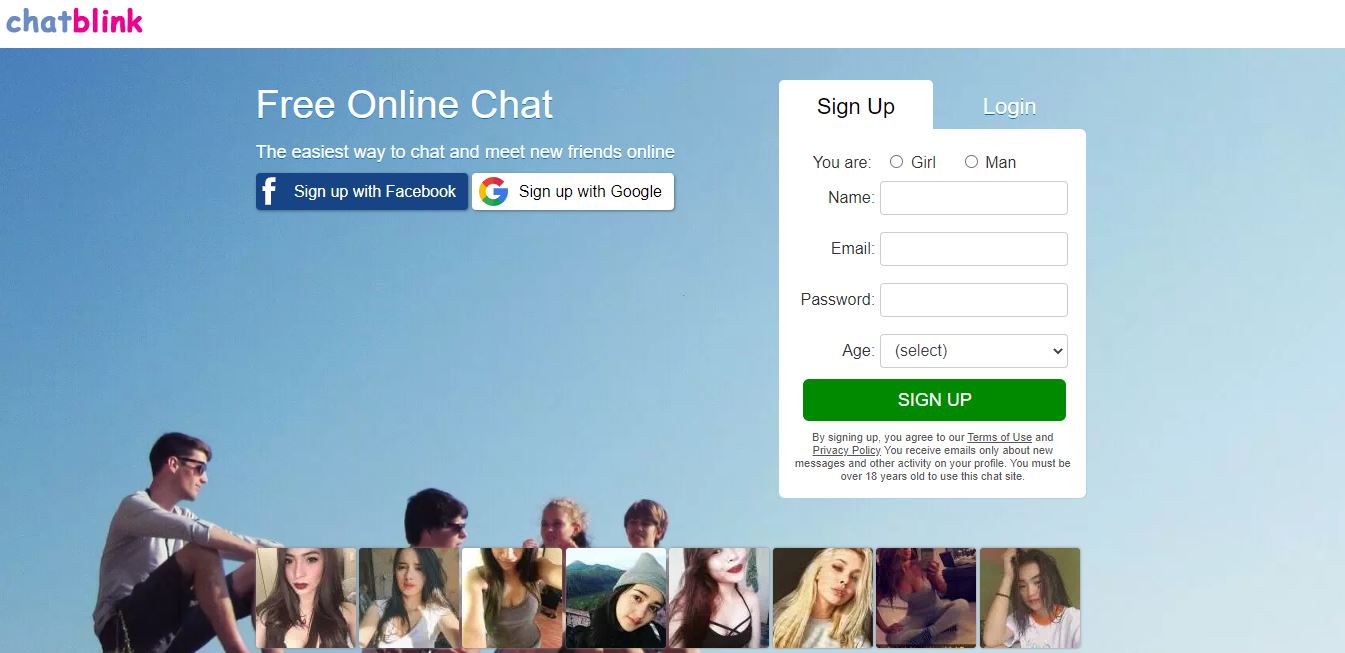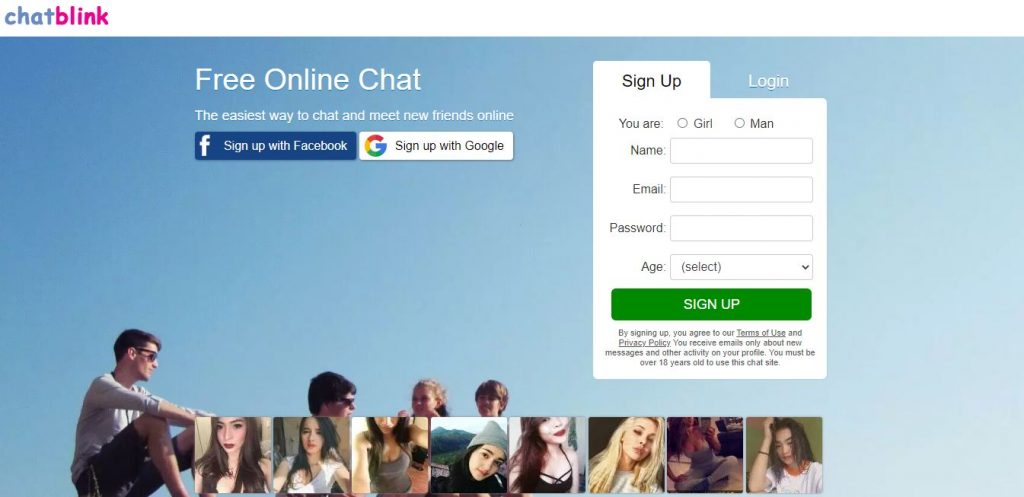 We tried signing up multiple times but this stupid site was down due to maintenance. It took us a couple of takes to register and look into its functionalities.
Free chat rooms:
Here you can find different groups and can choose one that interests you. To be frank, the group chats are a mess, and most of the time, you will be just wondering how to initiate a conversation.
It's just a bunch of random people talking about things you have no clue about. So don't even bother wasting your time here.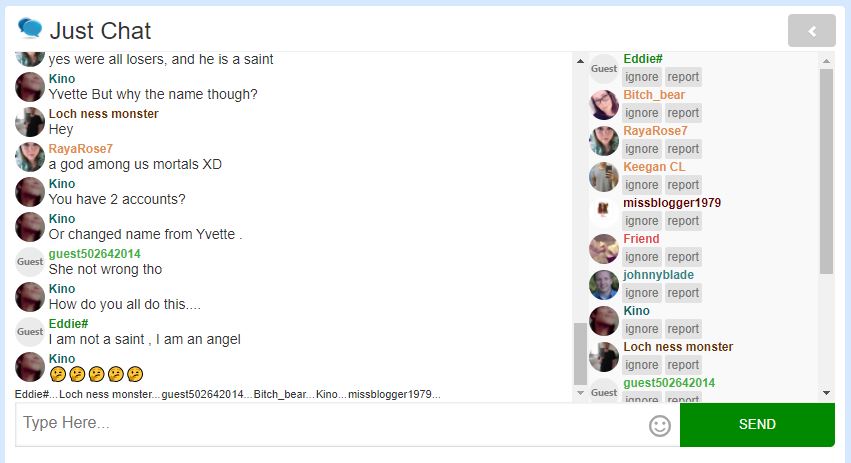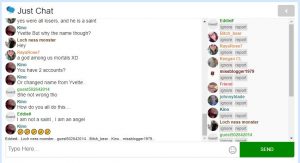 Ask questions:
So this one's super weird, you can post questions and your fellow users can answer them. I must say some were pretty strange.
For instance, I saw a user ask about how often people get hiccups, like seriously?
Language exchange:
Perhaps this is the only feature that is of some use. Here you can interact with people from different parts of the world and improve your language.
You must select the gender, language, and age range of people you would like to interact with.
Sites Like Chatblink:
You might wonder if sites like chat blink exist. Well, yes they do and sometimes there are even shadier ones. We recently reviewed a bogus chat roulette site sexeey (review at the link) that disappointed us to the core.
Likewise, there are a lot of cloned versions of the popular adult cam sites that are cashing out on people's unawareness. You can go through snapsext and jerkmate (reviews at the link) which are nothing more than rip-offs of Streamate.com.
Chatblink Conclusion: Is It Worth A Shot?
Look, dude, pervy men populate sites like chat blink and they find some sort of pleasure in flashing their pee pee or bragging about its size.
So if you wanna stay away from such creeps and find real cam girls going nude on camera, check out Streamate.com.
You will be glad to know that most of the Streamate girls are taking their clothes off and touching themselves without even asking you to pay.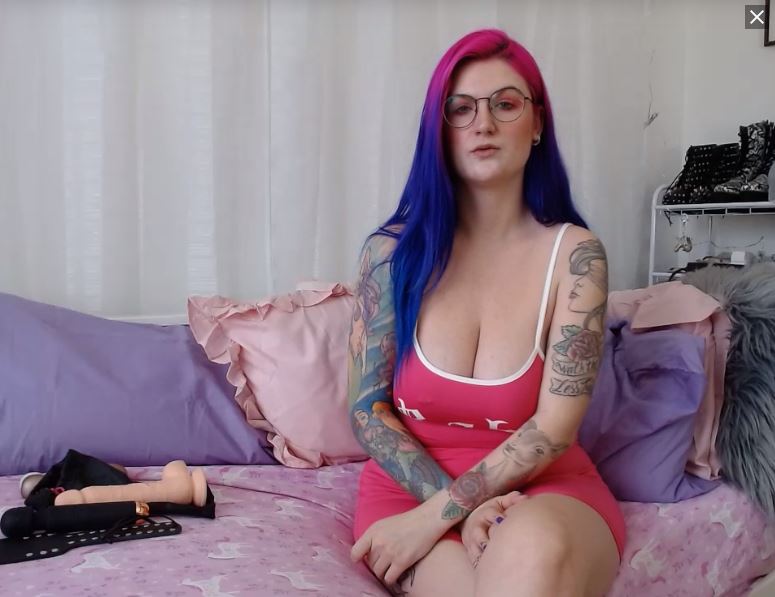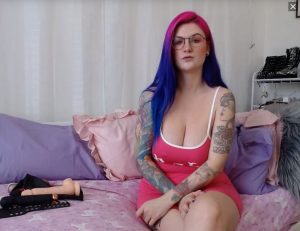 I know you guys need variety and I don't blame ya. Chaturbate.com is home to the most diverse cam girls from every corner of the world.
Unlike the chat blink girls (who by the way are nonexistent), Chaturbate has real women willing to tend to all your carnal needs no matter how bizarre they are.
I hope you understand why we diss shams like chat blink because the bitter truth is that they are not legitimate. A small blunder and you could land up in some serious trouble!
Click to rate this chat site!