We are doing a rundown on StrangerMeetup, to find out if it is a reliable free chatroom or a scam. If you are considering being a part of this site, you gotta read our detailed review.
Free chat rooms take me back to the 90s when AOL Instant Messenger and Yahoo! Messenger were all the rage. However, with the growing technology, the popularity of chat rooms started ebbing away.
Today, sites like Facebook, Instagram, and Twitter have become the primary means of online communication but there has also been a significant rise in the development of stranger chat sites.
Omegle (review at the link) is one of the pioneers in bringing back the feel of vintage chat rooms. And although these chat sites were created in an attempt to give people a platform to interact with strangers anonymously, they are being used for an entirely different purpose.
Most online chat rooms have become a hub for horny males to send unsolicited texts and images of their junk. Thus the quality of such platforms has degraded and it's nothing like it used to be a decade ago.
This review will illuminate the masses about StrangerMeetup, a popular free chat room to talk to strangers.
StrangerMeetup Overview
Founded by two Swedes Andreas and Eva in 2010, stranger meetup is a free online chat service where you can connect with like-minded strangers from around the globe.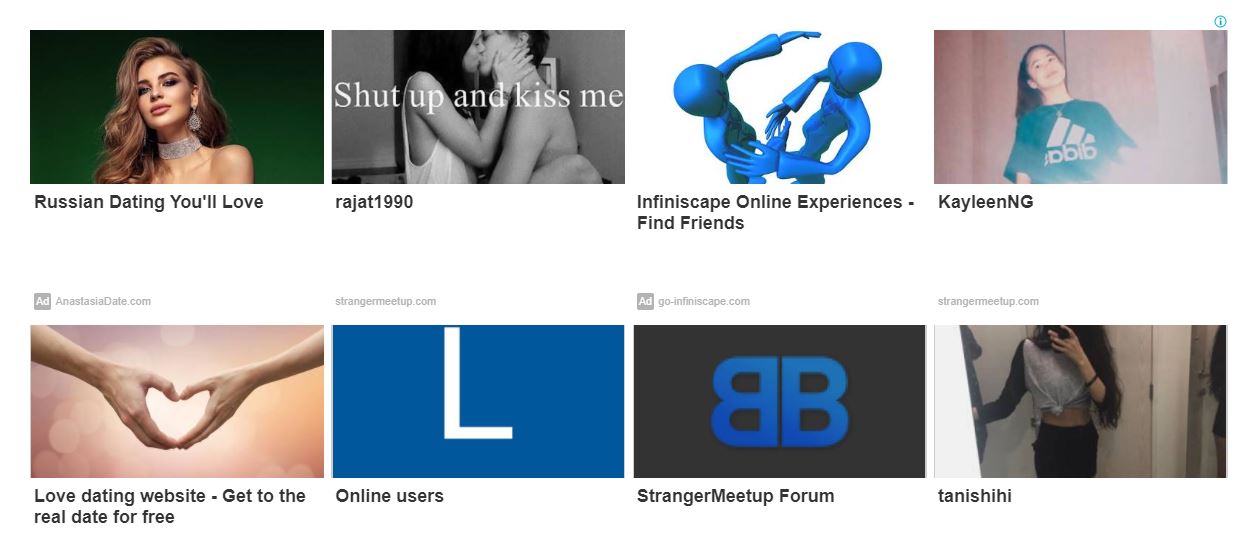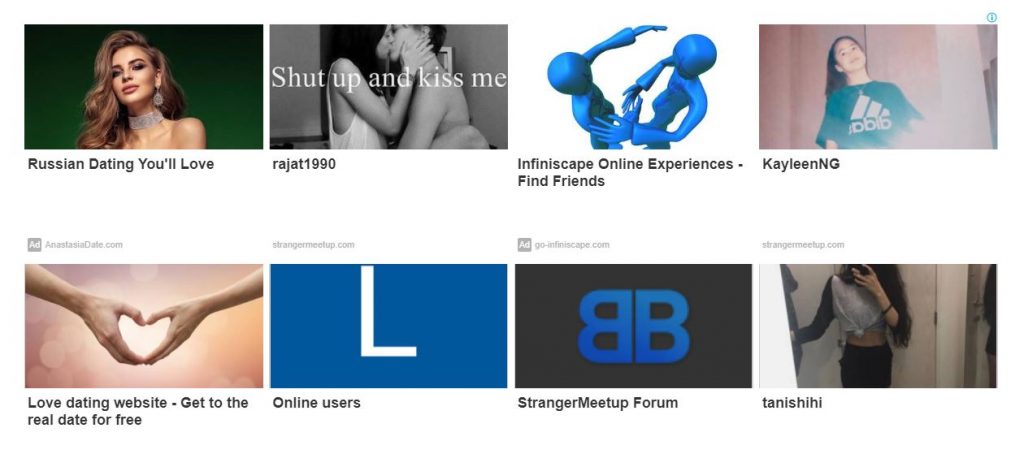 If you are shy around people and prefer communicating online, this site might help you make friends. Stranger Meetup is available in eleven languages and has apps for both iOS and Android.
I noticed that a majority of the members of this site are from India. So you will find a lot of Indians using this platform for some free desi chat.
Likewise, there are users hailing from the USA, Germany, UK, and Netherlands. Stranger meetup is a text-only site meaning users cannot exchange images, videos, or audio messages which is a major setback for this site.
Over 70% of the users are males so you know what you are getting into, especially if you are a woman.
StrangerMeetup.com uses the oldest trick in the book which is sharing success stories of people who have found their soulmate here. That's total hogwash!
There is no proof that the users who have shared their experiences are even real so don't be stupid to fall for this nonsense.
A special mention to the annoying advertisements you see here. They are fucking everywhere and you just cannot avoid them.
As expected, the free chat rooms are accessible to everyone without any registration.
StrangerMeetup Features
The top of the screen serves as a menu bar that displays all the tabs. To change the language, you can scroll down to the bottom and pick your preferred language.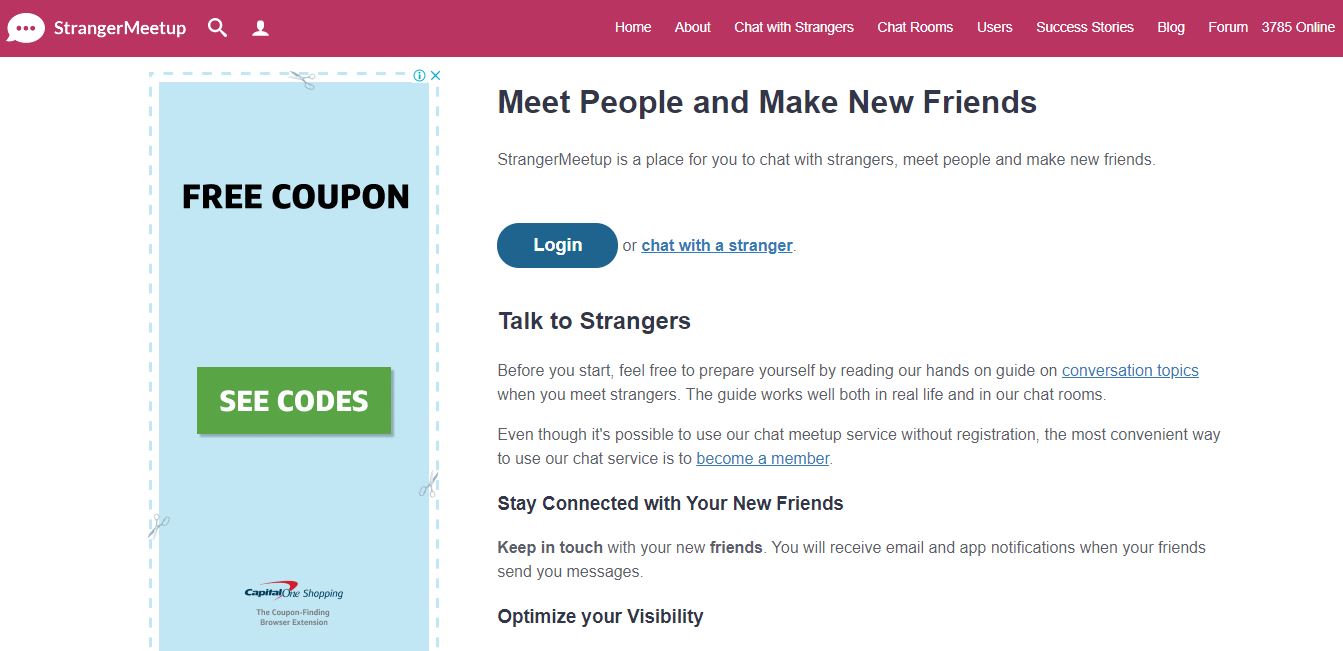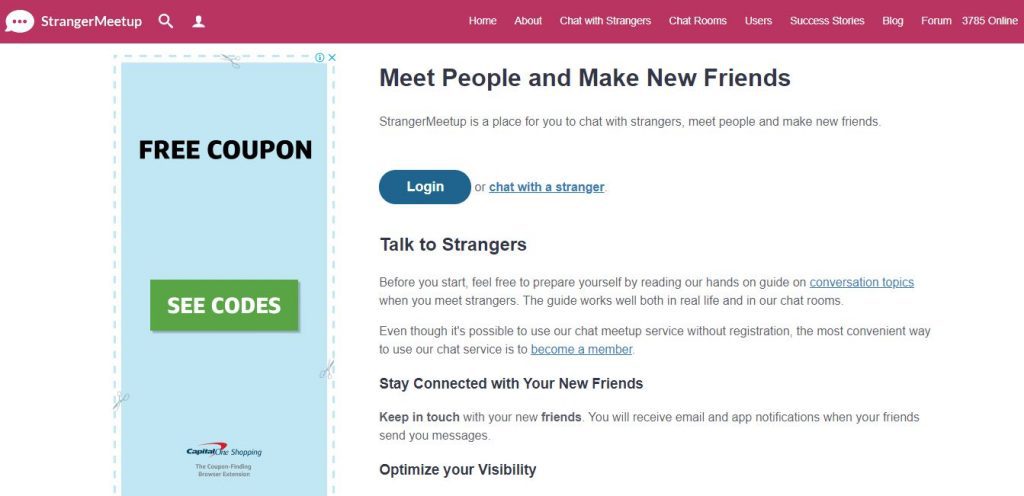 Here are the main navigation buttons:
Chat with strangers:
To talk to strangers, you will first have to verify that you are not a bot. After that, you will be paired with a stranger randomly.
As mentioned earlier, you cannot send and receive only text messages but you can request a photo. I have to warn you, this place is filled with creeps.
Be prepared to receive lots and lots of gross details about dicks and third-class pickup lines. To be blunt, a stranger meet isn't a safe place to be because the anonymity lets people be anyone they want.
Public chat rooms:
These are the free chatrooms you can enter and interact with multiple people at a time. Although stranger meetup brags about having users from all over the world, I found only three local chat rooms out of which, two were empty.
Users can create their own private chat rooms. Upon entering a chat room, you will realize that this site is nothing more than a gimmick.
You will be muted until you register. What's the whole point of free chats when you gotta register to interact in a group? RIDICULOUS!
Sign up process:
To register, you are supposed to pick a username, add your email address, and set a password. After clicking on the verification email, you can start using your account.
Blog:
Stranger meet has a blog that is a collection of some bogus articles nobody gives a rat's ass about. All in all, I think that this feature was unnecessary and adds zero value.
Sites Like StrangerMeetup:
When it comes to fraudulent chat sites like stranger meetup, there are literally thousands feeding off users' desperation to find online fuck buddies.
Fuckbook and Fapchat (reviews at the link) are some of the creepiest ones I found recently. Look man, I totally get that jerking off alone can be sad but it doesn't have to be that way.
Stop dreaming about beautiful women and watch them playing with their bodies in real on the best adult chat sites.
Final Words On StrangerMeetup
It goes without saying that there are a lot of issues with strangermeetup.com. Firstly, the absence of proper age verification makes it a scary place.
Since everything is anonymous, you can never be sure of who you are interacting with. Frankly, it is not worth jeopardizing your safety.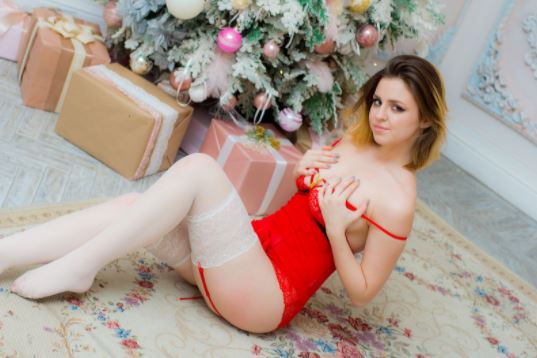 Streamate.com is a safe option in case you are looking for some online webcam sex. The best part is that you don't even have to pay to watch a babe getting naked!
Fellas, the bottom line is that StrangerMeetup is a hub for creepy men to express their nasty thoughts so you better stay away from it.
Likewise, you can also try StripChat.com to beat your meat on raunchy live sex cams hosted by sexy ladies hailing from all over the world.
Click to rate this chat site!