Here we are running down the Ome-chat review, the free webcam chat site. Ome-chat or Omegle chat is claimed as an alternative to Ome Tv.
You know what's leading in the adult industry. Not porn sites for sure. The era of porn sites has ended with the introduction of live sex cam sites and adult chat sites. Yes, adult chat sites are the modern-day boon.
Webcam sex chat sites allow you to interact with strangers across the world. These sites can be very exciting if you find the right one. One such free webcam chat site is Omegle Chat, shortly termed as Ome-Chat.
Is Ome-Chat a Legitimate Adult Webcam Chat Site?
How many of you have heard about Ome-Chat? It was started in 2015. Well, despite claiming it is a popular webcam chat site, people hardly know about it. It is an alternative to Ome-TV. This will help you in connecting to stranger men and women across the world. Read out the Ometv Review here.
What about its legitimacy? Yes, it is legit, but not that safe. At OmeChat TV anyone can record a video of a stranger and there are high chances of misusing it. Also, it's not entirely free. We must add our credit card as a process of registration. Bizarre!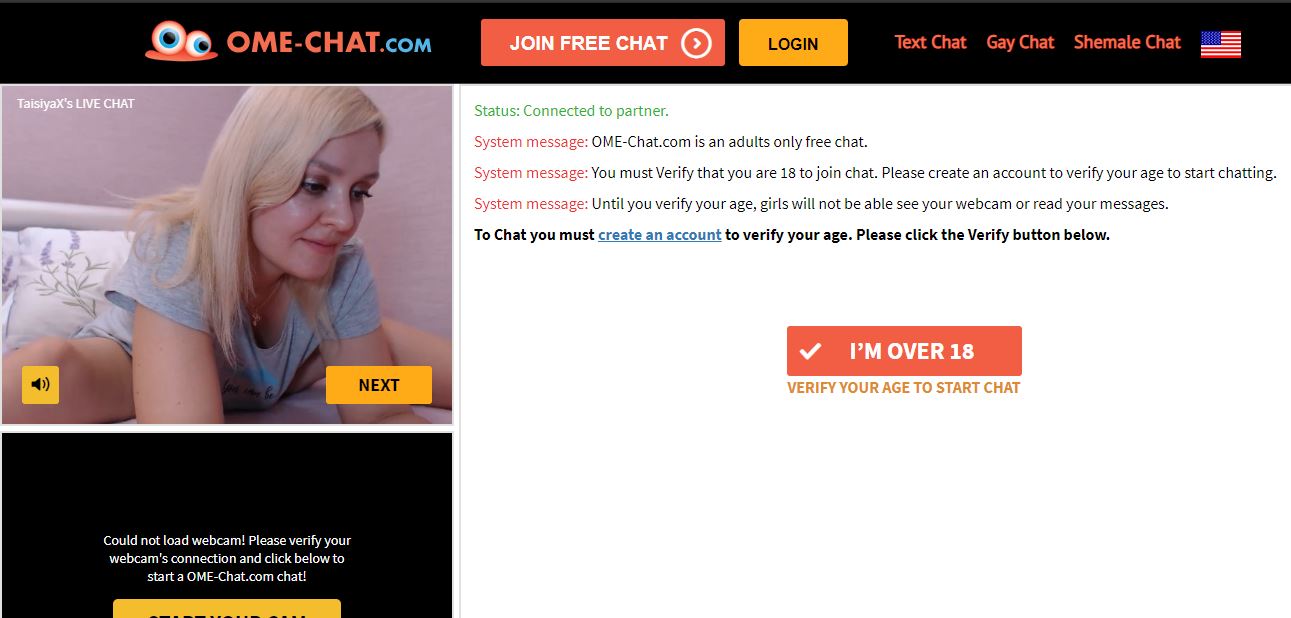 Well, it's a complete scam as it will lead you to the 'Random Cams' site. Isn't that fooling around people? It's pretty hard to tolerate hoaxes. The sole purpose of the audience is to chat with a stranger and that has been taken for granted. Holy Shit!
Let's dive deeper into the Ome-Chat features.
Ome-Chat Features
The user interface of the Ome-Chat is pretty basic compared to other free chat sites. The homepage design is a bit hobbling and cannot attract any new audience. Let's begin with the sign-up process.
Ome-Chat Registration
A tab on the homepage will ask you to verify your age by creating a free account. However, the site is allowed for users that are 18 or above years old. You can sign up using your Google account or provide a valid email address to which the password will be sent.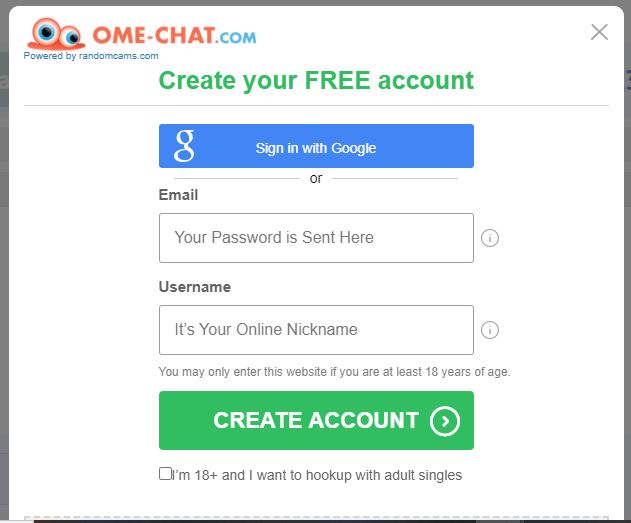 A nickname or username has to be provided for future login. Tick the disclaimer below that says, 'I'm 18 years old and I want to hook up with adult singles. That said, it will take you to Random Cams.
Ome-Chat Homepage
The homepage layout is pretty orthodox. The cam window on the top left displays random webcam girls. Underneath that there's an option to turn your webcam on to have live interaction with strangers.
On top, there are three chat options distinguished Text Chat, Gay Chat, and Shemale Chat.
Text Chat
This tab will take you to the stranger chat section. Here you can have the luxury of chatting with strangers. Once you click on start chat, a new stranger will get connected to chat. Greet them and have fun.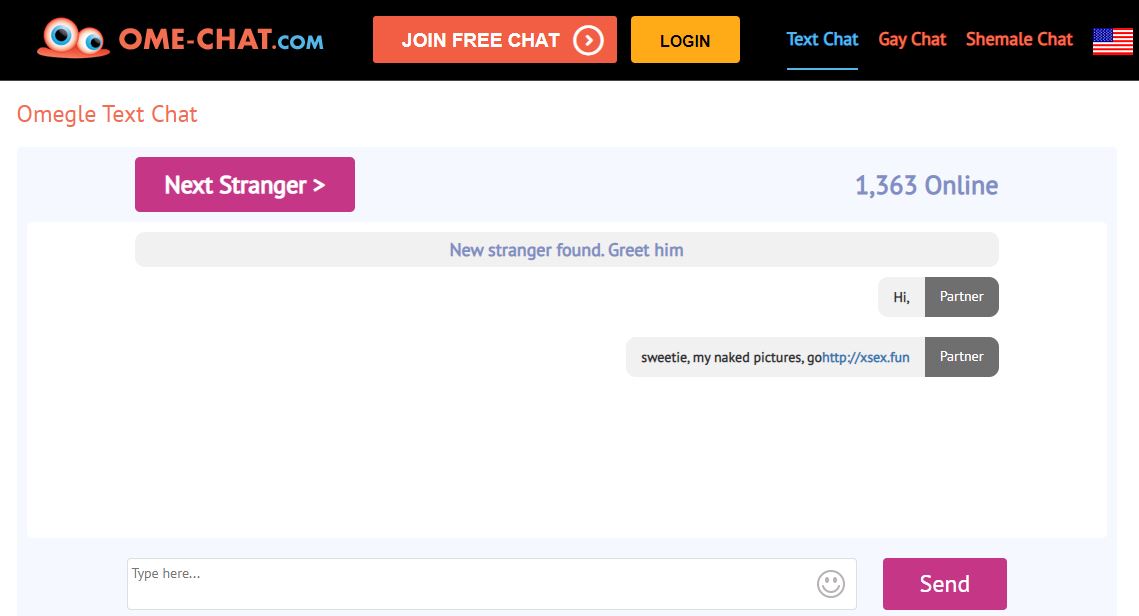 What's sick about it is most of the messages you get on these are promotional ones. Strangers will greet you with links asking you to see their nude pics. Sick, isn't it? Here, you can chat here as a guest user if you don't want to reveal your identity.
Gay Chat
This tab will take you to the group chat screen. Here you can connect with all the single guys. However, I can't be sure whether the users are genuine gays or not. But, it's the best place to have adult conversations.
Strike up naughty conversations to keep it fun. Registration is not mandatory, unlike the other gay chat sites. One good thing about this Gay chat is there will be a huge amount of guy users online at any given time.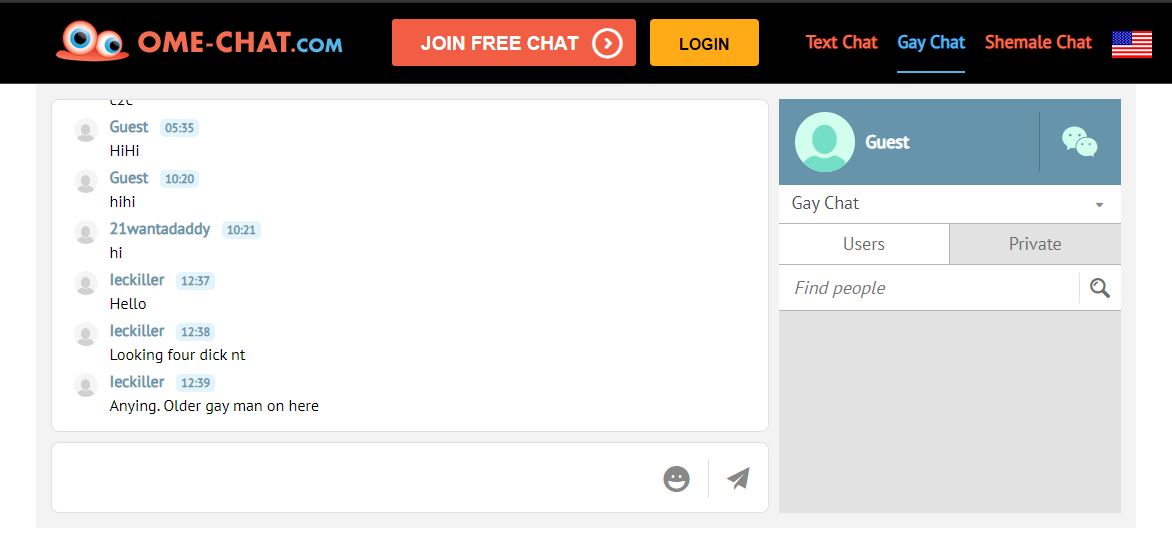 Shemale Chat
This is another scam from OmeChat TV. This tab will take you to another site called Tranny Roulette. It is an exact sham to Ome-Chat. Right from the registration, homepage, and features, everything is a forfeit to it. 
Here you can interact with Tranny models live. From the OmeChat random sex cam window on the left, you can have the luxury of watching them playing nude. Turn on your webcam for an intense tranny experience.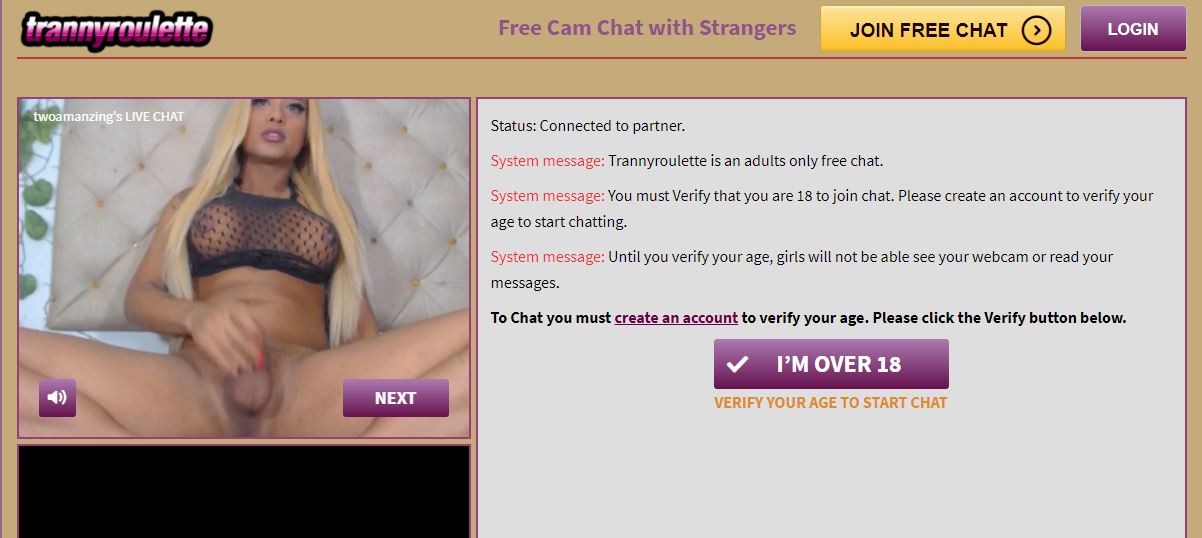 Blog
The worth mentioning feature of Ome-Chat is its blog. It has blogged on lessons that people learn from being in a relationship, how to talk to strangers on chat rooms and online chat sites, rules to be followed in online chat rooms, sexual relationships, and advice.
Is Ome Ome Chat an Adult Chat Site Worth Your Time?
Instead of trying these false chat sites, better to give a try to live sex cam sites. They are having an edge in the adult industry. Some of the free sex cam sites that will get you off with ease are Chaturbate.com, Streamate.com, Imlive, LiveJasmin, and Stripchat.com 
Leave a hard time trying this Stranger Chat site and switch to free live porn cam sites.
Cheers!
Click to rate this chat site!