Don't we all love to engage in naughty conversations with strangers? The internet is flooded with thousands of random chat sites that connect you with strangers from all over the world. 
I decided to review one such adult chat room that goes by the name Adult Chat Net after testing it for two weeks and the experience was a real letdown.
AdultChat.net – Is It Safe?
Launched way back in 1998, adultchat.net is a space where you can connect with like-minded people for a casual conversation or a dirty chat, that is what this chat site claims.
However, this place is nothing like what it claims to be. Forget about safety, because the moment you are on this free chat site, you are putting yourself at risk of being subjected to cyberbullying and harassment.
Not to mention the spammy promotional messages you will receive frequently that ask you to register on dicey dating and adult chat sites.
Adult Chat Net lets you log in as a guest and this is what I got once I entered the chat room as a guest.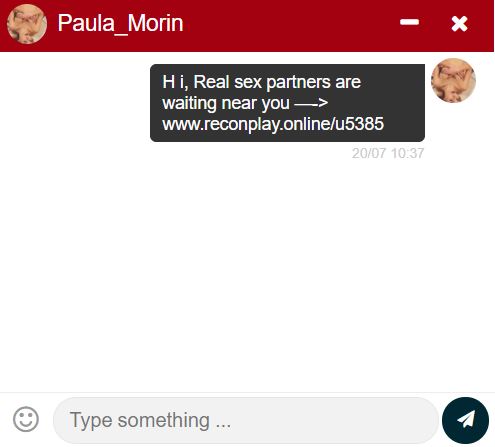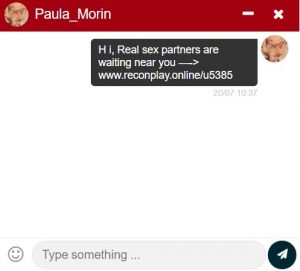 Seriously, you would be on dangerous ground if you decide to visit such dubious pages.
Another underwhelming aspect of adultchat.net in my opinion would be that the top home page. Really, dude, we understand that it is an adult chat site.
There was no need to put the same shit in ten thousand ways!
Get a clear picture of why I don't recommend this shoddy chat site in the next section.
AdultChat.net Features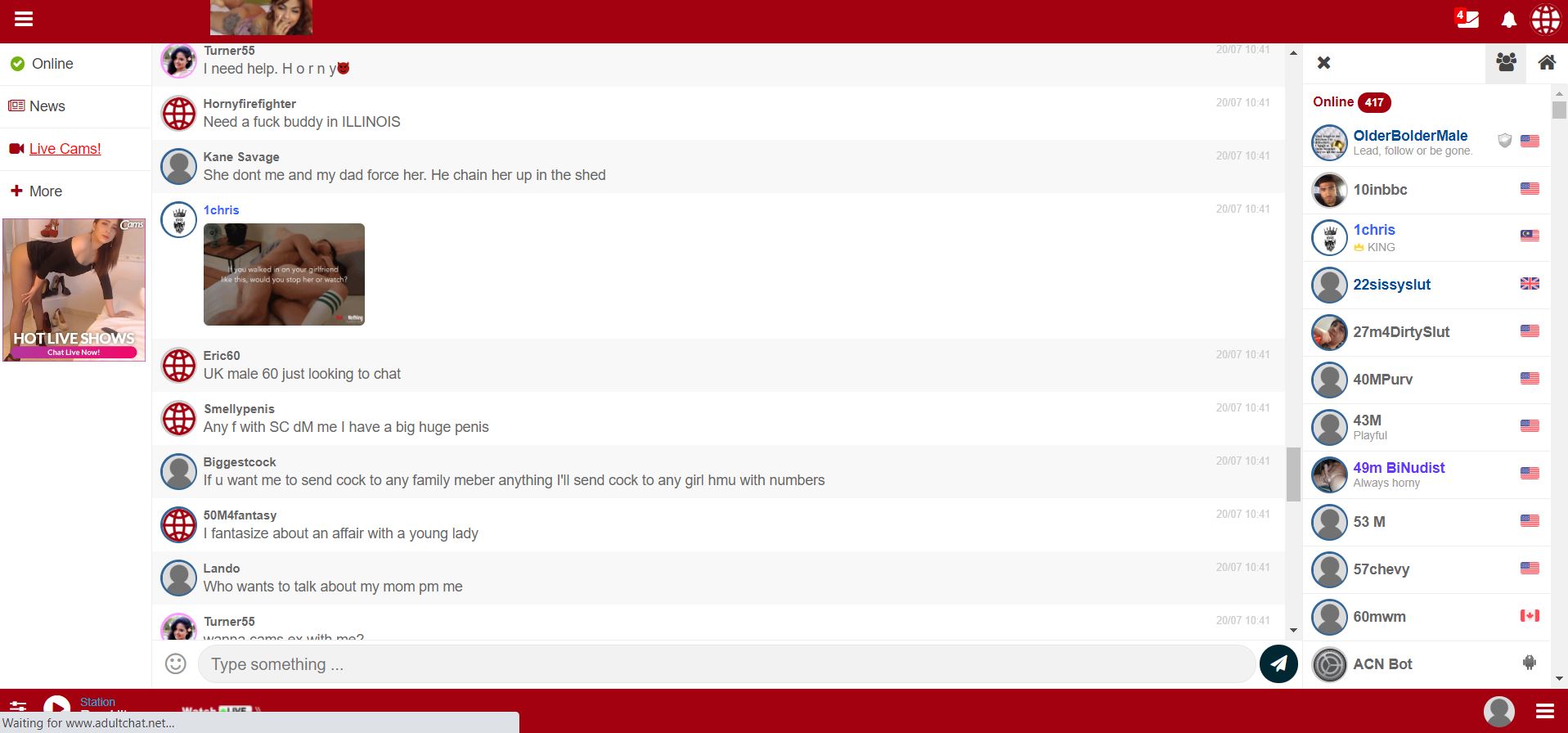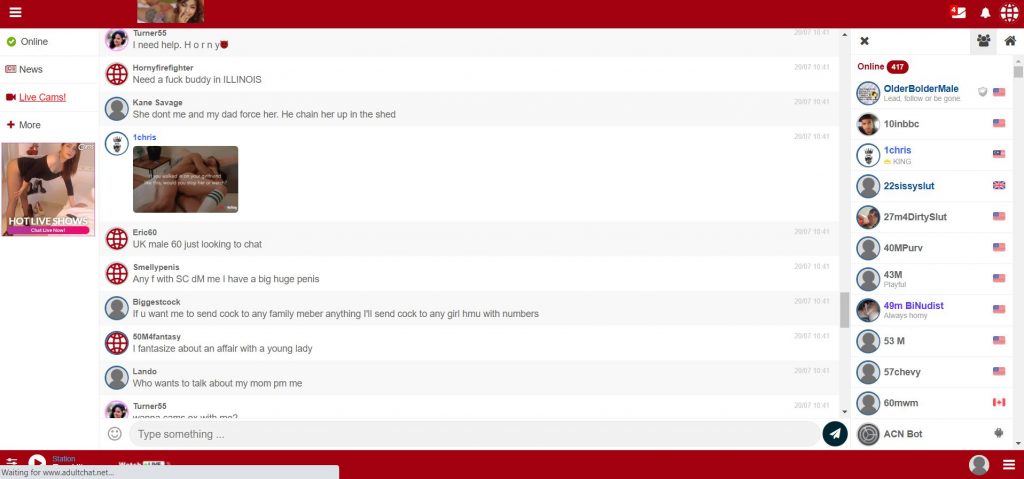 How to sign up on adultchat.net?
It is simple, you add a username, set up a password, and provide an email address. You can also explore this site anonymously by simply entering a nickname and choosing to log in as a guest.
Sex Chat: Well, it boils down to this since most people flock to adult chat rooms with the motive of sexting strangers and sharing nudes.
However, it is not advisable to share your nude pictures with strangers even if they seem genuine because you never know what their intentions might be.
When you click on sex chat, you are redirected to the adult chat room page where you can click on "chat now" to start chatting. You automatically enter a group chat filled with strangers.
The messages keep popping one after another and you won't even have an idea of what the fuck is going on. Most of them are bots and then there are horny pervs asking for nudes.
Get ready to torture your eyes with all sorts of filthy dicks. Seriously though, I wasn't here to look at random baby carrots! Well, if that's your vibe, good for you.
On the left sidebar, you get the option of changing your online status to away or busy.
Friends wall: This tab can be used to create a post along with pictures.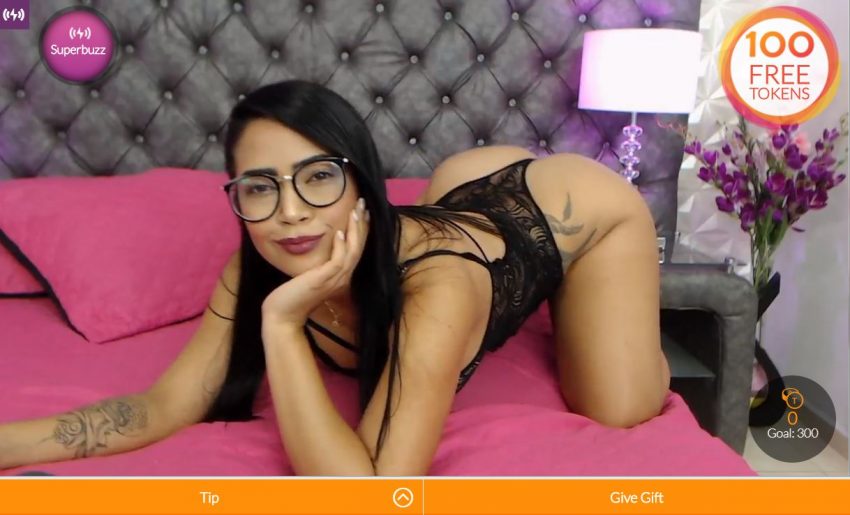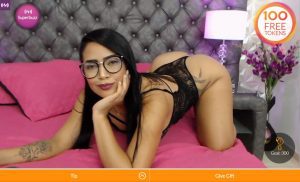 News: An irrelevant section with updates that nobody gives a fuck about.
Live Cams: This was a real scam. Clicking on this redirects you to an entirely different adult cam site called Cams.com. It's pretty clear that adultchat.net has been pulling the wool over people's eyes by making them believe that it is an original adult chat platform. 
On the right side, the following tabs are displayed:
Users list: Here you can find the names of people currently participating in the group chat. To add someone to your friend list, click on his/her name, choose action, and then select add friend.
Friends list: Displays the names of the users you have added. 
Rooms list: There are different kinds of chat rooms listed here. Some of them are AdultChat.net, quiz room, and, roleplaying chat.
My profile: Here you can add your gender, age, location, chat theme, and more. 
AdultChat.net Cost:
The free chat service is always available but if you really liked using this chat site (which I highly doubt) you can upgrade your basic membership to a VIP one by paying $25 for a lifetime.
VIP membership offers very stupid benefits. For instance, you will be able to change the text gradient color or add a profile cover. I mean really? Nobody has the patience or time for all this rubbish. 
Sites Like AdultChat.net:
I would recommend Streamate and Chaturbate (reviews at the link) if you love to chat with nude cam babes.
We want you to keep a safe distance from random chat sites like Omegle and Chatspin which are absolute scams! There is no age verification and tons of horny buggers scratching their crotch.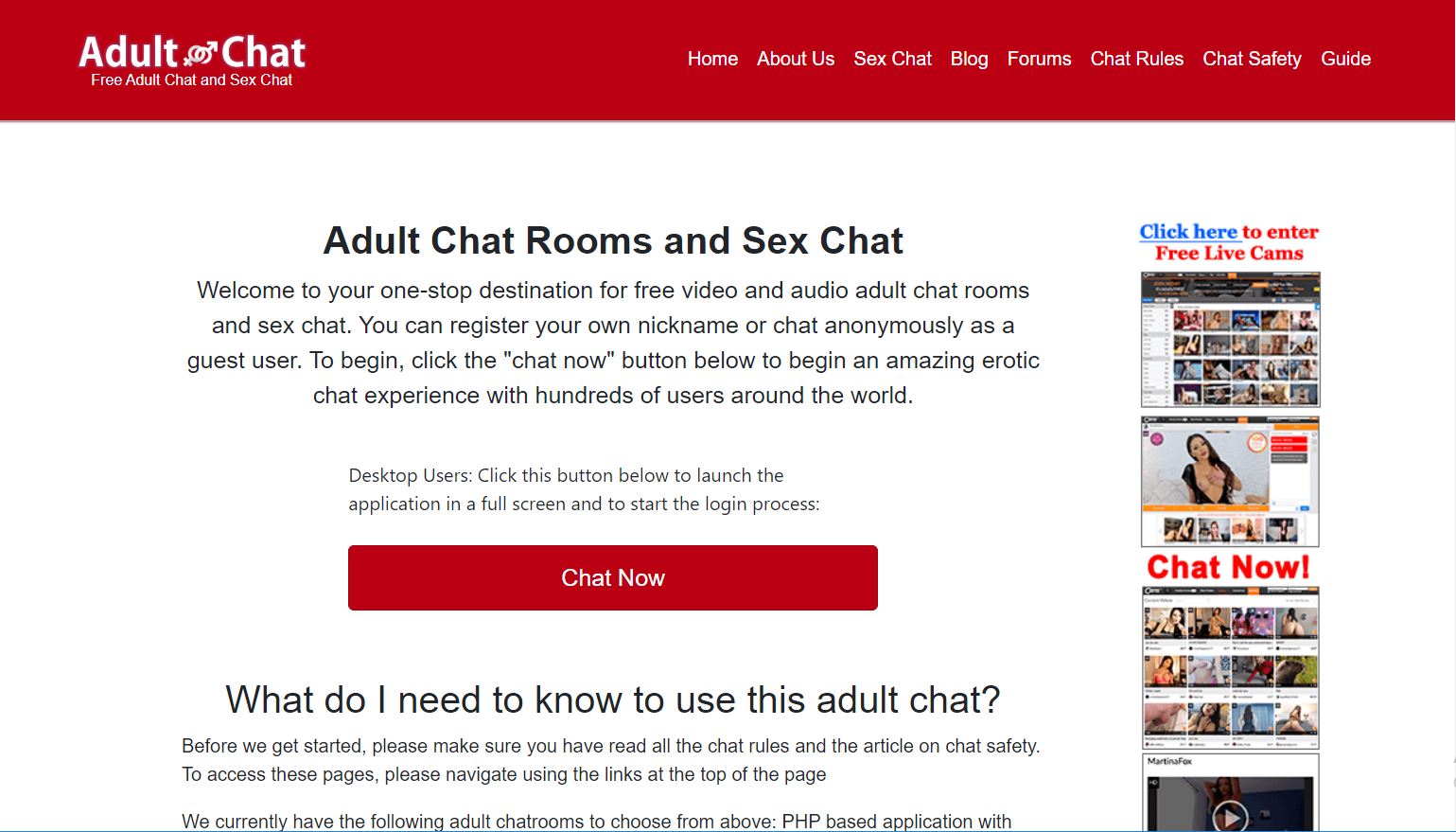 AdultChat.net Summary – Shady Stranger Chat Platform
The idea of chatting with strangers or even sharing some intimate moments might seem thrilling but it's walking on thin ice. The internet is a dangerous place to share your personal details and it might lead to grave consequences. 
Guys, you should opt for legitimate adult chat platforms like Streamate.com and LiveJasmin.com if you want to jerk off on sexy live cams without having to fear for your privacy. 
Streamate.com has registered cam models both amateur and professional, who are available 24/7 to please you. Gorgeous European ladies are stripping live on LiveJasmin.com and even offering nut-busting private performances. 
Feel free to check our take on the best adult cam sites of 2022.
Click to rate this chat site!